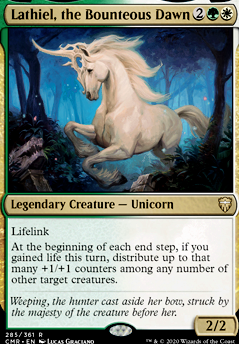 Lathiel, the Bounteous Dawn
Legendary Creature — Unicorn
Lifelink
At the beginning of each end step, if you gained life this turn, distribute up to that many +1/+1 counters among any number of other target creatures.
Browse Alters
Legality
| | |
| --- | --- |
| Format | Legality |
| 1v1 Commander | Legal |
| Canadian Highlander | Legal |
| Commander / EDH | Legal |
| Duel Commander | Legal |
| Highlander | Legal |
| Legacy | Legal |
| Leviathan | Legal |
| Limited | Legal |
| Oathbreaker | Legal |
| Vintage | Legal |
| Casual | Legal |
| Custom | Legal |
| Quest Magic | Legal |
Lathiel, the Bounteous Dawn Discussion
2 months ago
Magnificent. You are missing a lot of the best unicorns though (partially because you aren't playing green). May I suggest Princess Twilight Sparkle

as the commander instead (she's 5 color) so that you can play Emiel the Blessed , Lathiel, the Bounteous Dawn , and Prized Unicorn .
7 months ago
Wyleth, Soul of Steel: I had this spoiled for me yesterday so I'm not as excited as I could be, but whatever. I don't think it's cEDH but it's obviously very functional for , being a draw engine piece in the command zone for a pretty low cmc. Bloodforged Battle-Axe obviously comes to mind, and as I mentioned earlier Kediss, Emberclaw Familiar will help decrease the voltron problem even if Wyleth doesn't have partner.
Hamza, Guardian of Arashin: Basically, has affinity for creatures with +1/+1 counters and gives that to all your creature cards, which is obviously spicy. Good-Fortune Unicorn is the obvious auto-include here (sorry Lathiel, the Bounteous Dawn!). Neat token/counter cards include Nissa, Voice of Zendikar, Felidar Retreat & Animation Module Avenger of Zendikar might be kinda win-more here but casting it ahead of the curve, dropping a land and then following up with a big Eldrazi or something sounds damn cool.
Frenzied Saddlebrute: pseudo-haste for everyone is neat design space, but I feel this is just a bit too expensive since haste is something you want earlier rather than later.
Triumphant Reckoning: Does not include creatures without the relevant types. Probably does best in a multicolor artifact/enchantment deck.
Explosion of Riches: pretty fun with drawing-increasing things like Alhammarret's Archive. Molten Psyche is probably more reliable though.