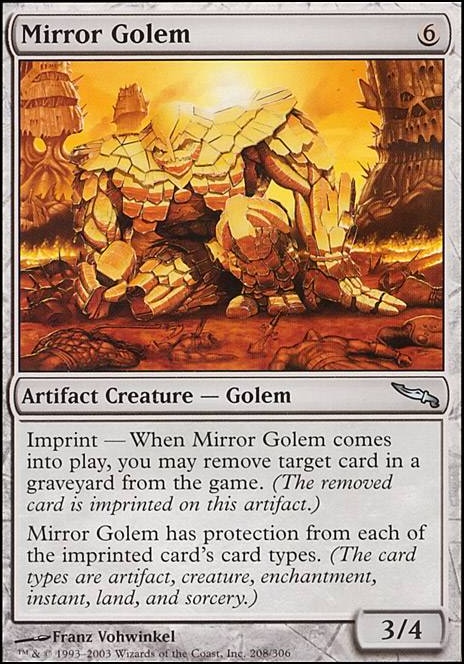 Legality
Mirror Golem
Artifact Creature — Golem
Imprint - When Mirror Golem enters the battlefield, you may remove target card in a graveyard from the game. (The removed card is imprinted on this artifact.)
Mirror Golem has protection from each of the imprinted card's card types. (The card types are artifact, creature, enchantment, instant, land, planeswalker, sorcery, and tribal.)
4 years ago
Card Categorization
I've categorized the cards in your deck here: https://deckstats.net/decks/50753/1215572-animar
The following analysis is based on that categorization. Several cards are in more than one category, so I've categorized them based on their primary or common case. E.g. Ancient Animus is both "Removal" and "+1/+1 Counter Interaction", but you're going to cast it to kill something -- the +1/+1 counter is a nice bonus.
Strategy
There's no explicit or stated goals of the deck, so I can't evaluate the cards against that. If you have a goal, let me know.
The core effect of Animar is to play creatures, which grows Animar. As Animar grows, he helps you play more (and more expensive) creatures. Some notable limitations:
Animar only decreases colorless costs
Animar only cares about creatures
Animar only cares about casting creatures
Animar is cheap to cast and protects himself from most removal (due to his protection from Black and White). Because of this, we can assume that we will get him out early and keep him out long enough for him to provide benefit. We'll build the deck assuming Animar is on the battlefield at all times.
Since Animar reduces the colorless component of creature costs, we'll get the biggest benefit from colorless creatures. As with any unlimited cost reduction effect, we should look for ways to break the free case. The obvious one here is to bounce and recast colorless creatures for free.
Since we're playing all of these (hopefully free) creatures, Animar will grow quickly. Giving Animar good evasion will give us to win on commander damage quickly.
To best abuse Animar, we want:
Many creatures across a range of mid to high colorless costs
As many of those creatures in our hand as possible
An many +1/+1 counters on Animar as soon as possible
A means to make Animar unblockable
The easiest way to break Animar is to create an engine that casts colorless creatures and bounces them to your hand as many times as possible during a turn. We'll want ETB/LTB effects on those creatures and cards that care about creatures entering and leaving the battlefield. Additionally, we'll want cards that care about +1/+1 counters on a creature.
Favor creatures over non-creatures, as you get a discount on creatures. Try to keep colored costs to a minimum - avoid double or more colors in a cost.
Abusable Colorless Creatures:
Repeatable Bounce:
Synergies:
Unblockable Enablers:
We'll want to get as many creatures down as quickly as we can. Card draw and other card advantage effects are valuable.
Draw/Card Advantage:
Changes to the Existing Cards
I would consider cutting way down on the amount of ramp. Mana dorks get the deck running early, but they don't have any synergy with the core effects. I suspect that's what was leaving you feeling like you had a dead hand.
Cards that seem particularly problematic: