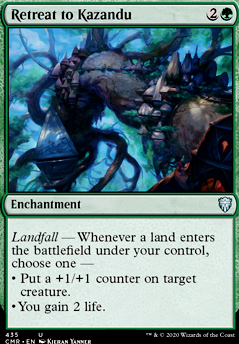 Retreat to Kazandu
Enchantment
Landfall — Whenever a land enters the battlefield under your control, choose one —
Put a +1/+1 counter on target creature.
You gain 2 life.
Latest Decks as Commander
Retreat to Kazandu Discussion
1 month ago
Part 2
Other Cards that you could consider cutting
Other Cards that you could consider adding
This is where the fun begins and your wallet cries
That is all I can think of at the moment. I'm sure I'll have more la
3 months ago
Well, Selesnya Sanctuary might bounce a land, but it taps for 2, so next turn you not only have less lands out, you have the same mana (and have some fixing), and you definitely have another land in hand if you need to play a big drop later. If you use Karoo lands, you lose the land, but you aren't down any mana. As for Ohran, I was thinking a singleton as a finisher, as it can both draw lots of cards and clear out blockers, both things you probably want. I'm trying to think of some good card draw options that fit in here, white has nothing I can think of that fits, and green tends to need a big creature out, or lots of creatures.
Rebuff vs Mana Tithe is a decent question, but I think the two serve different purposes. Mana Tithe mostly hits efficient plays, and removal plays tend to be cheap and leave mana to pay it. Mana Tithe becomes dead quickly most games though, while Rebuff can stay relevant.
I can explain some of what Knight of the Reliquary can do for you. It excels in a deck that runs lands that are high value, up to Gaea's Cradle type stuff, but there are many great lands out there that can take over the game that aren't $1k. It can easily fix you with a The World Tree , and all the while it keeps growing. You might also want some landfall payoffs like Felidar Retreat or Retreat to Kazandu , there are tons out there. If you fetch out a Sanctuary, note it will still bounce a land, and thus Reliquary can set up Knight of the White Orchid to fetch a land for you and actually get you ahead on mana, and that fetched Plains can then be sacrificed for a better land later. If you can bounce, flicker or otherwise repeat the Knight, you might actually end up pretty far ahead, as long as you expect your opponents to hit their land drops. You can also find lands that make creatures with Reliquary, or go big with Dark Depths as a finisher, it's an extremely versatile card, and has big synergies with a ton of stuff like Crucible of Worlds to generate big mana enabling quick wins. Even without leaning too hard into it's traditional uses, just using it as a Knight it seems like a good card, and I feel like you need more creatures in here anyways.
If you keep Knight of the White Orchid I would remove the ramp spells for Reliquaries, I think you have enough lands to hit 3 mana safely.
Hope some of this was helpful!
7 months ago
Seer's Sundial seems less optimal than Tireless Tracker . How often do you put creatures into play with power 3 or greater? I'm not sure if Elemental Bond is strong in this particular build as is.
4 mana for even 3 3/3 beast tokens is decent. Your current list already contains Arasta of the Endless Web , and I love that it can help start the loop with Ghost Town if you have the right setup. A couple other token generating spells for surprise factor are Ezuri's Predation , Fresh Meat , and Caller of the Claw .
Dawnglade Regent not necessarily a big finisher, but monarch is another nice way to get card draw and the hexproof for your creatures is nice. Vorinclex, Voice of Hunger is also nice, but a bit pricey.
The Tireless Tracker clues stick around so they're just there when you have spare mana that you don't want to go to waste which is again better than the one opportunity per landfall with Seer's Sundial and the tracker can get bigger as you sacrifice the clues. I especially like that the tokens trigger Kodama and if the land you put into play can tap for 2 mana you can sac a clue to draw a card which may draw you more land to put into play from Kodama triggers.
Quirion Ranger can help provide a clutch blocker or that one extra mana you need for some spell. I like that it helps you have more land in hand for landfall triggers off of Kodama. Since Ashaya makes your creatures into forests they can tap for mana so they all become targets for Quirion Ranger to untap.
Kamahl's Will does seem like a decent fit for this deck as a way to go wide and removal. Territorial Scythecat seems okay similar to the running a Managorger Hydra but takes a bit to build up. Shifting Ceratops it has some versatility, but I'm not sure what you want this for in a landfall deck. Primeval Bounty is currently in your list here on tappedout. Branching Evolution not sure your strategy is putting a lot of counters on stuff, more dropping lots of tokens on the fiel. Fertilid synergizes well with Retreat to Kazandu . Garruk's Uprising again I don't think you're usually putting a lot of big creatures into play to benefit from the trigger. Court of Bounty seems better than Colossal Majesty and has an added benefit. Reclamation Sage is great, and I'm also interested in the new 2-drop Masked Vandal since it exiles stuff, and another budget tutor for these low cost utility creatures is Woodland Bellower .
=== other card options ===
11 months ago
Hey, very good upgrade of the precon while still keeping budget. Nice Doubling Season and Xenagos, God of Revels is some spicy tech with Obuun :)
My advice is consider cutting a few land ramp spells and adding some repeatable draw sources such as Valakut Exploration, Garruk's Uprising and Tireless Tracker. Exploration uses landfall to play cards from the top of your library including lands. It can also be graveyard fuel for Trove Warden, Sun Titan and Emeria Shepherd. Uprising is an amazing budget card in Commander with creature strategies especially with Omnath, Locus of Rage and Rampaging Baloths since it triggers when a token is created. Tracker, Mystery Booster version, creates clues with landfall and clues can sac to draw.
Crop Rotation can tutor for any land which is nice with Bounce lands, Fetch lands, Kessig Wolf Run and Gavony Township. Emeria Angel and Scute Swarm are build your own army with landfall which is very good with Doubling Season, Felidar Retreat, Township and Beastmaster Ascension.
Cinder Glade and Canopy Vista are some land upgrades for the manabase because they have good interaction with lots of basic lands and they're two different land types. Farseek, Nature's Lore, Grasslands, Mountain Valley can search for one of these dual lands. Krosan Verge and Skyshroud Claim can get both of them. These Battle lands are $2 or less each at TCGPlayer. Exotic Orchard is a budget Rainbow land that's quite good in multiplayer Commander.
---
Cards to consider cutting:
Good luck with your deck.
Load more