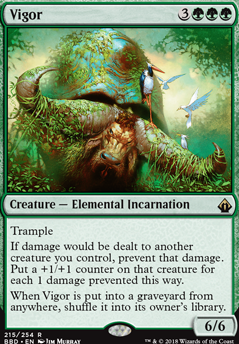 Vigor
Creature — Elemental Incarnation
Trample
If damage would be dealt to another creature you control, prevent that damage. Put a +1/+1 counter on that creature for each 1 damage prevented this way.
When Vigor is put into a graveyard from anywhere, shuffle it into its owner's library.
Latest Decks as Commander
Vigor Discussion
3 weeks ago
I think I would more or less do the same with the commanders you have laid out so I don't have much to offer there. Instead here are some deck ideas I have planned/currently working on:
Adamaro, First to Desire: Mono-Red group hug
Barrin, Master Wizard: Modular-control deck (Arcbound Ravager)
Firesong and Sunspeaker: Angel Spellslinging
Daughter of Autumn: Damage Redirection Deck (Pariah/Vigor)
General Jarkeld: Block everything! (Hundred-Handed One)
Kentaro, the Smiling Cat: No plains in the deck, maybe cat tribal
Baru, Fist of Krosa | Korlash, Heir to Blackblade: Utilize grandeur
Korvold, Fae-Cursed King: Food token and Stuffy Doll with Gyome, Master Chef and Asmoranomardicadaistinaculdacar as the secret commanders.
Kogla, the Titan Ape: King Kong theme (2005 Peter Jackson)
Yidaro, Wandering Monster: Battle Cruiser (Unpredictable Cyclone/Sneak Attack)
Any tribal deck because tribal is my favorite
2 months ago
Best ways to use and abuse this commander and the stronger parts of this build.
2 months ago
Have you thought about what would happen if you cast Blasphemous Act or Earthquake etc while you have Vigor out? I loved finishing with that.
Load more