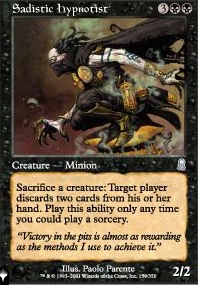 Sadistic Hypnotist
Creature — Human Minion
Sacrifice a creature: Target player discards two cards. Play this ability only any time you could play a sorcery.
Browse Alters
Trade
Legality
| | |
| --- | --- |
| Format | Legality |
| 1v1 Commander | Legal |
| Canadian Highlander | Legal |
| Commander / EDH | Legal |
| Duel Commander | Legal |
| Highlander | Legal |
| Legacy | Legal |
| Leviathan | Legal |
| Oathbreaker | Legal |
| Unformat | Legal |
| Vintage | Legal |
| Casual | Legal |
| Custom | Legal |
| Quest Magic | Legal |
Latest Decks as Commander
Sadistic Hypnotist Discussion
3 weeks ago
I kinda feel like it is a bit too self-contained. Like how does this really incentivize you to build around him? I mean you can just run discard to make him a hand denial engine ( Sadistic Hypnotist says hi), but how do you really build around his Zombie making abilities? Then you would need cards like Howling Mine and Font of Mythos , Anvil of Bogardan to grant the opponents cards you can later have them discard to gain the benefits. However you can only activate the ability as a sorcery, so they get their turn to get rid of their cards and thus deny you more tokens.
He seems to be designed as a token generator but comes more across as a discard engine that keeps players low on gas. Stax can work in competitive environments, but I find the creative possibilities around the card a bit lacking.
I think the concept could be fun akin to Waste Not and Bone Miser , but I think it would be more fun/engaging if you could build more around him.
Just airing some ideas or concepts for a direction the card could take.
Vexxus, Lich King
Legendary - Zombie Knight Wizard
Attacking Zombies you control have Deathtouch.
Whenever a creature you control deals combat damage to a player, you may have that player draw a card then discard a card, then you do the same.
Whenever an opponent discards a card, create a tapped 2/2 black Zombie creature token.
6/6
---
Alternative on the discard trigger:
Whenever an opponent discards a card, if the discarded card was a land card, that player loses 3 life. Otherwise you create a tapped 2/2 black Zombie creature token.
---
I changed the cost to 2 colorless and 4 blacks. This better allows colorless mana rocks, cost reductions and splashing in other colors than mono-black, and there's 6 pips to Devotion, which does seem a bit excessive if for no other reason than Gray Merchant of Asphodel .
I added Knight to his subtypes to allow more broad synergies with say Haakon, Stromgald Scourge or within the 99 in a Knight themed deck.
Giving all your Zombies deathtouch makes combat with you a real pain. Only giving it to attacking Zombies makes you less problematic to attack into but if the opponent wants to stop the onslaught of zombies, they may need to trade into some zombies on the defense or deal with your Commander. I know Death Baron exists, but he doesn't both produce the zombies and make them troublesome.
I was unsure about the enabling ability. The active ability doesn't require you to do anything with the Lich but sit back and slowly drain your opponents of their cards and create a mass army of zombies. It also presented a limit on the zombie generating ability.
I wanted to make it scalable so you could actually amplify the effect and build around him. However just slapping Larceny on a body with a Waste Not benefit seemed a little strong on the stax front, which could be a frustrating aspect of playing against this Commander.
If you instead make it a looting effect, there's a guarantee that it triggers the beneficial discard trigger and it would not be card disadvantage to the opponent, so it can be allowed to be "stronger" because that opponent isn't locked out. Instead they are actually getting a benefit in terms of card selection. This means that opponent can much quicker assemble an answer to your horde of zombies. To counter act this, you choose if the looting happens AND if it does, you get in on it.
Now it is true that you could potentially accrue a lot of zombies that, given they get through could double each round and you can quickly swarm the board with zombies. However that is not far from what Najeela, the Blade-Blossom can do. And this Commander costs 6 MV (mana value) and is mono colored.
It is possible that the discard trigger should be dependent on the cards discarded - making the opponent have a choice in what happens. Either they lose lose lands and take additional damage or they lose gas and you get more bodies.
Additionally it could be considered to let the tokens enter untapped, since they don't have Deathtouch through the Commander when on the defense.
This is generally taking the idea of the hand denial and coupling it with the specter benefits for a more Voltron style support with Zombies as a more defensive tool.
Vexxus, Lich King
Legendary Creature - Zombie Knight
Deathtouch, Menace
Whenever Vexxus deals combat damage to a player, that player discards two cards. Then put two +1/+1 counters on Vexxus for each player with no cards in hand.
Whenever an opponent discards a card, create a 2/2 black Zombie creature token.
, sacrifice a Zombie: Vexxus gains Indestructible until end of turn.
3/6
Vexxus, Lich King
Legendary Creature - Zombie Wizard
At the beginning of each player's end step, that player discards a card.
Whenever an opponent discards a card, create a tapped 2/2 black Zombie creature token.
, sacrifice a creature: choose one --
Target player loses 3 life.
Each player draws a card and loses 1 life.
Target creature gets -2/-1 until end of turn.
3/5
2 months ago
Update Profet93
minus Oblivion Sower plus Endrek Sahr, Master Breeder
why: i hate magical Christmas land and don't wanna get stuck in that mind state, Endrek helps the "stax" aspect, feeds Skullclamp , Tevesh Szat, Doom of Fools , Smokestack , Ashnod's Altar , Phyrexian Altar . and now Sadistic Hypnotist
Minus Sheoldred, the Whispering One plus Sadistic Hypnotist
why: Sheoldred is 7cmc really late game and doesn't truly help the deck along, Profet93 I think I now see what youre getting at, she's not weak in the deck, she's just not efficient. I have Smokestack for this slot. Secondly Phyrexian Reclamation can make up for the recursion half of her. That being said, Sadistic Hypnotist because the mans a fucking baller. Also because i'm gonna love ripping hands enough said.
2 months ago
I really like mindslicer, i'm thinking more along the lines of
for it use with Smokestack , Ashnod's Altar and Phyrexian Alter
and
this is one bad hippie, and works well with the above mentioned Master Breeder, not to mention another sac outlet for shenans
2 months ago
I hear you, I originally ran Mind Slash myself, the problem with it specifically that I see in this build is that the set up for it cost a lot of cmc and secondly the Sadistic Hypnotist is a better discard option overall, I would honestly cut the Mindslicer for Endrek Sahr, Master Breeder . I would also state that the deterrent to killing the mindslicer is mute when you've already ripped everyone's hands as all the Tergrid decks are aiming to do. But that's just my assessment
2 months ago
Good deck my only recommendation would be to add more sacrifice outlets. Here are some possible ideas Altar of Dementia , Helm of Possession , Sadistic Hypnotist , Fallen Ideal , Fallen Angel , Malevolent Awakening , Attrition , Phyrexian Plaguelord , Stronghold Assassin , Hell's Caretaker , Carrion Feeder , Carnage Altar , Vish Kal, Blood Arbiter , Flesh-Eater Imp , aaaannnnnnd if you haven't fallen asleep yet Skullclamp would go great in this deck.
4 months ago
Thank you for your feedback.
Since I am not familiar with the commander rules yet, I overlooked the fact planeswalkers could not be commanders. I thought they were obvious commanders and did not look any further.
With your help, I decided that Athreos, God of Passage would make a good commander for this deck, with his ability to return died creatures to my hand. That is part of this decks "strategy" if you may call it that.
The 2nd bouncing card is Enduring Renewal, which also bounces a creature back from the graveyard to my hand.
I removed some cards that did not follow the main theme (disenchant and some like it) to make room for the suggested signets, as well as a few other cards.
The Ornithopter. Phyrexian Walker, Vebulid and Hangarback Walker have a prominent place in their deck. They fuel the strategy so to speak. This startegy bases on the following cards in synergy:
Enduring Renewal athreos (unless a player decides to pay 5 life he is an enduring renewal as well)
Ashnod's Altar, sacrifice a creature to gain colorless mana Phyrexian Altar, sacrifice creatures to gain colored mana
Lampad of Death's Vigil, sacrifice creature to drain opponents life Thoughtpicker Witch, sacrifice a creature to decimate opponents libraries Undercity Informer, see thoughtpicker witch, but faster Sadistic Hypnotist, empty opponents hands fast Spawning Pit, sacrifice creatures until mana runs out to create huge amounts of 2/2 tokens (infinite amounts once Ashnods Altar or Phyrexian Altar shows up on the battlefield) Admittedly, the most beautiful way out would be to generate a large amount of mana through enduring renewal, ashnods/phyrexian altar/0 mana creature and cast a Torment of Hailfire for 999BB
Load more