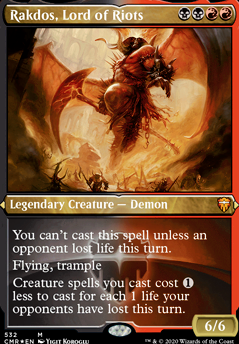 Rakdos, Lord of Riots
Legendary Creature — Demon
You can't cast Rakdos, Lord of Riots unless an opponent lost life this turn.
Flying, trample
Creature spells you cast cost less to cast for each 1 life your opponents have lost this turn.
Latest Decks as Commander
Rakdos, Lord of Riots Discussion
1 week ago
I think I would more or less do the same with the commanders you have laid out so I don't have much to offer there. Instead here are some deck ideas I have planned/currently working on:
Adamaro, First to Desire: Mono-Red group hug
Barrin, Master Wizard: Modular-control deck (Arcbound Ravager)
Firesong and Sunspeaker: Angel Spellslinging
Daughter of Autumn: Damage Redirection Deck (Pariah/Vigor)
General Jarkeld: Block everything! (Hundred-Handed One)
Kentaro, the Smiling Cat: No plains in the deck, maybe cat tribal
Baru, Fist of Krosa | Korlash, Heir to Blackblade: Utilize grandeur
Korvold, Fae-Cursed King: Food token and Stuffy Doll with Gyome, Master Chef and Asmoranomardicadaistinaculdacar as the secret commanders.
Kogla, the Titan Ape: King Kong theme (2005 Peter Jackson)
Yidaro, Wandering Monster: Battle Cruiser (Unpredictable Cyclone/Sneak Attack)
Any tribal deck because tribal is my favorite
1 week ago
All these Rakdos commanders...I'm still pondering if I should rebuild Chainer, Nightmare Adept, but recently build a version of Prosper. And now there's Florian. Hm...
Rakdos, Lord of Riots might be pretty good here. You're planning on dealing damage anyway, so casting him is easy. And after that, the ramp he can do i onsane.
2 weeks ago
Hey, what you have so far is fine with many good cards, but also quite a few cards that look out of place or could be replaced with better even budget options. I see that you're not finished yet with your first version since have only 18 lands as well as missing Command Tower.
I want to mention that if you want to gain life then a good way is playing flying Angels who have lifelink who you can cheat onto the battlefield with Kaalia or even cast. Gaining life from attacking Angels goes well with the overall game plan of cheating creatures onto the battlefield attacking.
After you add more lands to get 35-38 then also consider adding more ramp?
Cards such as Wanderer's Twig and Armillary Sphere are not ramp since they don't put the land you get onto the battlefield, it goes into your hand for a land drop. These types of cards are quite bad when there's actual mana rock ramp that could be added. Weathered Wayfarer also isn't ramp, but the difference is it can be a repeatable effect to get a land which is worth it from a one drop. A reason to add more ramp is as a backup plan to be able to cast high CMC creatures if and when Kaalia gets disrupted since don't count on having/controlling Kaalia all game.
I offer more advice. Good luck with your deck.
4 weeks ago
Wouldn't you prefer to use Rakdos, Lord of Riots instead as your general? Probably fits better your theme.
1 month ago
play it out
he drops Rakdos, Lord of Riots, on your turn you play any Act of Treason effect move to combat and swing
A. He chump blocks killing off a lesser creature to the general
B. He big blocks killing his own general
C. He can't block he takes 6 general damage (yes you can loose to your own general) and you then utilize Rakdos, Lord of Riots to cast Zada, Hedron Grinder for plus what ever other creatures you want to unload in your hand
No matter how it plays out its good for you, now if you can consistently take his creatures swing them,then sacrifice it before the end of your turn you will be able to control the board state and easily take the win, this strategy is powerful no matter what deck your facing. be sure to include plenty of low cmc single target can trips to reload your hand, and toss some board wipe effects like Mob Rule,Insurrection, Radiate+ Any Act of Treason

1 month ago
Okay so Soul's Fire and those other card's I suggested don't have the board wipe capability I had previously thought but in the scope of Zada I still believe they function as single target removal as you are constantly pumping your creatures. There is also Lightning Volley and Flame Fusillade which are only really good with a solid board state.
Otherwise I'd go with what Ramble suggested and fling away. I do believe Chaos Warp is still worth including since there are 2-3 other players to consider and worst comes to worst you use it against the Rakdos player and one big thing gets substituted for another, but sometimes all you need to do is get rid of Rakdos, Lord of Riots for a turn or a key combo piece.
Load more