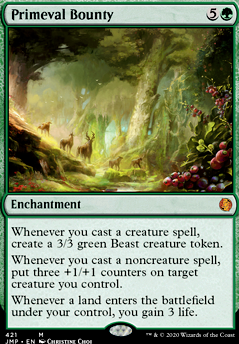 Primeval Bounty
Enchantment
Whenever you cast a creature spell, create a 3/3 green Beast creature token.
Whenever you cast a noncreature spell, put three +1/+1 counters on target creature you control.
Whenever a land enters the battlefield under your control, you gain 3 life.
Browse Alters
Trade
Tokens
Legality
| | |
| --- | --- |
| Format | Legality |
| 1v1 Commander | Legal |
| Arena | Legal |
| Block Constructed | Legal |
| Canadian Highlander | Legal |
| Commander / EDH | Legal |
| Duel Commander | Legal |
| Gladiator | Legal |
| Highlander | Legal |
| Historic | Legal |
| Legacy | Legal |
| Leviathan | Legal |
| Modern | Legal |
| Oathbreaker | Legal |
| Pioneer | Legal |
| Unformat | Legal |
| Vintage | Legal |
| Casual | Legal |
| Custom | Legal |
| Quest Magic | Legal |
Latest Decks as Commander
Primeval Bounty Discussion
1 week ago
Hey Walrighti, +1!
Congrats on your first deck! You have a lot of fun cards in here and it looks great! I imagine you want to tune and make it even more efficient so here are some ideas...
Add 3 categories: #Combo, #Lifegain, and #Evasion; and then sort your maybeboard the same way you've done your mainboard to easily rank your choices within a category (By "combo" I mean all your "if-then" cards like Trudge Garden that are slower and don't work by themselves). Remove #Creatures (most of them are #Combo).
Avoid most cards above 4 cmc... Willowdusk is fast and fragile, so play into that... Also, prioritize cards that can do 2 or more things or that give value on ETB... If you have pet cards that don't really fit and that hurt to cut, put them in a "I'll build that theme later" list.
...Always play at least 10 ramp spells under 3 cmc.
...Playtest and make sure Willowbark consistently makes a fatty (with evasion) before turn 6-7.
Here's another Willowdusk thread.
Happy building :)
1 week ago
When using Gatherer to search for Landfall cards, rather than searching with the handle
Search
&text=+[whenever]+[land]+[enters]+[battlefield]
Not only will this que any and all Landfall cards, it'll also que cards such as Primeval Bounty , Tireless Tracker and Architect of the Untamed
1 month ago
You might like these: Cauldron of Souls , Scrapyard Recombiner , Mindless Automaton , Etched Oracle , Crystalline Crawler , Steel Overseer , Dross Scorpion , Arcbound Reclaimer , Arcbound Ravager , Enduring Renewal , Cloudstone Curio , Ancestral Statue , Altar of the Brood , Glimpse of Nature , Primeval Bounty , Sporeback Troll
2 months ago
Elder Gargaroth reminds me of Primeval Bounty , which is also insane value. Mirror March (I know coin flips, ugh) or Infinite Reflection could get you there, too.
Wondering about the Urborg, though--was there some Swampwalk in an earlier version?
3 months ago
Seer's Sundial seems less optimal than Tireless Tracker . How often do you put creatures into play with power 3 or greater? I'm not sure if Elemental Bond is strong in this particular build as is.
4 mana for even 3 3/3 beast tokens is decent. Your current list already contains Arasta of the Endless Web , and I love that it can help start the loop with Ghost Town if you have the right setup. A couple other token generating spells for surprise factor are Ezuri's Predation , Fresh Meat , and Caller of the Claw .
Dawnglade Regent not necessarily a big finisher, but monarch is another nice way to get card draw and the hexproof for your creatures is nice. Vorinclex, Voice of Hunger is also nice, but a bit pricey.
The Tireless Tracker clues stick around so they're just there when you have spare mana that you don't want to go to waste which is again better than the one opportunity per landfall with Seer's Sundial and the tracker can get bigger as you sacrifice the clues. I especially like that the tokens trigger Kodama and if the land you put into play can tap for 2 mana you can sac a clue to draw a card which may draw you more land to put into play from Kodama triggers.
Quirion Ranger can help provide a clutch blocker or that one extra mana you need for some spell. I like that it helps you have more land in hand for landfall triggers off of Kodama. Since Ashaya makes your creatures into forests they can tap for mana so they all become targets for Quirion Ranger to untap.
Kamahl's Will does seem like a decent fit for this deck as a way to go wide and removal. Territorial Scythecat seems okay similar to the running a Managorger Hydra but takes a bit to build up. Shifting Ceratops it has some versatility, but I'm not sure what you want this for in a landfall deck. Primeval Bounty is currently in your list here on tappedout. Branching Evolution not sure your strategy is putting a lot of counters on stuff, more dropping lots of tokens on the fiel. Fertilid synergizes well with Retreat to Kazandu . Garruk's Uprising again I don't think you're usually putting a lot of big creatures into play to benefit from the trigger. Court of Bounty seems better than Colossal Majesty and has an added benefit. Reclamation Sage is great, and I'm also interested in the new 2-drop Masked Vandal since it exiles stuff, and another budget tutor for these low cost utility creatures is Woodland Bellower .
=== other card options ===
3 months ago
I.
Love.
This.
Okay, so I see where you're going with a lot of your suggestions. Budget, at this point, is a constraint so the pricier cards like Cloudstone Curio, Gaea's Cradle, even Sylvan Library are probably a No Go. And I'd probably go with Budgethoof Behemoth, aka End-Raze Forerunners since I have them on hand.
I think, for card draw, I completely forgot about Elemental Bond which definitely feels like a much better option than Colossal Majesty and doesn't have the cast requirement of Beast Whisperer. But I don't see why I can't also use Beast Whisperer. And Regal Force looks like something I need. Seer's Sundial might not work out but something I'm toying with.
Unfortunately I 100% misread Curious Herd and thought it worked exactly like Dockside Extortionist . That said, 4 mana for even 3 3/3 beast tokens doesn't seem horrible, and if that's the floor of the spell, it might be worth keeping in. That said, this is a go wide deck with elements to buff up my creatures, so I may just replace the herd with Arasta of the Endless Web and let my opponents put tokens on my board for me.
I like Magus of the Order, if for no other reason than I have it and Natural Order has a price tag. But also, it's easy enough to drop Liege of the Tangle in favor of other worthy fatties to summon, including something like Dawnglade Regent .
Bow of Nylea can def come out in favor of another creature. The Frostfang can't come out as soon but that's okay! And good call on Roiling Regrowth. That said, Nylea herself I think does so much on her own that I don't see me dropping her in favor of something that only does part of what she does. Rhonas's Monument is definitely worth looking into though!
I'll have to look into more of the suggestions you made. I actually use a lot of them in my Omnath, Locus of the Roil deck (the first three anyway lol). Oracle of Mul Daya is among the pricier cards I probably can't grab right now. I'm hemming and hawing on the Tireless Tracker because I don't know that I'll have a chance to really take advantage of the clues, but to your point, they can trigger Kodama so that's something to consider!
And hmmmm. Quirion Ranger is curious.
I'm also looking at adding some other cards, such as Kamahl's Will , Territorial Scythecat , Shifting Ceratops , Primeval Bounty , Branching Evolution , Fertilid , Garruk's Uprising , Court of Bounty and Reclamation Sage . So if you have thoughts on those, let me know!
I really appreciate all the insight and feedback!
4 months ago
Alright, let's do this.
Good day to you, FacetiousFanboy. Now, I have a mere one lands-matter deck, whereupon 'tis the extent of my knowledge upon the strategy, but 'tis something I have meticulously tinkered for quite the meiny of years. Therefrom, I may offer my enlightenment.
Upon the very intrinsic parts, we have the categories of a commander deck: removal, wraths, card draw, ramp, lands, recursion, and engines. Being a legendary creature in the modern era of Magic, Mina and Denn grant a splendid engine from the command zone. Allow me to touch upon the basics within the decklist.
In order aforesaid, removal:
I mayn't have ever seen Relic Crush, but I do not like it. Five mana to kill two things is far too inefficient, thus I would recommend you take this out of the deck. Force of Vigor is better on most accounts.
Storm the Citadel requires you to have a board state, and requires a sorcery-speed deployment. Removal is best utilized in surprise, and being a sorcery negates such a factor. I do not like this card.
I would add Chaos Warp, for it hits any permanent at an efficient cost and at instant speed. One I much like is Hull Breach. Two-mana, two targets. It does not get much better than that.
Unto wraths:
I have noted a supreme lack of wraths. I have also noticed some inefficient X-spells for which you intend to use twelve or so mana. Try removing Banefire, Clan Defiance, Spitfire Lagac, Tunneling Geopede, and Living Twister. The pinging effects matter little until the opponents are sitting at seven life. Living Twister is one I have tried and disliked. Banefire and Clan Defiance hit the opponents' face, but do near to nothing in terms of furthering your board state. These are great when you are ahead, but you currently have no options for when you are behind.
Try Blasphemous Act, Chain Reaction, Molten Disaster, and Savage Twister. In the event of you finding one, do add Ezuri's Predation.
Upon card draw.
If you so desire X-spells to utilize, I would add Commune with Lava. It may be cast upon the endstep before your turn, and thus offers many more option without requiring you to tap out.
Escape to the Wilds offers a new hand and an additional land drop, whilst being a mere $0.25.
Well, Valakut Exploration has impressed me. It is essentially another Horn of Greed, which bears much dint. I would add these both for the endless engines they offer.
Similar yet potentially better, Tireless Tracker. Clues are fantastic, and are a splendid devotion of mana for use at any time. By this argument, I would kill Seer's Sundial. I have attempted the Sundial, but it requires a mana dump immediately as averse to any time.
Courser of Kruphix is just better than Grazing Gladehart. It may be half of the life gain, but the card draw off of the library's top is fantastic.
Outside of land-related draw engines, there are the basic ones of Outpost Siege, Elemental Bond, Guardian Project, and Harmonize.
Ramp, of course.
Notably, you are in Green, the very pinnacle of ramping. I would add the basics of Rampant Growth, Farseek, Harrow, Nature's Lore, Three Visits, Skyshroud Claim, and SOL RING.
As to what should be removed, Rootweaver Druid ramps you for one and an opponent for two. It could ramp you for two and your opponents for four. You always come out behind in this exchange, and thus I would see this fit for exclusion. Far Wanderings is great, but best if you have a full graveyard. This deck cannot achieve Threshold too easily, thence this effect may be improved.
Returning from the grave, recursion it shall be.
This is an optional field, but it is nice to have an option or two. I see but Seeds of Renewal. Seven mana for two things returned? I nill. Bala Ged Recovery  Flip serves as a land early and a win condition late. Eternal Witness is just always fantastic.
Start your engines.
What in heck is this Sporemound Nonsense? A five-mana 3/3 that spawns 1/1s. Quite lacking indeed. I do not see any justification for having this in the deck.
Crash of Rhinos is cute, but does not accelerate your gameplan by itself. Large, but not unbeatable. I am not fond of Akoum Hellkite myself, but it is better than others of what I would remove.
Primeval Bounty is always lovely, but not requisite. I believe it to be more powerful than current options in your deck.
Zendikar Resurgent doubles the mana and offers much card draw, winning the game once you untap. Beast Whisperer is similar, but an early-game card.
Given the number of tokens you create Purphoros will drain the opponents' life apace. In the same avenue, Evolutionary Leap can offer defense if someone attempts to kill a creature, or it can find a better use for your tokens.
Comet Storm is a far more efficient version of the X-spells you had opted to include, for it can remove problematic threats or multiple problematic players.
Unto finality, Genesis Wave can plop out most of your deck upon the table, and it is difficult to lose from there.
Conclusion.
Thus is the end of my babbling. Pardon the overlong comment, but I do hope it was of some aid.
I do have my own list, as forementioned, built around the lovely Hazezon Tamar. If you would so deign to peer upon its glory, that would be splendid.
Fare thee well.
Load more