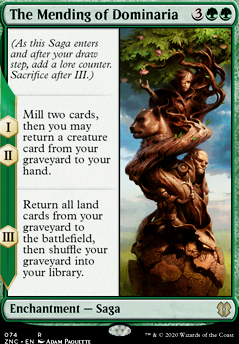 The Mending of Dominaria
Enchantment — Saga
(As this Saga enters and after your draw step, add a lore counter. Sacrifice after III.)
, — Mill two cards, then you may return a creature card from your graveyard to your hand.
— Return all land cards from your graveyard to the battlefield, then shuffle your graveyard into your library.
Latest Decks as Commander
The Mending of Dominaria Discussion
1 month ago
Part 2
Other Cards that you could consider cutting
Other Cards that you could consider adding
This is where the fun begins and your wallet cries
That is all I can think of at the moment. I'm sure I'll have more la
4 months ago
Hello , i see that you are missing a lot of protection for Muldrotha and have a lot of ramp spell that will not be useful in your graveyard later on. Here some suggestions for you if you want to explore other avenue.
Protection: Command Beacon - It will ensure you can always cast muldrotha for cheap. Bojuka Bog - very important to interact with your opponent graveyards, if not needed cycle it and use it later if needed.
Lightning Greaves For me its a no brainer especially how much muldrotha cost to cast we need to help him..or her staying on the board.
Spore Frog is just amazing if you are in a playgroup that go to combat a lot your just dont care sac spore frog everytime and recast it on your next turn for a huge shield... if you playgroup dont use combat a lot leave it out.
Elephant Grass Is also very good to keep you safe while you are building up your board. Dont want to pay the cumulative upkeep, sac it and replay it again :)
Glen Elendra Archmage is also going to disturbed your opponent plans when its on the board and I pair her with Mikaeus, the Unhallowed so she always come back without me having to recast her, and Mikaeus is just awesome in this deck.
Im Testing and trying Lilting Refrain for counter spell which seemed a good deterrent like Glen Elendra and it can be reutilized.
Ramp You are using a lot of sorceries for this category, I was doing the same before and felt that these card had no value on the long run.
I now use a different approach on ramp. I use milling and I play cards like Ramunap Excavator , Dryad of the Ilysian Grove , Springbloom Druid (should replace cultivate), my favorite is World Shaper (instead of your splendid reclamation) and sac it for massive boost, same for The Mending of Dominaria it just feed your grave and have a massive outcome + they can be replayed later by your cmdr.
I would play 1 or 2 drop mana dorks over ramping sorceries for sure. The only sorcery I really suggest is Life from the Loam so good to feed your graveyard or get your land back if needed.
Self mill: Jace, Memory Adept will do better than Beleren , pair this with Syr Konrad, the Grim and other mill option ... let me know in your reply if you would like this avenue a have a few good cards that can help.
Tutor: You also want to replace your Beseech the Queen for Gravebreaker Lamia or Sidisi, Undead Vizier same thing it does the same and can be replayed over and over.
Card Draw: I would replace Lifecrafter's Bestiary for Secrets of the Dead which will make you draw like crazy when you cast back stuff from your grave.
Ohter: Fleshbag Marauder is a good effect, but you can have more versatile and mana efficient creatures which are also cheap: Demon's Disciple and Plaguecrafter both are an auto include when repeated over and over they are very nasty.
Hostage Taker is very very fun .
Steal Enchantment is a very good 2 mana value card which will make you live the dream of having a Smothering Tithe , Rhystic Study or any other broken enchantments.
I can go on an on on card that will benefit your deck , what I would say check to replace your instant and sorceries with permanents that will benefit you during the entire game.
Let me know what you think and what you will change I can then help you tweaking a few more things.
9 months ago
Tatyova is a load of fun to play. I built around her with a Moonfolk subtheme, so I could bounce my lands to my hand for more land drops. Trade Routes is a fun card to go with Taty. Bounce a utility land, and discard for draw if you need it in a pinch. Great to drop a handful to draw a several cards the turn before The Mending of Dominaria goes off.
10 months ago
Alright here are a few things I notice that will help tune up the deck to help speed it up, as well as improve consistency overall.
Cards to remove-
Tearamorphic Expanse
Rocky Tar Pits
Tapped lands are the bane of any deck as far as speed goes. Switching these out for lands that enter untapped will speed things up as well as provide better consistency for color fixing. If you are going to include a tapped land make sure it provides insane value (Valakut for example, or Mosswort Bridge in big creature heavy decks) so the drawback of the ETB tapped is worth it in the long run.
Nesting Dragon- Not a bad card but Dragonmaster Outcast is cheaper and will provide you with more consistency in the mid to late game.
Scroll Rack- A good card, but you have no real way to abuse it, and it is really nothing more than a replacement effect since your top deck manipulation is based off of high CMC creatures. Damnable Pact would provide you with a better way to refill your hand, and you seem to havew enough lifegain scattered through out to offset the life loss.
The Mending of Dominaria- It is a high CMC card that is fairly easy to remove, keeping you from getting the third trigger off and negating the power of the card... I would suggest Abundance since you are running Sylvan Library. This will allow you to replace the downside of Sylvan Library (pay 4 life to draw extra cards) and help you sculpt your hand for what you need in the moment. (Basically those two cards together read- At the beginning of your up keep draw three cards, naming land or non land for each draw. It is an awesome replacement effect need to be running Abundance)
Ranger's Path- It costs 4, and the lands enter tapped. You have a decent enough ramp package going already and i don't feel like you need the redundancy here. I would suggest adding Blasphemous Act or Black Sun's Zenith to give you another board wipe since you are running slightly light on those. Both are good cards just depends on which style you might need... Black suns will get around indestructible, while Blasphemous will normally only cost you one mana. Or run both if you play against mainly casual (ie big creature) decks.
The only other big thing i notice is a lack of single target interaction for Artifacts and Enchantments. Cards like Vandalblast, By Force, Force of Vigor, Return to Nature, and even Caustic Caterpillar are great removal if you find yourself wanting to increase your interaction.
Overall I dig the deck for what you are going for. Let me know if you have any questions about my suggestions are anything overall. Hope this helps some
10 months ago
You might like these: Reckless Fireweaver, Valduk, Keeper of the Flame, Inspiring Statuary, Blinkmoth Urn, Kamahl's Druidic Vow, Genesis Wave, Reshape the Earth, Boundless Realms, Traverse the Outlands, Scapeshift, Mana Seism, World Shaper, Splendid Reclamation, The Mending of Dominaria, Creeping Renaissance, Mina and Denn, Wildborn
Load more