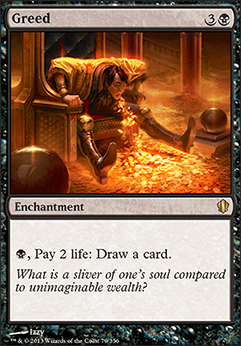 Legality
| | |
| --- | --- |
| Format | Legality |
| Noble | Legal |
| 1v1 Commander | Legal |
| Vintage | Legal |
| Casual | Legal |
| Vanguard | Legal |
| Legacy | Legal |
| Archenemy | Legal |
| Planechase | Legal |
| Duel Commander | Legal |
| Unformat | Legal |
| Pauper | Legal |
| Commander / EDH | Legal |
Greed
Enchantment
B, Pay 2 life: Draw a card.
Have (12)
JamesArget ,

p

s

k

i

n

n

0

1

,

V

e

n

s

e

r

_

t

h

e

_

S

o

j

o

n

e

r

,

H

R

1

9

,

N

e

m

e

s

i

s

,

r

a

k

d

o

s

2

4

, golgarigirl ,

v

a

s

h

a

c

l

a

r

e

n

s

,

G

o

l

d

G

h

o

s

t

0

1

2

, ironax , bakeraj4 ,

L

i

g

h

t

p

u

l

s

a

r

9

Want (2)

G

r

a

n

t

l

e

y

9

1

, Desol4tion
Greed Discussion
2 weeks ago
Good land ramp
Remove two counters and it's a power 1 or less creature that draws you a card!
Scry is almost carddraw!
Protection for your commander.
Good land to add
Makes daemons. Nice right?
Kill creatures!
Makes people think twice
you have a lot of black symbols
I think you might need more carddraw.I recommend 6-8 drawcards
one of the better draws
draws you a card every turn
multiple per turn if you're feeling it.
Drain a lot of people so you can fuel your carddraw
Black
Mana rock.
Auto include
If you have too much mana, carddraw!
a really annoying card for your opponent.
Free token every turn?
Bring creatures back. then kill them, them bring them back!
bring big creatures back!
You like killing your own things right?
You can kill your own creatures and get carddraw
2 weeks ago
This is a big improvement, but I did some playtests and I almost always start missing land drops after turn 3 or 4, unless I get Land Tax or Weathered Wayfarer. In one particularly frustrating game, I had Solemn Simulacrum in hand, but was unable to get above 3 mana by turn 6, so he never saw play. In another game, I had the same scenario with Gilded Lotus.
These are some cards I think you could cut to speed things up, either by replacing them with lands and rocks, or with more efficient cards.
Debtors' Knell: It costs so much, and does nothing until your next turn (making it wide open for removal.) It's also your most expensive card, yet it isn't central to your winning strategy. In my experience, this card is only good if you can cheat it onto the battlefield. At 7 mana, I'd much rather have Rise of the Dark Realms for two more and just call it a day.
One Thousand Lashes: I'd rather pay half as much for Darksteel Mutation.
Spiritual Asylum: Orzhov is resilient to spot removal anyway. Lightning Greaves for your most important pieces.
Ob Nixilis of the Black Oath: I don't see how any of his abilities are super relevant. In most cases, the net result of casting him is that you get a vanilla 5/5 flyer for 5 mana. That's not great.
Liliana Vess: 5 mana for a tutor that puts something on top of your library. You can do better. With so few creatures, you shouldn't expect any planeswalkers to last more than one go around the table, so they need to be able to do big things the same turn you play them, like Sorin Markov.
Athreos, God of Passage: You don't have many creatures. The ones you do are pretty much all bombs, so your opponents will just pay to keep them in your yard. I can see him maybe draining for 6 life in a game, which is okay, but it's not spectacular.
Spelltithe Enforcer: He's not bad, but he isn't worth 5 mana in my book. Personally, since you're going for pillow fort, I'd much rather have Michiko Konda, Truth Seeker.
Norn's Annex: This card can buy you some time, but it's the weakest pillow fort card you have.
I highly recommend going up to at least 37 lands and 6 rocks. As it stands here, you will rarely be able to play more than one spell per turn with this curve, which is important when you want to set up two-piece combos like Sanguine Bond + Exquisite Blood.
Also, you have very little draw here. I'm counting Phyrexian Arena, Greed, and Erebos, God of the Dead, and that's it. You have great ways of tutoring out Necropotence. I would recommend adding that. If you can keep your hand full, you won't need to replicate your efforts with so many copies of cards that have similar effects.
Lastly, I would recommend adding Expedition Map to help you set up Urborg/Coffers.
2 weeks ago
A Card thats definitely missing in my opinion is Alhammarret's Archive ,wich not only synergizes well with the intire lifegain idea, but also amplifies the amount of cards you draw by alot, since you are already running cards like Greed or Phyrexian Arena
3 weeks ago
You're running blue and black, so you should have plenty of options for additional card draw. Phyrexian Arena, Greed, Notion Thief (the most theme-appropriate), Mulldrifter, Consecrated Sphinx, Rhystic Study, hell, even Rishkar's Expertise would work...and that's not even counting artifacts, like Alhammarret's Archive, Temple Bell, or Howling Mine
1 month ago
Mana Crypt, Chrome Mox, Mox Diamond, Thran Dynamo, Gilded Lotus, Mana Vault, Burnished Hart, Toxic Deluge, Sheoldred, Whispering One, Phyrexian Tower, Sensei's Divining Top, Beseech the Queen, Hedron Archive, Greed, Gray Merchant of Asphodel, Nykthos, Shrine to Nyx, Entomb, Living Death, Buried Alive, Diabolic Intent, Death Cloud, Oppression, Black Market, Liliana of the Veil, Bojuka Bog, Ghost Quarter, Strip Mine, Wasteland, Attrition
Load more