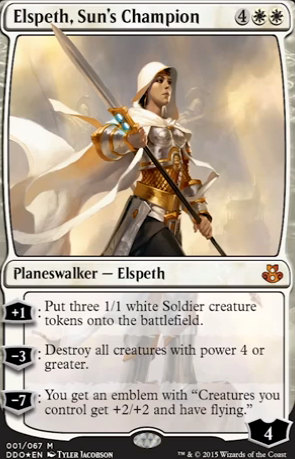 Elspeth, Sun's Champion
Planeswalker — Elspeth
+1: Put Three 1/1 white Soldier creature tokens onto the battlefield.
-3: Destroy all creatures with power 4 or greater.
-7: You get an emblem with "Creatures you control get +2/+2 and have flying."
Have (30)

T

h

e

C

l

e

a

n

e

s

t

o

f

S

h

i

p

s

,

j

e

c

d

e

r

,

H

a

v

o

k

X

, Xathrid845 , the.beanpole ,

O

r

c

i

n

b

o

b

, Cheezylizard , TeslaMagi , ryuzaki32667 , Surferdunks , dexxter7 ,

C

h

a

m

p

l

o

o

, ironax , TheLazyGrim , dragonbladeice , why09 , IKEYMAN , luckythepirate , benjibot789 , Crow_Of_The_Void , dbp512 , tjones82 , kaboomeow ,

L

u

c

k

M

i

s

e

s

a

c

k

, Represser ,

H

a

l

c

y

o

n

M

T

G

, Drael , geazykagar , allthingsMTG , Vergil_Redgrail
Want (5)

O

c

e

l

o

t

P

r

o

b

l

e

m

s

, wizardpch , FraserWM , Xunfor6iv3nX , Welldasgood
Elspeth, Sun's Champion Discussion
7 hours ago
What do you guys think about Elspeth, Sun's Champion in a meta full of Midrange (Abzan CoCo, Jund), Control (Jeskai, Grixis), and Grixis Twin? Can I get away with it? I'd be playing her in Esper Control, for reference.
7 hours ago
Mono Red looks pretty solid to me, it really doesn't lose much and most of it's hate rotates. We'll have to see what the removal for BFZ looks like before we know for sure but expect Mono Red to be a major player come rotation.
G/R ports over to the new Standard in a good place. Devotion is dead sure but your typical G/R Aggro/Dragon decks are going to be fine. It loses some solid value cards and Stormbreath but it has adequate replacements already available. It's mana appears to be getting a hell of a lot better though and splashing
or

should be a breeze now.
Abzan Control/Midrange loses most of it's important cards. Abzan does retain a majority of it's aggro pieces though and the archetype should shift to to reflect this. Losing Thoughtseize, Downfall, Elspeth, Sun's Champion, Courser of Kruphix, Fleecemane Lion, and Sylvan Caryatid are huge blows. Abzan should survive but it will be a value aggro deck that most likely tops out at Siege Rhino, Sorin/Gideon, and Wingmate Roc.
2 days ago
You started with Bant and moved to five-color! Excellent choice. I love five color. I have noticed that your deck largely lacks direction, and mainly aims to just play fun cards that seem like they're fun to play. To help you out in the future, I'll give you a rating on each card to let you know how good/bad it might be, which will help you gauge what might be the next cut.
Overall, you're well on your way to a good list. There's really not much more I can say. Hope I was able to bring some things to light that you may not have thought about. Good luck in the future.
2 days ago
End Hostilities and/or Crux of Fate. You need board wipes. Also, less creatures or harder to kill ones. Try Gaea's Revenge; he is uncounterable and untargetable/unkillable except by two spells -- Abzan Charm + Sultai Charm .
Tasigur, the Golden Fang is a must. He gets you things and doesn't get removed by Languish.
Maybe more removal, ex Reprisal, in place of the 2x Sorin, Solemn Visitor.
You only will really ever want 1 copy of Murderous Cut, even side-board. Mostly because you are not running any Satyr Wayfinder but also because you have enough other spot removal. Usually the ratio will be 3x Hero's Downfall 1x Murderous Cut.
I am really on the fence about Bile Blight. It gets rid of quite a bit in the current meta, don't get me wrong. But the double black, the single target (name target) and the idea that it might not kill anything if any tricks rear their head make it up to the player to choose whether or not the card is worth it.
You could also increase your Elspeth, Sun's Champion count in place of Sorin, Solemn Visitor and try to find a copy of either the new Nissa flip planeswalker or Ugin. Even the new flip Liliana wouldn't be bad in this type of deck.
Finally, if you aren't going to spend the money on Thoughtseize (and I don't blame you), Duress gets rid of the larger threats against Abzan Control, namely counter-spells which Junk/BGW deosn't have access to (at this time, unfortunately Dawn Charm isn't standard).
Hope these help. If in any doubt you could always check mtgtop8.com for ProTour deck lists and craft something from them.
6 days ago
remove Ajani Vengeant, Dack Fayden, Elspeth, Knight-Errant, Elspeth, Sun's Champion, Jace Beleren, Tamiyo, the Moon Sage, Venser, the Sojourner, Propaganda, Spectra Ward, Spirit Mantle, and Steel of the Godhead.
Add the totem armors, Indestructibility, Vanishing, Diplomatic Immunity, Lotus Petal, Strionic Resonator, and Swan Song