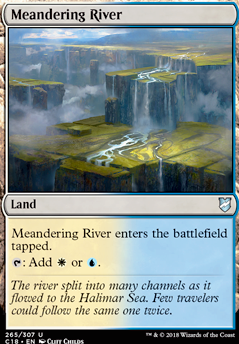 Legality
| | |
| --- | --- |
| Format | Legality |
| Pre-release | Legal |
| Tiny Leaders | Legal |
| Frontier | Legal |
| Vintage | Legal |
| Penny Dreadful | Legal |
| Commander / EDH | Legal |
| Noble | Legal |
| Hero | Legal |
| Magic Duels | Legal |
| Brawl | Legal |
| Block Constructed | Legal |
| Standard | Legal |
| Arena | Legal |
| 1v1 Commander | Legal |
| Canadian Highlander | Legal |
| Leviathan | Legal |
| Duel Commander | Legal |
| Unformat | Legal |
| Heirloom | Legal |
| Modern | Legal |
| Pauper | Legal |
| Pauper EDH | Legal |
| Legacy | Legal |
| Casual | Legal |
Meandering River
Land
Meandering River enters the battlefield tapped.
: Gain or .
Meandering River Discussion
6 days ago
Heya Fans, and welcome back to our show. After some practice with our potential new hires we come to our first look at what fresh acts we can bring to the audiences.
After much hiring and firing, then rehiring again, and many hours of choreography, I am happy to report we have had decent results. And that I'm convinced there could be physical changes made. If you disagree or think of something better, please share your thoughts in the comments.
These changes aren't so deck altering as some of the others I am still considering, but I'm still not 100% on them. Need some outside input.
Wandering Eye or Fog Bank - Ingenious Thief : Eye gives away our own information, Fog does nothing against trample. Thief however can be blinked and doesn't pose a large threat stats wise.
Hanna, Ship's Navigator - ???: Closest things I could find that flies is Razor Hippogriff , Sanctum Gargoyle , and Griffin Dreamfinder but that only covers half. Or is this ability really necessary, can we work around our toys being removed and use this spot to fit something new?.
Azorius Keyrune & Ojutai Monument : for lack of a better word they seem 'cute' now. They seemed useful at first because they turned into flying creatures that shared the benefit other flyers do. Better rocks? Keep? Replacements could include Fellwar Stone , Basalt Monolith could be blinked with Brago... unsure what else is good and not overly expensive.
Favorable Winds : Is it really necessary, amid the other +'s it seems the least shiny, even though it's foiled.
Stay tuned for more to come! We're always trying to keep fresh acts, and as accidents happen replacement performers will hopefully be swift coming. Don't forget the suggestion and vote box on your way out. See you next time at The Circus!
3 weeks ago
DiverDown Did some small digging on the issue, and I have found at least one common denominator.
The following cards from Magic Game Night - (GNT) have incorrect legality:

And in Global Series: Jiang Yanggu & Mu Yanling - (GS1), only the cards listed below works:
The rest of them have incorrect legality.
This shows that only NEW entries in the database are affected by this bug, cards that existed before which only got an updated image in the sets didn't get affected.
I have tried to edit cards(using the "fix card" function) but that does not yield any result at all, everything looks okay in the forms when submitting the cards.
I also tried submitting an entry of an existing card in another set/expansion to see if it changed something, but it didn't.
So the entries in the database are probably corrupted, manual deletion and readding is maybe a way to go for individual cards. But what causes the bug I have no idea of.

To investigate this issue further it would be good if I have more cards to look at, so tag them here if you find any.
---
A
r
v
a
i
l
: I hope not, except for this bug I think it works somewhat good.
3 months ago
Just a momentary thought: Budget upgrades could include the land upgrades?
Flooded Strand, Minamo, School at Water's Edge, Hallowed Fountain (For those you just take away 2x islands and 1x Plains)
Those seem like excellent includes for once you've purchased the other ones and you're looking to finish the job.
Thanks for the upgrades guide, I've made a lot of use of it, adding some into the mainboard, and reserving a few that will be bought along with the 100 in the list, as a 15 card 'sideboard' of sorts, used to add in cards to power up the deck depending on what strengths I'm playing against.
3 changes I made though:
-Kefnet the Mindful for Slinn Voda, the Rising Deep (Another cyclonic rift bounce effect vs. Kefnets self bounce for weird card advantage)

-Azami, Lady of Scrolls Solemn Simulacrum (I feel like Simulacrum does what Azami wants to do with better consistency, you only really want to be paying UUU for a creature that is its own excellent engine, such as Arcanis. Azami needs way more wizards in the list to really get pumping, and unlike a Simulacrum, players will immediately respond to an Azami, they know it will generate game-winning card advantage, vs flashing in a chump block simulacrum for pure value-town, much faster than Azami's slow roller. Also, colour-less mana fixing. God bless).

I kept Hushwing Gryff when I added Kira to mainboard, and instead dropped Aven Mindcensor for Kira, Great Glass-Spinner. The reason behind this being my playgroup has a krenko, as well as a bunch of other tribals. Tribal ETB's are powerful, I can't say no to keeping a hushwing in my back pocket. If I verse someone I know will play johnny combo, and search their library, I'll change between Censor and Hushwing accordingly.
My version of your list (which I just ordered as a nice christmas present to myself!):
Enral's Instant Speed Tribal Copy
+1 from me!
4 months ago
For your lands, I would recommend you run 38. This number should be a mix of utility, mana fixing, and basics.
Utility: Reliquary Tower Homeward Path
Mana Fixing:
Fetches: Terramorphic Expanse, Evolving Wilds
Tri Color: Arcane Sanctum, Esper Panorama, Command Tower
Scry Lands: Temple of Deceit, Temple of Enlightenment, Temple of Silence
Bounce Lands: Azorius Chancery, Dimir Aqueduct, Orzhov Basilica
Check Lands: Drowned Catacomb, Glacial Fortress, Isolated Chapel
Gain Lands: Dismal Backwater, Scoured Barrens, Tranquil Cove
Guildgates: Azorius Guildgate, Dimir Guildgate, Orzhov Guildgate
Tap Lands: Forsaken Sanctuary, Meandering River, Submerged Boneyard
P.S. Hour of Devastation is not allowed in your deck.
4 months ago
I really like your deck and admire your desire to make inexpensive edh decks. That being said I do believe there are some ways you could improve this deck without breaking the budget.
While you do have plenty of board wipe effects I notice that you only have a few single target removal spells. Board wipes are great but the problem is the fact that they are sorcery speed. The ability to react on your opponents turn is invaluable so I would highly recommend adding one or two more instant speed removal spells. Some notable ones would be
I also think there are some counterspell's you would be better off for running that are pretty cheap.
Of all your counterspells I do believe that any of these would be better than
Cancel
,
Mana Leak
, or
Spell Pierce
The only other general improvement I would recommend would be try to add some dual lands. Even if they come into play tapped, dual lands do wonders to help a deck perform at its best. Some really budget ones I'd recommend are.
And since you do have such a robust instant package I would also recommend considering running
Tidespout Tyrant
as another finisher type card.
I really do like your deck and what you have made so far, but I would like you to at least consider these options to further improve your deck.
4 months ago
I think synergy build was on the right track for your mana base but here is what I think it should be.
3 Island
4 Plains
This gives you
17 blue
15 white
13 red
When creating a streamlined manabase you have to look at what your "greediest" card in each color is. For you it's Sinister Sabotage, Settle the Wreckage, and Deafening Clarion.
You need a minimum of 17 islands so that you can cast Sinister Sabotage on turn 3 consistently
You need 15 white sources to cast Settle the Wreckage consistently on turn 4
Red only demands turn 3-4 Deafening Clarion as Justice Strike isn't really a turn 2 play.
I learned how to build manabases from a helpful article written by Frank Karsten. I am not perfect and therefore my suggestion could be a little off but I think it's pretty close to the ideal manabase. Here is a link:
https://www.channelfireball.com/articles/how-many-colored-mana-sources-do-you-need-to-consistently-cast-your-spells-a-guilds-of-ravnica-update/
And here is a table I often reference from his article:
http://227rsi2stdr53e3wto2skssd7xe-wpengine.netdna-ssl.com/wp-content/uploads/2018/10/How-many-sources-60-cards.png
Load more
Meandering River occurrence in decks from the last year
Commander / EDH:
All decks: 0.02%