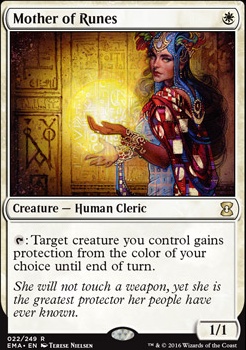 Mother of Runes
Creature — Human Cleric
: Target creature you control gains protection from the color of your choice until end of turn.
Browse Alters
View at Gatherer
Trade
Legality
| | |
| --- | --- |
| Format | Legality |
| Highlander | Legal |
| 1v1 Commander | Legal |
| Legacy | Legal |
| Tiny Leaders | Legal |
| 2019-10-04 | Legal |
| Casual | Legal |
| Vintage | Legal |
| Leviathan | Legal |
| Unformat | Legal |
| Oathbreaker | Legal |
| Duel Commander | Legal |
| Commander / EDH | Legal |
| Custom | Legal |
| Limited | Legal |
| Canadian Highlander | Legal |
Mother of Runes occurrence in decks from the last year
Latest Decks as Commander
Mother of Runes Discussion
2 days ago
Changelog (22/11/2020)
White
Blue
Black
Red
Green
Multicolored
Colorless
Mana Fixing
2 months ago
     Wiizy: Indeed, that's true! You're definitely not wrong, but there are a number of creatures in this deck that I don't have much interest in stacking equipment on that are still worth protecting (Mother of Runes, Bastion Protector, etcetera).
     Having the ability to give haste for no additional mana in a White deck is quite valuable with things like Giver of Runes or Stonehewer Giant as well. The Shroud part of Lightning Greaves can definitely be annoying at times, but they still draw me a card, grant haste and equip for zero. In my mind the Greaves are just too useful to not include. =)
2 months ago
Hello, I have some cards suggestions you could consider.
Im sure there is more but this is what I could think of off the top of my head.
2 months ago
I definitely agree with GoblinElectromancer's suggestions - Clerics were given a lot of new tools to actually win the game in the new set, rather than be supporting characters. I think you need 4x Angel of Destiny, 4x Fiend Hunter, and 4x Cleric of Life's Bond as a good lifegain and removal core. I also recommend 4x Soul Warden.
Here are some other good Clerics in addition to the above that you should consider. In general, I think going a lifegain, rather than a damage prevention, route will be more successful for you. There's a reason they've moved away from damage prevention in white.
Auriok Champion
Ayli, Eternal Pilgrim
Bishop of Rebirth
Bygone Bishop
Edgewalker - but please don't buy any now, as they've spiked and will go back down.
Giver of Runes/Mother of Runes
Mangara, the Diplomat
Selfless Spirit
These cards I think are weak that you can definitely cut for new cards:
Daru Healer
Oriss, Samite Guardian
Pulsemage Advocate
Shieldmage Elder
Ancestor's Prophet
War Report
Load more