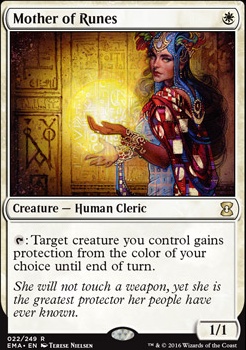 Legality
| | |
| --- | --- |
| Format | Legality |
| Vintage | Legal |
| Duel Commander | Legal |
| Commander / EDH | Legal |
| Legacy | Legal |
| Tiny Leaders | Legal |
Mother of Runes
Creature — Human Cleric
: Target creature you control gains protection from the color of your choice until end of turn.
Have (17)

a

w

a

l

l

o

f

t

e

x

t

,

D

r

u

n

e

G

r

e

y

, CAPT.Shock , tragic_slip ,

g

o

s

o

r

a

,

K

i

o

r

t

i

o

,

R

o

a

d

h

o

g

,

S

p

i

n

a

l

r

i

p

p

e

r

, dexxter7 ,

S

h

i

s

h

k

y

B

o

b

,

P

o

p

t

a

r

t

z

9

5

, Paradise_Collectibles ,

m

c

s

t

a

n

g

1

9

8

6

,

T

h

e

R

e

a

l

P

e

a

c

h

e

s

, sonnet666 , buildingadeck , zachi
Want (3)
Xue-Kaihua , Oloro_Magic ,

T

h

e

R

e

a

l

P

e

a

c

h

e

s
Mother of Runes Discussion
5 days ago
Samut, Voice of Dissent is made to be tapped either during or after combat. (Hence Vigilance) This first means that commander damage should likely be a part of your strategy. It also means that combat step untap shenanagins are a thing. Cards like Copperhorn Scout and Aurelia, the Warleader allow you to attack, then with their untap trigger on the stack, tap Samut, finishing with her untapped, attacking, and having activated her ability.
Lets look at this in conjunction with Mother of Runes. We attack with Samut and Copperhorn Scout. The scout's untap ability goes on the stack. In response, we tap Mom to give protection to one of our attacking creatures, untap her with Samut, then tap her again for the other. Then our untap ability resolves, leaving Samut untapped and attacking, and Mom untapped waiting to use her ability again, while both attacking creatures have protection from the color of our choice.
Reconnaissance could also be a useful card for you here. It lets you attack with Samut, tap her, then untap her after damage is dealt. And is fantastic for all your other creatures as well.
This is the mindset I would approach Samut with. Not just strait forward use, but exploitation.
I'm probably gonna do one of those things where I get really invested in this deck and give you suggestions for like 2 days strait as I think of other possible cards you could include.
5 days ago
Hey nice initial build, +1, fellow Kaalia of the Vast player, Kaalia, Mirror Breaker EDH
You should include a secondary win-con into the deck, the standard Kaalia of the Vast is Crucible of Worlds + Armageddon + Ravages of War + Command Beacon + Strip Mine + Wasteland. Others are Worldgorger Dragon and/or Kiki-Jiki, Mirror Breaker which is the one I play. It's too hard to deal 40 damage to all 3 players, especially with your board position, it pulls attention of the other decks, even though the others may be driving toward their win-con combos.
Dragon Tempest has been really nice, CMC 2 Haste which is what Kaalia of the Vast needs, even more than protection. Without haste it will be a tough go.
Mother of Runes is a nice cheap re-usable protection as well.
Elesh Norn, Grand Cenobite is awesome, miss Phyrexia/Innistrad, but she isn't an A/D/D so tough to cast her. She will be too slow, albeit very controlling.
You have Brave the Sands use Angelic Field Marshal spot for something else. Maybe an Exquisite Archangel to hit the reset life button, or a Baneslayer Angel to lifelink who can be cast without Kaalia of the Vast, maybe Angelic Arbiter/Linvala, Keeper of Silence if you like the control aspect, or a Grand Abolisher which protect Kaalia of the Vast during your turn, which especially combos nice with the Haste.
I think Sheoldred, Whispering One again is someone that's not working with your overall game plan. The Praetors are way too awesome, but they are going to be far too slow for what you need to accomplish with Kaalia of the Vasts bar-brawl style of aggro play.
Sword of Feast and Famine works good with Hellkite Charger or an Aggravated Assault.
Steelshaper's Gift can pull a Lightning Greaves or Swiftfoot Boots which is better than a Hammer of Purphoros.
Citadel Siege is a little slow, your guys are already pretty big, not sure it's worth the 1 blocker tap-down.
Really cool, love Kaalia of the Vast, the mana will take a while but slowly work on it. Cheers.
5 days ago
DISCLAIMER
I am particularly hard on this deck because I know the builder in person, and he has asked for some help. This is not a comment on a random deck tearing it a new one.
1 week ago
feyn_do_alduin: Honestly, I just find it to be too much mana. A lot of my triggered abilities are not useful in multiples, and mana is really tight in the deck.
With regards to the Swords, my original draft had all five. My experiences were...mixed. Sword of Light and Shadow is fantastic here (with so many self-sacrificing creatures), but prevented me from targeting Avacyn with any white cards (like Mother of Runes or Bruse Tarl, Boorish Herder or Sigarda's Aid, etc). Sword of War and Peace was far worse - it prevented ALL of my colored targeting for what I found to be a lackluster (or at least inconsistent) effect. And Sword of Body and Mind didn't have any color issues, but I just think its effect is really weak. Am I misjudging any of them, in your opinion?
And about your other additions: Do you like Sram, Senior Edificer here? I've been thinking about Sram's Expertise here as well, since I have so many things with CMC 3 or less. Nahiri, the Lithomancer was cut from my initial draft because she was just too much mana for her effect, and I play in a meta where Open the Vaults helps my opponents far more than it helps me.
1 week ago
Draw/Recursion:
Daredevil Dragster, Sun Titan, Phyrexian Arena
Ramp:
Darksteel Ingot, Commander's Sphere,
Answers:
Anguished Unmaking, Crackling Doom, Terminate, Utter End, Return to Dust
Win Cons.:
Lands:
Nomad Outpost Perfect Tri-color land.
Options:
Elspeth, Sun's Champion, Ankle Shanker, Mother of Runes To ensure you can get damage in and protect your key creatures.
Weldfast Engineer, Untethered Express
Potential Cuts:
Veteran Motorist I am not sure you get the value youre looking for.
Visara the Dreadful, Royal Assassin, Eradicate Seal of Doom You have plenty of single target removal. Look to add more board wipes.
Perilous Vault, Felhide Spiritbinder Too cute and not enough value from the mana sink as the token leaves.
Load more