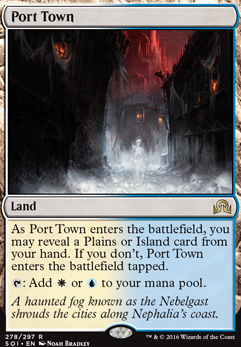 Legality
| | |
| --- | --- |
| Format | Legality |
| Tiny Leaders | Legal |
| 1v1 Commander | Legal |
| Magic Duels | Legal |
| Heirloom | Legal |
| Canadian Highlander | Legal |
| Vintage | Legal |
| Modern | Legal |
| Block Constructed | Legal |
| Leviathan | Legal |
| Legacy | Legal |
| Frontier | Legal |
| Duel Commander | Legal |
| Unformat | Legal |
| Casual | Legal |
| Commander / EDH | Legal |
Port Town
Land
As Port Town enters the battlefield, you may reveal a Plains or Island card from your hand. If you don't Port Town enters the battlefield tapped.
: Add or to your mana pool.
Port Town Discussion
4 days ago
Heya Fans, and welcome back to our show. After some practice with our potential new hires we come to our first look at what fresh acts we can bring to the audiences.
After much hiring and firing, then rehiring again, and many hours of choreography, I am happy to report we have had decent results. And that I'm convinced there could be physical changes made. If you disagree or think of something better, please share your thoughts in the comments.
These changes aren't so deck altering as some of the others I am still considering, but I'm still not 100% on them. Need some outside input.
Wandering Eye or Fog Bank - Ingenious Thief : Eye gives away our own information, Fog does nothing against trample. Thief however can be blinked and doesn't pose a large threat stats wise.
Hanna, Ship's Navigator - ???: Closest things I could find that flies is Razor Hippogriff , Sanctum Gargoyle , and Griffin Dreamfinder but that only covers half. Or is this ability really necessary, can we work around our toys being removed and use this spot to fit something new?.
Azorius Keyrune & Ojutai Monument : for lack of a better word they seem 'cute' now. They seemed useful at first because they turned into flying creatures that shared the benefit other flyers do. Better rocks? Keep? Replacements could include Fellwar Stone , Basalt Monolith could be blinked with Brago... unsure what else is good and not overly expensive.
Favorable Winds : Is it really necessary, amid the other +'s it seems the least shiny, even though it's foiled.
Stay tuned for more to come! We're always trying to keep fresh acts, and as accidents happen replacement performers will hopefully be swift coming. Don't forget the suggestion and vote box on your way out. See you next time at The Circus!
6 days ago
Hey, nice budget deck, less than $100, well done.
Budget upgrades ($2 or less each, most are less than $1) to consider:
Can add all these cards for about $20. I offer more help if you would like.
Good luck with your deck.
2 weeks ago
Hey, for a first Commander deck well done.
I'm not sure what your budget is for this deck because I see expensive price cards (Avacyn, Iona, Baneslayer) then also many ultra low budget cards. My cards suggestions are low budget ($4 or less each, most are $1-$2) to improve the manabase because when playing three colors you want more dual lands. A 12-12-8 basic land ratio is too many basic lands for a three color deck. There's several budget lands and additional mana production to consider adding.
White is the most important color because the majority of Angels are white and have mana costs. Angels have high mana costs therefore more ramp (mana rocks, land ramp, mana docks) are quite helpful to cast them in a game.
Cards to consider adding:
Canopy Vista, Prairie Stream, Port Town, Fortified Village, Ash Barrens and Bant Panorama have interaction with basic lands. Vista, Stream, Scattered Groves, Irrigated Farmland can be searched for with Farseek since these lands are two different land types. Vista and Groves can be search for with Nature's Lore since they have Forest as one of the two land types. Being able to search for and ramp with dual lands is helpful with a three color manabase.
Signets and Talimans are good two drop mana rocks for ramp in Commander decks. Fellwar Stone and Chromatic Lantern are rainbow mana rocks. Very helpful for mana fixing since Lantern lets you tap any land you control for any one color of mana which is good with a three color manabase. Elvish Mystic and Avacyn's Pilgrim are additional one drop mana dorks.
---
Cards to consider cutting:
6x Island
2x Plains
2x Forest
Blazing Archon
Clone
Dust Elemental
Gleaming Barrier
Servant of the Conduit
Conqueror's Pledge
Secrets of the Golden City
Beneath the Sands
Divine Verdict
Time Stop
If your deck's budget is higher than I think it is please let me know and I can give you better land suggestions. There's other budget card upgrades you can make here and if you're interested I offer more advice.
Good luck with your deck.
1 month ago
Yo meatman87, for a competitive Tuvasa Enchantress deck, I would definitely do some reworks and go a bit more into the taxing route. Some cards I would add in already that comes to mind is:
I would also reconsider adding in Mystic Remora , it is a great card that slows down other competitive players or force you to gain card draw which is important. You should also consider other avenues to winning with Tuvasa as your 3rd line to winning if all else fails. You can do something akin to Enchanted Evening / Aura Thief or Cleansing Meditation . Three part combo with that as well as Calming Verse / Faith's Reward / Teferi's Protection . Enchanted Evening also goes well to make infinite tokesn with Ajani's Chosen .
Another line you can also go for in the Blind Obedience + Bloom Tender / Pemmin's Aura / Freed from the Real infinite extortion win. There are also cards that don't make sense with the current build so these would be the cards I would recommend cutting.
The cards I mentioned above either doesn't have a place in the deck your going for or isn't further accelerating your game plan. What you want to do assuming is to accumulate resources and value ahead of your opponent while preventing them to do anything. I would also say that you wouldn't actually need JTMS, Mother of Runes or Noble Hierarch as they won't trigger your draw. You also might want to consider adding in a High Market to have a kill switch for your Academy Rector . You have a couple avenues of fetching for it in the forms of Crop Rotation as well as Wargate when you add the latter in. Sylvan Scrying might also not be a bad add in as it can fetch you your Reliquary Tower / Serra's Sanctum and if you want to consider adding in Nykthos, Shrine to Nyx , those are all valuable targets.
Lemme know if you have any questions on the card reasoning or if somehting doesn't make sense to ya!~
2 months ago
There can be a really interesting blue white auras deck in the format but this one has a couple weaknesses. Because of all your one of cards, this deck can lack some consistency. Things like ethereal armor, daybreak coronet, and spirit mantle are the best auras in the format so even if it is outside of your budget to play four of each it is definitely something to work towards. Another big weakness of not only this deck but auras in general is that if your creature dies then all your auras die with it. There are whoever ways to counter this downside. An example of this is protection and hex proof effects such as Apostle's Blessing , Dive Down , or Slippery Bogle . One of the best things a deck like this is play a creature on turn one and then on turn two play and aura and attack. Thankfully there are a few options for 1 mana creatures such as Slippery Bogle and Slither Blade . There also seems to be a fairly high density of creatures in this deck which might not be the best option because the best way that you can use auras is by putting them o one creature and making it huge. If you played Bruna, 4 Slippery Bogle , 2 Slither Blade , 4 Kor Spiritdancer , and 2 Hero of Iroas that would probably be plenty.Your land count is good but your mana base is slightly slow with the tap lands. I would get three more Port Town seeing as it is good budget option and replace the lands that come in tapped and gain you life. Since modern can be a fairly quick format and you are trying to get to Bruna mana, I would recommend some cheap counter spells to try and go on a tempo plan. Some options to keep in mind are Spell Pierce and Spell Snare . All in all this is a great first attempt (better than I could of done when I started brewing) and if you wanted to start winning tournaments with a deck like this it is completely possible. P.S. Enlightened Tutor is not modern legal
2 months ago
Hey, interesting concept for a tribal deck. Consider expanding on the strategy of Soulcatchers' Aerie? What makes this card shine with Birds and Derevi are sac outlets. With sac outlets you can sac Derevi to put a counter on Arie and then using Derevi's activated ability to put her back into play without playing Commander tax. This is one reason sac outlets are pretty busted with Derevi. Sac outlets to consider adding:
Skullclamp is great with sac outlets and is also good with all the 1/1 Owls/Familiars/Tokens.
Consider Reveillark + Guide combo? It's excellent with sac outlets as a reanimation engine. There's many Birds here who when in the graveyard have 2 or less power who Reveillark can reanimate. This combo by reanimating and sacing Birds can put a lot of counters on Aerie or draw a lot of cards with Skullclamp. Sacing and reanimating Reveillark and Guide can put a lot of counters on Soulcatcher since both have flying.
Mimeomancer + Kangee, Aerie Keeper is a good Bird interaction. Kangee cares about feather counters; Mimeomancer can at your upkeep put a feather counter on Kangee. Quest is good with Crookclaw Elder and Keeper of the Nine Gales. Tap two Birds to draw a card or bounce a permanent; when have four counters on Quest untap all your Birds during your opponents turns.
Witness can recur any card and be reanimated with Reveillark; it's a powerful card with Reveillark. Consider Yisan? Because of the low budget you can't play a lot of expensive price creature tutors. Yisan is a budget repeatable creature tutor that puts the creature right onto the battlefield. Birds have a nice curve of CMC creatures (1 drop all the way up to six drop).
As far as the five nonBird creatures you're allowed to play I suggest: Emeria Angel, Reveillark, Karmic Guide, Eternal Witness and Yisan.
---
Other Birds to consider adding:
Budget lands to consider:
---
Cards to consider cutting:
Coat of Arms
Illusionist's Bracers
Crystal Ball
Fable of Wolf and Owl
Gravitational Shift
Favorable Winds
Sphinx's Revelation
Explosive Vegetation
Wing Shards
Cloudfin Raptor
Skymark Roc
Oketra's Attendant
Aerie Mystics
Aven Wind Guide
Windbrisk Raptor
Arctic Aven
Sunpetal Grove
Glacial Fortress
Temple of Enlightenment
Temple of Plenty
Good luck with your deck.
2 months ago
Since you are playing a two-colour deck you do not need a lot of colour-fixing. Other than special ability lands, you do not need lands that give you multiple colours. Back to Basics is an extremely powerful effect that you should capitalize on for your "Law" deck.
You can cut the following cards:
and replace them with a Terramorphic Expanse, Evolving Wilds and basic Islands and Plains.
Load more
Port Town occurrence in decks from the last year
Commander / EDH:
All decks: 0.03%
W/U (Azorius): 1.58%