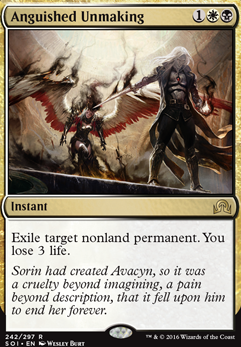 Legality
| | |
| --- | --- |
| Format | Legality |
| Tiny Leaders | Legal |
| 1v1 Commander | Legal |
| Magic Duels | Legal |
| Heirloom | Legal |
| Canadian Highlander | Legal |
| Vintage | Legal |
| Modern | Legal |
| Block Constructed | Legal |
| Custom | Legal |
| Leviathan | Legal |
| Legacy | Legal |
| Frontier | Legal |
| Duel Commander | Legal |
| Oathbreaker | Legal |
| Unformat | Legal |
| Casual | Legal |
| Commander / EDH | Legal |
Anguished Unmaking
Instant
Exile target nonland permanent. You lose 3 life.
---
Have (4)
robbnoble ,

m

e

t

a

l

m

a

g

i

c

,

S

k

w

a

r

k

a

,

A

z

d

r

a

n

a

x

Want (10)
CommanderBox , Elynia , AlyOfArendelle , __juanthebeaver27 , AveryLane , Cryogenical ,

e

v

a

n

d

r

a

g

o

n

r

i

d

e

r

, deman464 , rotusq , calovr
Anguished Unmaking Discussion
1 day ago
There are a couple cards I would suggest. Some of them are a bit more pricey tho.

Creatures

Sorceries

Instants

Enchantments

Atrifacts

---
I hope these suggestions are of some help to you. Many of the cards are simply upgrades of the weaker removal/ramp/draw cards contained in the precon.
If you want to make the deck more competitive, cards like
The Chain Veil
or
Felidar Guardian
can outright win the game in combination with
Altar of the Brood
or
Vela the Night-Clad
.
1 day ago
I mean, you are playing a deck with access to both black and white. There are unlimited options for removal. You can go for slightly expensive but catch-all options like the classic Oblivion Ring , or even Detention Sphere . You can go for cheaper (and instant) kill spells in black, where classics include stuff like Fatal Push . I used to even play Faith's Fetters in a UW Gifts Tron list. You could also always consider Anguished Unmaking .
Generally, the best option is to diversify so you can Gifts Ungiven for (at least) 3 different spells that all solve the problem at hand. This requirement is kind of loosened by running Snapcaster Mage / Mission Briefing / Torrential Gearhulk .
1 week ago
Orzhov Signet , Zulaport Cutthroat , and Reassembling Skeleton are some great includes I see you're missing. If you want to keep the deck's power level down I wouldn't add too many tutors otherwise there is Vampiric Tutor and Entomb as some low cost powerful ones that weren't mentioned already.
The deck is lacking instant speed interaction which means you aren't going to be able to stop what your opponent is doing very well. I suggest adding Swords to Plowshares , Path to Exile , Anguished Unmaking , Despark , and Aura of Silence .
Lastly run some disruption because an Orzhov deck can always go the distance, but is SO slow to get there. Hushwing Gryff and Aven Mindcensor are instant speed disruption with a flying body that can really mess with an opponent's plan.
I would honestly rate your deck as more of a 6 power level and no where near a 8-9 as those can compete with cEDH decks or are cEDH decks themselves which can combo off around turns 3-6 and run a million counter spells to prevent your opponent from doing anything... Being in the 7-8 range is really the happy place but its dependent on your meta. If this deck is an 8 in your current meta then I would be hesitant to upgrade it too much because you don't want to leave your playgroup behind or it always turns into arch enemy where everyone kills you off first because your deck is so much more powerful then all of theirs. I actually have a friend who has this problem and even after de-powering his decks the slogan of "Rule 0: Kill Chris" is still said and obeyed a lot of the time.
If you enjoy listening or watching podcasts I suggest you check out The Command Zone podcast on Youtube or itunes. They have a few episodes where they specifically cover balancing your meta and how to avoid these conundrums.
2 weeks ago
I'm not sure why everything is marked as foil, TBH, since a few of those (such as Path of Ancestry / Grim Tutor ) don't exist in foil?
Apologies if I sound blunt -- this deck seems like it lacks focus. Your curve is very, very high, you've got a lot of expensive cards such as Mana Crypt but lacking cheaper staples such as City of Brass / Mana Confluence , you're running terrible cards such as Murder / Grim Tutor but lacking FAR better options such as Anguished Unmaking / Vampiric Tutor , etc. I can help more if you can give a detailed explanation of what this deck is intended to be/do, but it just seems like a pile of cards stuck together as-is...
(Also, you've got an extra Chromatic Lantern , just fyi.)
Load more
Anguished Unmaking occurrence in decks from the last year
Commander / EDH:
All decks: 0.13%
WB (Orzhov): 1.46%
WUB (Esper): 1.14%
BGW (Abzan, Junk): 3.28%
RBW (Mardu): 1.6%