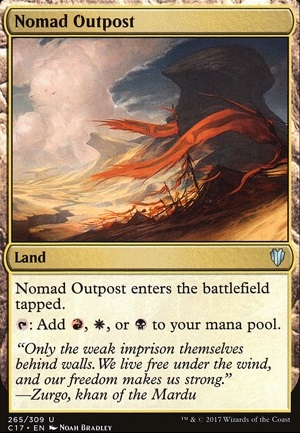 Legality
| | |
| --- | --- |
| Format | Legality |
| Tiny Leaders | Legal |
| 1v1 Commander | Legal |
| Magic Duels | Legal |
| Canadian Highlander | Legal |
| Vintage | Legal |
| Modern | Legal |
| Leviathan | Legal |
| Legacy | Legal |
| Frontier | Legal |
| Duel Commander | Legal |
| Unformat | Legal |
| Casual | Legal |
| Commander / EDH | Legal |
Nomad Outpost
Land
Nomad Outpost enters the battlefield tapped.
: Add , or to your mana pool.
Have (20)
thekingpinBR , ironax , bakeraj4 , xXThormentXx , Unjust_DiabIo , bakunet , stephen1212 , angesoir , killstars , Reliva , corys ,

D

E

E

R

, brentkc49 , rikertchu , MattN7498 , Swamy ,

o

r

z

h

o

v

_

i

s

_

r

e

l

a

t

i

v

e

l

y

_

o

k

a

y

8

1

9

,

m

e

t

l

j

o

e

, ExaByteOctopus ,

R

e

g

u

l

u

s

1

0

1

0

Want (32)
Kram_Yelooc , GhostRunner , Confusing_Zark , cannon_Spectacle , snowmaster55555atgmaildotcom , zgriffin1989 , Tortuous_TG18 , Turtlelover73 , GS10 , akki007 ,

k

o

d

i

e

5

3

, Radish , spawneerie , Cartridge , coadster , releasethedogs , wants2belink , Raeyic , Killer_Tofu , Georgez96 , ZurgoHelmsmasher , Vanirra , vaerth , ztanos ,

c

o

n

t

i

n

u

u

m

, N3M0 , Gryffix , Elementalism , jamiefosternz , Drakeslade12 , Rev0388 ,

D

a

r

k

S

t

a

r

S

t

o

r

m
Nomad Outpost Discussion
2 weeks ago
Something you will definitely want to change about your deck is the land count. You've only got 22 right now and most EDH decks run anywhere from 34-39, depending on the deck. Some go even higher (or lower) than that, but 22 just isn't enough lands for a 100 card deck. I just noticed that you don't actually have any basic lands so you may have just forgotten, but I would put in some basics and a few others, maybe Nomad Outpost and Luxury Suite for example.
Also in general (and this is at least partly personal preference) the Vivid lands aren't very good and it would be better to have duals of some other type. The scary lands (Temple of Malice, Temple of Silence, and Temple of Triumph) are pretty good (and relatively cheap) options, as are pain lands (Sulfurous Springs, Caves of Koilos, and Battlefield Forge) among others. I have a Mardu Vampire deck that has a pretty good land base which you can check out if you want, maybe get some ideas for this one (deck is here: Edgar Markov tokens).
Another thing that you may not know (or it may not apply in your meta) is that planeswalkers generally aren't that great in EDH. People tend to gang up on them and kill them off before they do much. Of the ones you have Ugin, the Spirit Dragon is definitely an exception, he's amazing, but aside from him and maybe Sarkhan most of them don't seem like they'd work very well in here (especially Tibalt, the Fiend-Blooded, he's just terrible in general).
Something I try to think about when thinking about adding planeswalkers is will their non-ultimate abilities be useful to me. You will almost never get to a planeswalker's ultimate so the other abilities have to be worth the cost of casting the walker and the cost of running it in the deck over something potentially better. For example, Ugin. His plus defends himself fairly well and can zap players if you need it to, and his minus ability (his best ability) is an absolutely amazing boardwipe. His ult is fantastic, but it's not enough to run him since he probably won't get there. Tibalt is an example of the exact opposite. His ult is great, yeah, but both his other abilities are horrible. The random discard from his plus hurts a lot, and the minus is costed much too highly to be worth using ever (seriously why is it -4 that's ridiculous), and you have to uptick him twice to even use it once, three times if you want him to survive it.
Aside from that the deck looks pretty cool. Dragons are lots of fun, I play against several dragon decks fairly regularly and they're always pretty awesome. Scourge of the Throne is another pretty good dragon I can think of off the top of my head, you may be interested in adding him. Good luck!
2 months ago
Here's some land recommendations, because playing 5 colors is hard without the right lands:
Ancient Ziggurat, Command Tower, Crystal Quarry, Frontier Bivouac (run all 10 of the tri-colored tap lands, they're cheap and good), Mystic Monastery, Nomad Outpost, Opulent Palace, Rupture Spire, Sandsteppe Citadel, Savage Lands, Seaside Citadel, Shimmering Grotto, Sliver Hive, Transguild Promenade.
You should drop all your basic lands down to 1 of each type. Running 5x Vivid lands and 10x Tri-color lands, and 1 of each basic land takes up 20 land slots. The rest should be land that some how taps for all colors.
I run a pretty low budget Slivers list, with Hivelord as the commander as well. Here's some cards that could up the power level of your deck without crazy monetary investment:
Primal Rage and Shared Triumph offer buffs to all of your Slivers. Spirit of Resistance makes you invincible if you have Sliver Hivelord in play. Unearth is a solid way to return some of your best Slivers to play after removal. Harsh Sustenance is solid removal with the added benefit of life gain. Obelisk of Urd is a good way to pump up your Slivers. Domri Rade is a planeswalker that works really well with Slivers. Gives you consistent removal as well as draw. The ultimate makes it real difficult to lose games.
2 months ago
OK... lets start with the creatures. u only want big hitters or stuff that do things while entering/attacking (Avacyn, Angel of Hope, Balefire Dragon, Gisela, Blade of Goldnight, Lord of the Void, Demonlord Belzenlok). If you want some cheap creatures play stuff like Stoneforge Mystic to get ur hexproof equipments or Mother of Runes/Grand Abolisher for protection. The small creatures you have, like Monastery Swiftspear, Knight of Infamy basically dont do anything. Anger: there are way better ways to give ur stuff haste.Serra Angel: doesnt do enough.- The Manabase is fine. u can allways upgrade it with some shock or fetch lands, maybe Nomad Outpost, Path of Ancestry .- Boros Signet, Orzhov Signet, Rakdos Signet are pretty much must have.- As for removal spells, try to go for unconditional stuff like Vindicate, Anguished Unmaking. Also try to get in at least one mass revival like Primevals' Glorious Rebirth, Faith's Reward can be game ending after an board wipe.- You also want some haste givers like Dragon Tempest or Fervor.- The most important thing for this kind of deck is to keep ur commander around. Whispersilk Cloak is fine, but the boots are cheaper and also give haste Swiftfoot Boots Lightning Greaves.- Another important thing is card draw. u already have Rune-Scarred Demon, but its by far not enough. Bloodgift Demon, Phyrexian Arena, Necropotence is pretty much my first tutor target in almost every game, Vampiric Tutor, Demonic Tutor. there are also cheaper alternatives like Diabolic Tutor.- Just look around other kaalia decks and see what theyre doing and of course playtest alot.
4 months ago
I've played with Nomad Outpost in the past and found it usually just slows it down. Pillar of the Paruns is a bit pricey but I could see it working. I'm gonna maybeboard it for now. I appreciate the help!
Load more