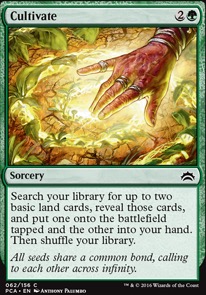 Legality
| | |
| --- | --- |
| Format | Legality |
| Vintage | Legal |
| Duel Commander | Legal |
| Commander / EDH | Legal |
| Legacy | Legal |
| Modern | Legal |
| Tiny Leaders | Legal |
| Pauper | Legal |
Cultivate
Sorcery
Search your library for up to two basic land cards, reveal those cards, and put one onto the battlefield tapped and the other into your hand. Then shuffle your library.
Have (16)
ZombieFood , NOGzFTW , Falte ,

p

s

k

i

n

n

0

1

,

s

a

j

0

2

1

9

, xXThormentXx , Kvothe1115 ,

D

r

_

J

a

y

, Gabeph , bustinchops , MattN7498 , prass1 ,

T

h

e

R

e

a

l

P

e

a

c

h

e

s

, ironax ,

K

I

n

g

W

i

g

g

i

n

s

,

B

o

z

a

Want (4)
Zomgasa , twospires , zachi , asydic
Cultivate Discussion
19 hours ago
Alright, understandable. The way I look at any deck is I give myself a set number of cards for each type or what each card offers. So since you want Treefolk/fatty bootied plants, I'd go with... 25 "theme" cards. 35 lands is my go to which would put you at 60 cards with the rest being support/fill. Of those remaining 40 I'd go, 5 wipes 5 spot removal, 10 draw, 10 ramp, and 10 general support. Of course you can tweak those numbers however, but it's good to have a basis. Once you start doing that you might realize you're going total overkill on one category and swapping cards around isn't as hard as it was (sometimes it is harder though lol).
All that said, a rough list I'd go with is something like this (again this is your deck and by all means take this with a grain of salt and/or ignore it if you see fit):
Regardless of what you do with any/all of that, good luck and hope you enjoy playing your deck!
2 days ago
Jitsrotu: Thanks for the input, i will cut Fecundity for Cultivate, so i don't give card advantage to my opponent's
2 days ago
skyninja135 your average cmc is too high (3.81) and your Abundance combo is solid but there's a lot of win more cards in there (whats Worldspine Wurm and Realm Seekers doing?). A number of your artifacts don't seem competitive at all, Storm Cauldron, Horn of Greed, Ghirapur Orrery all benefit the opponents as well which is something you want to avoid (except cards like Selvala, Heart of the Wilds), giving them extra lands basically speeds up their game plans as well. Most of the creature ramp (Wood Elves, Yavimaya Elder etc.) you got can be cut for normal dorks ( Elvish Mystic, Llanowar Elves etc.). I get the fact that you want to ramp heavily with lands, but most of the spells that enable you to do so are rather slow; compare Cultivate to Mox Diamond, of course, mox may be out of your budget but this kind of ramp allows early explosive turns ( after all you're aim is to pull off the combo asap) rather than a slow accumulative ramp (someone's bound to go off before you do). You can take out the landfall theme it's just not fast/strong enough. I'm unsure what the optimal land count for a deck like this would be, but removing the tapped lands is a definite (Temple of Abandon, Evolving Wilds) and adding in off-color fetches (unless your budget prevents you but it should be one of your top priorities). Also, why no artifact hate? Just some other cards that I think should be cut:
- Seek the Horizon (for 4?)
- Tempt with Discovery (letting the opponent search for a land is not a good idea)
- Rites of Flourishing (should really be adding cards that benefit yourself like I mentioned above)
- Constant Mists (unless there's someone who plays the kiki combo)
- Knollspine Dragon, Kodama's Reach (let's be honest: it's too slow)- Krosan Tusker (better options out there)
- Mina and Denn, Wildborn, Oracle of Mul Daya ( 4cmc is a bit too much for this effect and they don't really do anything else, you also want enough lands in the library for Borborygmos to discard)
- Temple of the False God (when you can just replace it with an Ancient Tomb)
- Centaur Vinecrasher (yyyy?)
- Kessig Wolf Run, Thespian's Stage (kessig if you must, but I don't see the value in stage)
As for the cards, you'll want to add:
- The green tutor package (Worldly Tutor, Sylvan Tutor etc)
- Taiga (when you can ocf)
- Red Rituals (Desperate Ritual, Rite of Flame etc.)
- Mana Rocks (Mana Crypt, Mana Vault etc if budget allows)
- Autumn's Veil, Guttural Response, Pyroblast, Red Elemental Blast to ensure Borborygmos sticks
I believe there's a loop to reshuffle the lands discarded through Kozilek, Butcher of Truth I may be hallucinating tho, but if someone finds a way then the double damage + Illusionist's Bracers package can go.
Either way, I'm looking forward to the development of this list :)
2 days ago
Torrent Elemental is not a legal card with Surrak as the commander. Both colors of the hybrid mana in either the casting cost or ability activation cost must exist in the commander's color identity. So, for example, you could play Giant Solifuge in this deck (not that I would, but it is legal to do so) but it would be illegal to play Nightveil Specter.
I would replace Destructor Dragon with Trygon Predator.
I would take out Frost Walker, Cyclone Sire, Torrent Elemental, Gruul Turf, Gruul Charm, Lightning Strike. Seer's Lantern, Nissa's Renewal, Devour in Flames, and Izzet Boilerworks.
Here's why:
Frost walker and Cyclone sire are more 60-card format cards.

Torrent elemental is illegal.

Gruul turf and Izzet boilerworks seem good, but they're really just strip mine/wasteland bait.

Gruul charm is bad. Be greener and invest in trample.

Lifecrafter's Bestiary or Thassa, God of the Sea are upgrades from Seer's Lantern.

Nissa's Renewal is late game ramp. That's bad. Early game ramp is better.

Burn is bad in EDH.
I would suggest (these are all just good cards for your consideration, I know there are probably more than I suggested taking out):
For a 3 color deck, the landbase would also be improved by taking out basics and putting in things like:
Ideally, for a landbase you'd have shock lands such as Steam Vents, fetch lands such as Scalding Tarn, and regular dual lands such as Volcanic Island, but those things are expensive and this is a game.
2 days ago
Hey and welcome to edh. Thats a pretty nice deck! Seems like its a lot of fun to play, but you might get some issues with the mana base. If you want to go the route with lots of basic lands, then go heavily in favour of Forest, and play more basic fetching cards like Cultivate, Kodama's Reach, Explosive Vegetation and my favorite in green decks Blighted Woodland. These will fix your mana better then say Nature's Lore, which is better if you have non-basic forests. If you want some more cheap duals then try Yavimaya Coast, Temple of Mystery and Lumbering Falls. Other fun cards to play with are Unexpected Results, Bounty of the Luxa, Diluvian Primordial, Coiling Oracle and Blatant Thievery. These are just some of the cards I play with these colours. They are not the best, but they are fun. I hope you have a lot of success with your deck.
3 days ago
Hello there, welcome into the magnificient world of Selesnya!
I'll start with replacements for your cards that are about the same, but more useful.
Valor into Archetype of Courage : 1 CMC less, also opponent can't have first strike.
Brawn into Nylea, God of the Hunt : Same CMC, Indestructible enchant with a mana drain if needed.
Qasali Ambusher into Loxodon Smiter : Bigger body, can get onto the battlefield for free AND can't be countered.
Loxodon Hierach into Selfless Spirit : 2 CMC less, evasion, and nullifies boardwipes.
Other changes :
Sculpting Steel into Cultivate : Another Kodama's Reach is always good. Sculpting Steel has only 7 other targets, most of which won't make a signifiant change.
Primal Command into Hour of Promise : Same CMC, more ramp? Yes, but it can fetch ANY two lands.
Renegade Rallier into Reclamation Sage : While the Rallier can recur some things like Saffi, some removal that's actually tutorable via Woodland Bellower can't hurt.
Keep in mind that's only suggestions!
If you're searching for some other suggestions, i've got a Selesnya deck too, based on enchants. If you want to check it out, please do!
Enchanted! I'm Sigarda, and here's how you die.
Cheers!
3 days ago
A cool little affordable combo you could look into incorporating is Buried Alive, Necrotic Ooze, Phyrexian Devourer, and Triskelion. You fetch all three, bring back Necrotic Ooze through Meren, and win on your end step if no one has answers as you just keep drawing from your deck to gain counters until you can ping the table to zero.
Buried Alive and Jarad's Orders are two I'd highly recommend in general as they're both affordable tutors in a Meren deck.
Protean Hulk + Walking Ballista + Mikaeus, the Unhallowed is another cool combo similar to Tooth and Nail but needs a sacrifice outlet to get going. It's a bit on the pricier side but it seems great with tutors!
I like how you run Kodama's Reach and Cultivate to supplement the thinning fetches would bring to the deck, and is something I may look into implementing as well
Load more