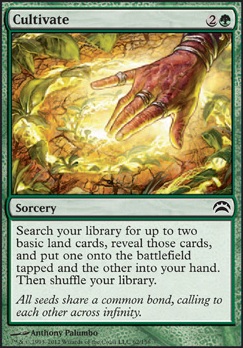 Cultivate
Sorcery
Search your library for up to two basic land cards, reveal those cards, and put one onto the battlefield tapped and the other into your hand. Then shuffle your library.
Have (28)
TroyMicheal ,

C

o

m

i

c

a

l

f

l

o

p

, Xathrid845 , xGamer97x , saj0219 , georgeegroeg2013 ,

d

e

a

t

n

1

3

4

2

, Didgeridooda ,

w

s

u

r

u

g

b

y

1

0

, aebtoga18 , DaxDeagle ,

k

a

n

o

f

u

d

o

,

T

h

e

G

r

e

a

t

S

e

a

m

u

s

, Jelatinator , lucyfarrell , wallsh ,

a

t

t

a

k

, zachi , paxvobiscum , Sauron_ ,

d

u

c

t

t

a

p

e

d

e

c

k

b

o

x

, Raistlin911822 , soulwarden11 , HansOlavLee ,

D

a

i

a

s

, m0nk3ys , SmarmyDog , irongills
Want (11)
zachi ,

C

h

i

c

k

e

n

t

h

e

o

, jmacaulay ,

K

U

L

i

i

A

, fuckin_martians , snigerbamsen , TheFlish , Haxxzor1 , mr.mimesisreal123 , Kaiseresc , twospires
Cultivate Discussion
1 hour ago
Cravv, I really like that suggestion. I just looked some of the rulings. Doubling Season does some awesome things. Like letting my Plainswalkers come in with twice the number of loyalty counters. This would let Xenagos, the Reveler come in ready to do his -6 out of nowhere. That usually wins the game when it happens, especially if it puts a Scourge of Valkas out.I think I'd choose the Semblance Anvil over Dragonspeaker Shaman just for the fact I could use it for cheap Cultivate if I'm desperate.Lastly, I do really like Dragonmaster Outcast, it's such a nice card, but it would be targeted as soon as it comes out. Even so, that's not a bad thing sometimes, it may save a dragon by using up their removal. It's still something I've thought about, but I think I'll wait to see if something similar comes out in the next set.
16 hours ago
buildingadeck, this is actually a fairly budget EDH deck for the most part. Gaea's Cradle makes up half of the cost of the deck by itself. You could also easily drop some of the more expensive cards like Demonic Tutor, Archangel of Thune, Kalonian Hydra, Ajani, Mentor of Heroes, Oracle of Mul Daya, or Doubling Season for cheaper alternatives like Increasing Ambition, Diabolic Revelation, Ajani, Caller of the Pride, Hooded Hydra, Primal Vigor, Beastmaster Ascension, Utopia Sprawl, Cultivate, Increasing Savagery etc...
I would definitely try to get your hands on a Doubling Season and an Oracle of Mul Daya as they are completely worth the extra penny.
1 day ago
Chromatic Lantern instead of Manalith is a MUST for 5-colored decks!
Also, I'm guessing you're playing Maze's End as an alternate win condition, but I'd switch that for Temple of the False God and get

free and all the Guildgates for the Alara (Arcane Sanctum) or Tarkir (Frontier Bivouac) block triple tap lands, or maybe the Planeshift Lairs (Darigaaz's Caldera), all low price and get you 3 color combinations.
As you're playing lots of creatures, I think Thran Quarry could be useful as well. I don't like Rupture Spire and Transguild Promenade very much but I still use them to get the colors I need on my 5-colored deck.
Crystal Quarry works well to filter colorless mana from artifacts like Sol Ring, Worn Powerstone and Thran Dynamo for Progenitus and the Bringers.Other filters like Opal Palace, Shimmering Grotto, Unknown Shores may prove useful too. Same with Mirrodin's Core.
Sylvan Scrying for Rampant Growth or maybe Cultivate for both effects and only 3 mana.
And lastly, Mana Reflection, Mirari's Wake and Prophet of Kruphix will get you tons of mana and of course, tons of hate.
+1
1 day ago
instead of farseek id use Cultivate you can play arbor elf or birds and hit on turn 2 get the land in play in your hand
| | |
| --- | --- |
| Color(s) | Green |
| Cost | 2G |
| Converted cost | 3 |
| Avg. draft pick | 3.92 |
| Avg. cube pick | 8.14 |
Legality
| | |
| --- | --- |
| Format | Legality |
| Legacy | Legal |
| Vintage | Legal |
| Commander / EDH | Legal |
| Modern | Legal |
| Pauper | Legal |
| Duel Commander | Legal |