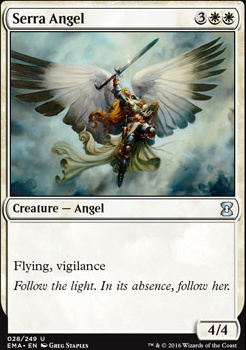 Legality
| | |
| --- | --- |
| Format | Legality |
| Vintage | Legal |
| Duel Commander | Legal |
| Commander / EDH | Legal |
| Legacy | Legal |
| Modern | Legal |
| Frontier | Legal |
| Standard | Legal |
| Tiny Leaders | Legal |
Serra Angel
Creature — Angel
Flying (This creature can't be blocked except by creatures with flying or reach.)
Vigilance (Attacking doesn't cause this creature to tap.)
Have (14)
Falte ,

p

s

k

i

n

n

0

1

, TheBl0b , Kimimaro ,

s

a

j

0

2

1

9

, dplerner , Fiolek , Lindough ,

G

o

l

d

G

h

o

s

t

0

1

2

, sonnet666 , SirFabius , ironax , Mousemke ,

A

s

h

y

Want (0)
Serra Angel Discussion
1 day ago
First Update, been getting a few suggestions off Reddit and the good book, so here they are...
5 days ago
The cards do exactly what they say. Your opponent would be able to Shatter Whispersilk Cloak and then Doom Blade Serra Angel. The problem is often times decks will not have artifact removal in the main deck, relegating it to the sideboard instead. Another possible answer to the angel would be an effect like Wrath of God to destroy it through the shroud. Again though, board wipes are typically side board cards. How your opponents will deal with your threats can vary greatly, if you're just playing kitchen table magic with friends, likely none of you will have side boards, but your decks will evolve to your personal metagame and have answers "preboarded" to deal with major threats.
5 days ago
Say I have a Serra Angel equiped with Whispersilk Cloak so I have a 4/4 swinging every turn with perfect immunity. Wouldn't it be easier for my opponent to just destroy the equipment though? Or would they have to find a way around the problem?
If that's the case, then I only assume that you would have to destroy a creature before destroying the unequipped artifact.
I just got back into magic recently and built a pretty decent deck that has a few equipment based wincons. I wouldn't want to lose because I wasn't being careful enough in my plays.
1 month ago
Eladamri's Call and Cromat have never been reprinted, so I would like to see them reprinted in this set, and Worldly Tutor also should be here, as well, since it was left out of Eternal Masters in favor of Green Sun's Zenith.
As for iconic creatures, my predictions are as follows:
Angels: it is very safe to presume that both Serra Angel and Akroma, Angel of Wrath shall be in this set, hopefully, with new artwork for both, and I also would like to see Angelic Arbiter, Shepherd of the Lost, Angel of Jubilation, Pristine Angel, Iridescent Angel, Crypt Angel, Desolation Angel, Angel of Despair, Empyrial Archangel, and Archangel of Thune.
Demons: Lord of the Pit is one of the most iconic demons in the game, but some other excellent choices are Abyssal Persecutor, Archfiend of Depravity, Bloodgift Demon, Butcher of the Horde, Grinning Demon, Havoc Demon, Herald of Torment, Kagemaro, First to Suffer, Kuro, Pitlord, Lord of the Void, and Xathrid Demon.
Sphinxes: it was not until recently that sphinxes started to become powerful and efficient, but, thankfully, there ave been a number of excellent sphinxes made, recently, including Consecrated Sphinx, Conundrum Sphinx, Goliath Sphinx, Guardian of Tazeem, Medomai the Ageless, Sharuum the Hegemon, Sphinx of Jwar Isle, Sphinx of Magosi, Sphinx of the Steel Wind, and Sphinx of Uthuun.
Hydras: as with sphinxes, hydras only recently have been well-designed creatures, so some hydras that I would like to see in this set are Apocalypse Hydra, Domesticated Hydra, Genesis Hydra, Hydra Broodmaster, Hydra Omnivore, Kalonian Hydra, Khalni Hydra, Managorger Hydra, Primordial Hydra, Savageborn Hydra, Ulasht, the Hate Seed, and Vastwood Hydra.
Dragons: there are too many dragons for me too list all of them, but it is safe to presume that Shivan Dragon shall be in this set, hopefully with new artwork, and some of my top choices are Moonveil Dragon, Balefire Dragon, Dragon Tyrant, Ebon Dragon, Mirrorwing Dragon, Moltensteel Dragon, Scourge of Valkas, Stormbreath Dragon, Two-Headed Dragon, Utvara Hellkite, Vampiric Dragon, Viashivan Dragon, and Hellkite Overlord.
Wow, I certainly typed many card names in this post: I hope that I did not miss any.
2 months ago
Iconic Dragons: Elder Dragons, Shivan Dragon, Nicol Bolas, Planeswalker
Iconic Angels: Avacyn, Angel of Hope, Serra Angel, Akroma, Angel of Wrath, Iona, Shield of Emeria
Iconic Sphinxes: Consecrated Sphinx. I don't really remember any others. Alhammeret maybe?
Iconic Demons: Griselbrand, Rakdos, Lord of Riots Ob Nixilis???
Iconic Hydras:Polukranos, World Eater, Primordial Hydra, Progenitus, Kalonian Hydra
I can think of more iconic spells, like Lightning Bolt, Path to Exile/Swords to Plowshares, and Counterspell, than creatures
2 months ago
Avacyn, Angel of Hope perhaps? If we are talking iconic angels, I can't see any other legendary angel more iconic than Avacyn (except maybe Akroma). Serra Angel is pretty likely too.
2 months ago
How is winged shepherd remotely balanced? It costs 1 more mana than does Serra Angel, but has 1 less power and toughness, and having cycling in no way makes up for that, unless there was a lesser effect upon cycling it. At least it has nice artwork, if nothing else.
On that subject, is anyone else here annoyed that Renewed Faith is the only card with cycling in this set, thus far, that has an additional effect that triggers upon cycling? I like cycling as a mechanic, but cards with it really need to have an additional effect for them to be truly useful, in my mind.
Load more