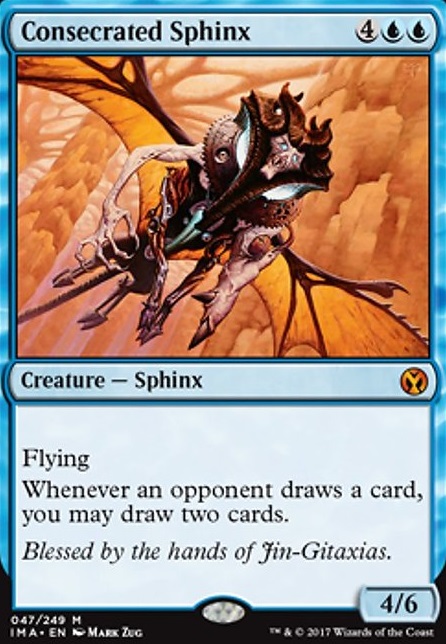 Consecrated Sphinx
Creature — Sphinx
Flying
Whenever an opponent draws a card, you may draw two cards.
Browse Alters
View at Gatherer
Trade
Have (5)

m

e

t

a

l

m

a

g

i

c

,

A

z

d

r

a

n

a

x

, DudeMan1031 ,

F

o

r

k

b

e

a

r

d

,

r

o

c

k

l

e

e

m

y

h

e

r

o

Want (11)
Cyas676 , blakemiller , alecarzel , Belphebe ,

s

u

p

e

r

s

r

s

b

i

z

n

i

s

, HoosCrazy , atom145 , winterwind10 , Grimsh , faxavarg , Skreach
Legality
| | |
| --- | --- |
| Format | Legality |
| Tiny Leaders | Legal |
| Noble | Legal |
| Magic Duels | Legal |
| Canadian Highlander | Legal |
| Vintage | Legal |
| Modern | Legal |
| Highlander | Legal |
| 2019-10-04 | Legal |
| Block Constructed | Legal |
| Pauper | Legal |
| Pauper EDH | Legal |
| Leviathan | Legal |
| Legacy | Legal |
| 1v1 Commander | Legal |
| Duel Commander | Legal |
| Oathbreaker | Legal |
| Unformat | Legal |
| Casual | Legal |
| Commander / EDH | Legal |
Consecrated Sphinx occurrence in decks from the last year
Commander / EDH:
All decks: 0.07%
Blue: 0.44%
Consecrated Sphinx Discussion
4 days ago
Hmm...and it looks like now my spoiler isn't working. Alright, well, the cards were the following:
4 days ago
(Hah! TappedOut ate my comment. Let's try again.)
In regards to appreciating the deck, of course, haha! I absolutely adore janky and unique play styles. I get so tired of seeing the same tired deck concepts and "high salt" (according to EDHRec) cards in my playgroup, it's always super refreshing to see new, unconventional ways to play. ALSO HOOOOOOLY SHIT I JUST REALIZED HOW Rite of Replication WORKS WITH ZADA, WOOOOOW! I have no idea why that didn't click when I first saw it in the deck! If you can resolve it, that's so beautifully evil, oh my god!
Er, anyway, regaining my composure, heh. As far as the protection thing goes, it shouldn't be too much of a problem, so long as you're careful with it and only use it to wrap up your comboing or in response to a threat. Did it find solid use (or potential for use) in your matches with your group? I also had another question: is there any reason in particular that you haven't included any enchantments whatsoever? I can't help but wonder how Parallel Lives or Mana Reflection (especially considering you already have Basalt Monolith in the deck) would perform, despite their comparatively expensive CMCs to the rest of your mana curve. I realize they're both a bit pricey to purchase, but oh man, regardless, I can't help but envision Rite of Replication and Zada going off while Parallel Lives is on the field. Again, not sure if there's a specific reason you haven't included enchantments, was just wondering.
One last thing I noted upon reading the entire decklist again: unless I'm missing something, in the deck's current state, Manamorphose, Explore, and most of your token generating cards only get their "as designed" single use before you have to shuffle them back out of your graveyard with Elixir of Immortality and hope to draw them again. Am I missing anything, or is that correct?
Anyway, that's awesome to hear about the win. I'm sure the expressions on your playgroup's faces were priceless!
Here are some cards that came to mind and some others that I stumbled across:
Anyway, that's all for me today. I'm certain there are plenty more cool or even better cards to include, but if I research any more right now, I'll likely be up all not, haha.
Congrats again on the win! Lemme know what you think of the cards I mentioned. I'll keep my eye on this deck as well as new cards for it, since I really love how silly this concept is.
4 days ago
(I'm going to apologize in advance right now, since I was studying for an exam earlier and took some Adderall to help me focus. As a result, this comment is about to get a super wordy. Very sorry.
2 weeks ago
Hey, good budget version of Talrand, nice Consecrated Sphinx.
Budget cards to consider adding:
Peregrine + Displace + Archaeomancer/Mnemonic Wall makes infinite blue mana from blinking Peregrine and infinite casts of Displace which equals infinite 2/2 Drakes from Talrand. Displace is an instant meaning can do this combo on an opponents turn and then attack with infinite Drakes on your turn.
---
Cards to consider cutting:
Good luck with your deck.
3 weeks ago
You might like these: Coastal Piracy, Bident of Thassa, Kindred Discovery, Keep Watch, Distant Melody, Shared Animosity, Coat of Arms, Glint-Horn Buccaneer, Impact Tremors, Purphoros, God of the Forge, Consecrated Sphinx, Tribute Mage, Alhammarret's Archive, Merfolk Looter, Thought Courier, Wild Research
1 month ago
Hello again wonderful people of the trading post, I have just finished updating my binder yet again with more cards I have recently acquired. I am always looking to trade, but the cards I am prioritizing over all else are the ones that only have a single copy listed in my Wants. Of course, I will still gladly trade for any of the others in my wants as well, in addition to plenty of cards I may not have listed. I will look through any binders to try to find a potential trade, even if you have nothing from my wants!
Here's a sample of some of the cooler items I added to my binder in this update:
I added many more $10+ and even $20+ cards along with a few cool foils, so check it out! Sort by price to see the good stuff all together.
Load more