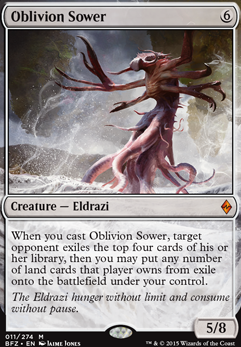 Legality
| | |
| --- | --- |
| Format | Legality |
| Tiny Leaders | Legal |
| Limited | Legal |
| Magic Duels | Legal |
| Canadian Highlander | Legal |
| Vintage | Legal |
| Modern | Legal |
| Highlander | Legal |
| Block Constructed | Legal |
| Leviathan | Legal |
| Legacy | Legal |
| Frontier | Legal |
| 1v1 Commander | Legal |
| Duel Commander | Legal |
| Unformat | Legal |
| Casual | Legal |
| Commander / EDH | Legal |
Oblivion Sower
Creature — Eldrazi
When you cast Oblivion Sower, target opponent exiles the top four cards of his or her library, then you may put any number of land cards that player owns from exile onto the battlefield under your control.
Have (44)
rebelteddybear ,

G

o

l

d

G

h

o

s

t

0

1

2

, the.beanpole , sneferie ,

C

a

s

t

l

e

S

i

e

g

e

, gildan_bladeborn , Mousemke ,

T

h

e

R

e

a

l

P

e

a

c

h

e

s

, jstn.mrrtt , duff87 , silvereh ,

K

i

n

g

O

f

G

r

i

x

i

s

, AllDayTayTay , MattN7498 , mziter501 , hippienproud , The_Grape , teslacoil7992 ,

m

c

s

t

a

n

g

1

9

8

6

, Kleptozaniac , RobbyFoxfur , Mortiferus_Rosa ,

V

e

n

s

e

r

_

t

h

e

_

S

o

j

o

n

e

r

, philktoken8998 ,

V

o

i

d

C

a

s

t

e

r

1

1

3

, Pumpkinking913 , Lindough , MouseyWolf ,

M

c

S

l

e

u

t

h

b

u

r

g

e

r

,

N

e

m

e

s

i

s

, TehDelta , thetechzombie , jaustinhowald ,

v

i

s

h

n

a

r

g

, Dyobsemaj , MagnaAura ,

g

o

s

o

r

a

,

V

a

s

b

e

a

r

1

, Riku580 , Diamonddragon2002 ,

W

o

l

f

e

b

l

a

d

e

e

l

i

t

e

, techneil ,

m

e

t

l

j

o

e

,

P

T

s

m

i

t

t

y

Want (30)
Zerail ,

T

o

t

a

l

S

u

n

d

a

e

,

S

o

l

l

i

s

n

e

x

u

s

, Talonisnthavingit , Xats , kvfd1719 ,

g

o

l

g

a

r

i

i

z

z

e

t

, Filie , rikimaru188 , adb_slayer , jamiefosternz , ostiarius , FatHead13 , imlinuxgeek ,

V

a

1

m

a

r

, neonneedles , InertSteak , lorddarkstar , kovellen , AlphaTDog , Xphasmatis , jsdk70 , Henryen , Chandelier , fireborne1986 , Franck8666 , __Tabs , snowmaster55555atgmaildotcom , VaultTechy , Iarila
Oblivion Sower Discussion
1 day ago
SteelZephyr, may I ask what Masterpieces you got?
I don't have the ability to turn this into a card because it'd be way too insane, but I've got a story for you.
I was once in a 3v3 Modern matchup. I was using Selesnay Aggro Tokens, my opponent was using Midrange Dragons, and my other opponent was using White Weenies.
It was a long game. We all kept stalling because we were afraid to attack one another. The Dragon player was not hitting his cards in the correct order, so he wasn't getting anything out. As for me and my other opponent, we kept amassing tokens about the same rate.
Well, I had out cards such as Suture Priest, and plentiful amounts of draw. I also ran cards such as Jeskai Barricade and Avenger of Zendikar. What this meant was, I could blink Avenger because I could pay the cost of both Barricade and Avenger each turn. This gave me an ever-increasing population of tokens, which I would Second Harvest into just an insane amount of even more. Likewise, if Avenger was not on the field and I had the mana via Cryptolith Rite, I could literally just blink two Jeskai Barricade against each other. I also ran Oblivion Sower, which was really beginning to piss everyone off.
I was eventually at 180+ life. My opponent running Dragons was splashing other colors for sideboard trickery, and he hit my entire board with Sleep. Everything tapped out and he swung for a fair amount of damage. My other opponent then proceeded to beat me down as well. All told, I took 140+ damage before it got back to me.
So, I just started blinking my guys again using more tricks and playing a second copy of Avenger and ended up getting 100+ life right back.
I did eventually lose, not because I wasn't large enough to win - oh no I definitely was. I was just having so much darn fun that I wanted to see how long I could make the game last. Eventually I ran out of spells to keep me afloat.
But one of the spells that kept me going was a playset of Dawnglow Infusion, which REALLY fueled their rage toward me.
So there, that's my story :3 Idk how to make that into a card...
OR DO I!?
Savior of Zendikar
Legendary Creature - Plant Angel
Flying, Hexproof
When Savior of Zendikar enters the battlefield, you may put a land you control onto the battlefield.
Whenever another creature enters the battlefield under your control, you gain life equal to it's toughness.
, : Return Savior of Zendikar to your hand.
4/5
---
Same challenge
3 weeks ago
Adventuring Gear, Akoum Firebird, Akoum Hellkite, Caustic Crawler, Grazing Gladehart, Guul Draz Overseer, Lotus Cobra, Nesting Dragon, Ob Nixilis, the Fallen, Retreat to Hagra, Undergrowth Champion, Oblivion Sower, Herald of Leshrac, Zuran Orb, Burnished Hart, Solemn Simulacrum, Zendikar's Roil, Rites of Flourishing, Horn of Greed, Oracle of Mul Daya, Squandered Resources, Exploration, Courser of Kruphix, The Mending of Dominaria, Wayward Swordtooth.
Just a couple of suggestions for you :)
1 month ago
After taking a quick look at the build, I feel like Mimeoplasm wants more creatures in the list. Maybe ones that kind of impersonate what he can do, like Body Double, Mercurial Pretender, Evil Twin, Altered Ego, Clever Impersonator, and/or Progenitor Mimic.
Also maybe some more big targets for the mime. Stuff like Wrexial, the Risen Deep, Oblivion Sower and Void Winnower.
Also utility lands like Rogue's Passage and Detection Tower could work great in here
As for cuts I think you have too many instants and sorcery cards in the deck, so maybe just trim down to your best.
Either way, build looks fun +1!
1 month ago
Ok, so I added Tron. For fear of bad rng, I'm thinking of removing Wastes and Waste reliant cards. Matter Reshaper, Kozilek, the Great Distortion, and Warping Wail. I fear not having Matter Reshaper for fear of not having low drops, but also not having that draw effect. The low drop can kind of be ignored in hopes that I draw good mana and have enough for either a weak Endless One, or better yet start throwing down Conduit of Ruin or Oblivion Sower. Warping Wail kind of seems good and bad losing, since I lose a counterspell, but Not of This World covers the majority of my creatures.
1 month ago
Aggravated Assault gives infinite mana and combats once all your lands are animated. Chakram Retriever is an Elemental Paradox Engine if you have something like Bloom Tender or Selvala, Heart of the Wilds, or an animated land producing a lot of mana.
If you can bounce lands with Storm Cauldron or Cloudstone Curio, you can get infinite landfall with Patron of the Moon and Amulet of Vigor, or Budoka Gardener and Retreat to Coralhelm.
Prismatic Omen allows you to do a lot of land type synergies, most notably Valakut, the Molten Pinnacle and returning permanents with Emeria Shepherd, and also your Knight of the Reliquary.
A sac outlet like Ashnod's Altar could be great since you can recur creatures from the graveyard, especially with Maelstrom Wanderer. Ashes of the Fallen choosing Elemental allows you to recur any creature, as does Arcane Adaptation.
Sacrificing and recurring Realm Razer can give infinite landfall and mana. This and Dimensional Breach also steals opponents' lands if you have Oblivion Sower, but that might be seen as slightly evil although it is quite a janky combo.
You could take a look at my Windgrace deck for some other cool things to do with lands.
2 months ago
Ok, so, first thing to do is to focus on what green cards you have that let you ramp. As said: Sakura-Tribe Elder, Explore, Utopia Sprawl, Farseek, Oath of Nissa, Search for Tomorrow, Birds of Paradise, Cultivate, Rampant Growth, Beneath the Sands, Burnished Hart, Dawntreader Elk, Expedition Map, Font of Fertility, Wayfarer's Bauble, Sylvan Scrying and Harrow are good options.
Of this, you should put at least 8 cards (I suggest Sakura-Tribe Elder, Birds of Paradise, Farseek, Oath of Nissa or Sylvan Scrying). I don't really like From Beyond, Blisterpod, Catacomb Sifter, Void Attendant, Warden of Geometries and Grave Birthing, since they cost too much and they let you have only colorless mana, thing that you don't need since you are three-coloured.
Then, as said before, I'd increase Gonti, Lord of Luxury and Ashiok, Nightmare Weaver up to 2x copies and I don't really like Nightveil Specter, alternatives could be: Circu, Dimir Lobotomist, Bribery, Praetor's Grasp, Psychic Intrusion, Stolen Goods. Oblivion Sower it's a funny card, I'd put in in 1x.
Another thing: You have some big creatures and you are black-green-blue, I'd increase your land number up to 22. Remember also to choose lands that could be searched when you are ramping (if you have chosen to ramp only with cards that search for BASIC lands, well, put at least 4x basic lands of each type). Some lands you could might consider: obviously fetch lands and schocklands, Darkslick Shores, Blooming Marsh, Botanical Sanctum, Drowned Catacomb, Woodland Cemetery, Hinterland Harbor, Fetid Pools, Underground River, Llanowar Wastes, Yavimaya Coast, Sunken Ruins, Twilight Mire, Flooded Grove , Sunken Hollow. For all the rest of the cards that could enter your deck, I'll wait to see if you like the direction your deck is going and, most important thing, what types of cards you have chosen to ramp, to be your manabase and wich cards will steal your opponent's cards.
Load more