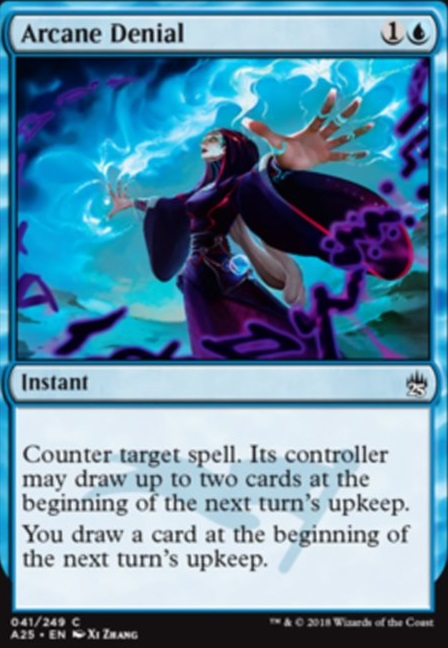 Legality
| | |
| --- | --- |
| Format | Legality |
| Tiny Leaders | Legal |
| Noble | Legal |
| Leviathan | Legal |
| Magic Duels | Legal |
| Canadian Highlander | Legal |
| Vintage | Legal |
| Casual | Legal |
| Pauper EDH | Legal |
| Vanguard | Legal |
| Legacy | Legal |
| Archenemy | Legal |
| Planechase | Legal |
| 1v1 Commander | Legal |
| Duel Commander | Legal |
| Unformat | Legal |
| Pauper | Legal |
| Commander / EDH | Legal |
Arcane Denial
Instant
Counter target spell. Its controller may draw up to two cards at the beginning of the next turn's upkeep.
You draw a card at the beginning of the next turn's upkeep.
A25
CM1
C16
A25
CM1
C16
ALL
Have (4)

T

i

d

d

i

l

y

w

i

n

k

u

s

, rebelteddybear , Orypool , bfarber91
Want (13)

k

o

d

i

e

5

3

, umbertobomba , VampSlayer , Deadpool155 ,

v

a

s

h

a

c

l

a

r

e

n

s

, king0fclubs , mlouden03 , smedlrg , Trupie , OutsideTheMox , sttmccln , sleepy104 , zgriffin1989
Arcane Denial Discussion
1 day ago
I feel like this deck is WAY too linear... If you were to play against any of my or any cEDH player's (which I am not a cEDH player) control deck this would fail altogether. Nothing is worse then having the win, playing it, and getting that winning feeling just to have someone say no with a Force of Will .
I'd say run some more counterspells that are like free to play for the most part like Force Of Will, Pact of Negation , Swan Song , Arcane Denial , Foil , etc.
3 days ago
For lands, Cabal Stronghold doesn't make any sense. You're running 7 Basic Swamps. If you wanted to put in Cabal Coffers with Urborg, Tomb of Yawgmoth , that could work, but I doubt you want to put your money there. Cascading Cataracts, Waterveil Cavern, Survivor's Encampment, Shimmering Grotto, Rupture Spire, Guildmage's Forum, and Gateway Plaza should be the next to go. You're running a 2-color deck, so you don't need such bad fixing. I'd also lose Everglades.
Nighthowler is the only really bad creature that I see, although you'll probably want more if you're on the self-mill plan. Triskaidekaphobia and Tree of Perdition are cute. I don't think I would run that, but if you're going to, run Clutch of the Undercity and Dimir House Guard to tutor up the pieces.
Spinal Embrace is a cool card, but it's pretty inefficient. For that kind of mana, you could be running Kindred Dominance , Crux of Fate , Deadly Tempest , Decree of Pain , Extinguish All Hope , or Life's Finale (I would go with this one, given your commander). Cancel is a no-go. Counterspell , Negate , Swan Song , Countersquall , Dissolve , Arcane Denial , Disallow , Sinister Sabotage and Dream Fracture should all be in the deck before Cancel.
I don't know why you're running Dramatic Reversal , but if you are, you should be running Isochron Scepter for the infinite mana.
Tome of the Guildpact is pretty bad in this deck. If you want rocks, you should be running Sky Diamond , Charcoal Diamond , Coldsteel Heart , Mind Stone , Thought Vessel , and Talisman of Dominance before you touch that or Darksteel Ingot in a 2-color deck. If you're looking for card draw, Phyrexian Arena , Syphon Mind , Fact or Fiction , Tidings , Sign in Blood , and Night's Whisper are all better.
If you wanna mill, Altar of the Brood , Mesmeric Orb , Dread Summons , Sphinx's Tutelage , Psychic Corrosion , Traumatize , Patient Rebuilding , Memory Erosion , and Whetstone are all more powerful than Millstone (though I do appreciate it's OG status).
If you want to see what other people are playing in their Scarab God decks, I recommend checking out the EDHREC page for him.
4 days ago
Arcane Denial and Negate are both pretty good counterspells. Also, Erayo is not EDH legal due to being too oppressive.
6 days ago
Hey, you're welcome. Wow, you drew 56 cards, that's great. What decks are your opponents playing in your playgroup? Nice Consecrated Sphinx :)
Cards to consider cutting for more upgrades:
Spellbook: I see Vessel and Tower, you don't really need another card for no maximum hand size effect.
Favorable Winds: +1/+1 for all Drakes is not really needed, not enough to warrant including a card.
Downsize
Voyage's End
Dissolve
Stymied Hopes
Glimpse the Future
Index
Taigam's Scheming
Glimpse, Index and Scheming is the right idea of the kind of effect you want, but there's low budget better instant cards that do a similar effect while also letting you put a card into your hand. The main problem with Index and Scheming is they don't give you a card after you cast them. Yes, you get organize the top cards of your library to help your next draws, but this effect for one time is not worth a card if you aren't getting a card in return.
---
Budget cards ($1 or less each) to consider adding, some of these are already in the maybeboard:
Impulse, Anticipate and Time are different than Index and Scheming because they don't let you organize the top cards of your library instead you look at the top three or four cards of your library choose one of those cards put it into your hand and then put the rest on the bottom of your library. This effect at instant speed is good with counterspells. Cast one of these cards and find a counterspell and do all this at instant speed during your opponent's turn.
In my opinion if you want to increase the efficiency of your deck then you want the one mana draw spells which also let you organize the top of your library: Brainstorm , Ponder , Preordain , Serum Visions , Opt . These are all staple blue cards in Commander. One mana efficient spells that make a Drake while also helping to find other instants and sorceries are good with Talrand. These cards can be turn one play to potentially find a mana rock and play it turn two or three. Getting a rock onto the battlefield in the early game is good, especially turn two because it can potentially help to play Talrand turn three. This is a big reason to make two drop or less mana rocks a priority over all others.
1 week ago
triproberts12, Mystic Confluence costs too much mana, and I wish to keep the mana curve of my deck low; Cryptic Command and Mana Drain are too expensive in terms of money. Dissipate is nice, but only truly useful if one's opponent has a dedicated recurrence theme in their deck.
Your explanation was very nice, so I now am deciding between Dissolve and Dream Fracture ; I considered Arcane Denial , but I cannot take the chance that I shall miss the triggered ability (which, regrettably, has happened to me; not far that particular card, but for others cards).
Load more
Arcane Denial occurrence in decks from the last year
Commander / EDH:
All decks: 0.12%
Blue: 0.46%
Izzet: 0.35%
Simic: 0.27%
Azorius: 0.32%
Dimir: 0.21%
Esper: 0.22%
Bant: 0.22%
Grixis: 0.26%
Temur: 0.08%
Sultai: 0.17%
Jeskai: 0.18%
Witch: 0.09%
Glint-Eye: 0.11%
Yore: 0.08%
Ink-Treader: 0.48%
Rainbow/All: 0.06%