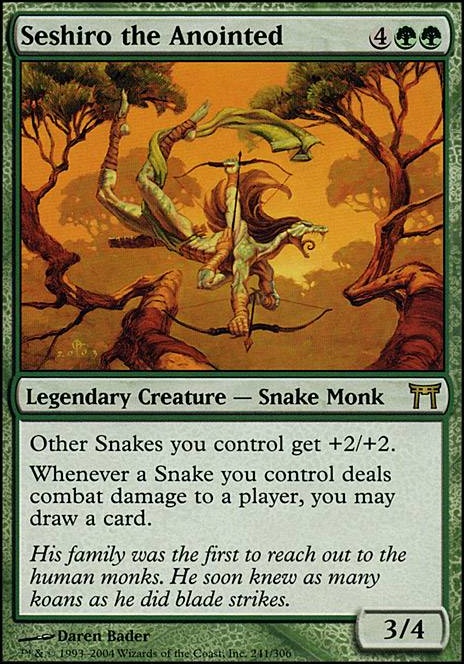 Legality
| | |
| --- | --- |
| Format | Legality |
| Noble | Legal |
| 1v1 Commander | Legal |
| Vintage | Legal |
| Modern | Legal |
| Casual | Legal |
| Vanguard | Legal |
| Legacy | Legal |
| Archenemy | Legal |
| Planechase | Legal |
| Duel Commander | Legal |
| Unformat | Legal |
| Pauper | Legal |
| Commander / EDH | Legal |
Seshiro the Anointed
Legendary Creature — Snake Monk
Other Snake creatures you control get +2/+2.
Whenever a Snake you control deals combat damage to a player, you may draw a card.
Seshiro the Anointed Discussion
1 month ago
whistle A lot of comments here!
hurricane219: Protean Hulk has been spectacular in this list, especially when I can Defense of the Heart for it and a sac outlet. I'd highly recommend it to any deck relying on creature-based combos ;)
gdm1989 (first comment): I've thought about including Asceticism before. However, I rarely have the 2 mana open to regenerate, and it doesn't protect token swarms very well. I wish I could find a slot, though...
Corrosive Mentor
only affects my things in combat, unfortunately. My non-snake creatures are relatively squishy in this deck, so I don't want them dealing damage to creatures if I can help it (because they'll usually die in the exchange). It is disgusting with
Nest of Scarabs
, though...
Craterhoof Behemoth is a great card, and even neater since all of my combat-relevant creatures have deathtouch :) but it simply comes down too late in many cases. I initially ran it so I could Natural Order in the late game, but I found that I rarely waited that long once I draw Natural Order. I put Triumph of the Hordes in its slot, and I wish I could play both, but slots are tight...
Archfiend of Ifnir is a card I WANT to use here, but I simply do not have enough discard. I'd have to make discard into a strong subtheme in the deck, and I definitely don't have enough slots to do that reliably...I suppose I could use all 7 relevant cycling lands, but that would slow my curve down pretty hard...
Forgotten Ancient is interesting! I'll keep that in mind haha.
Seshiro the Anointed is a dead 6-mana card if I can't make tokens with Hapatra...
Dusk Urchins was in here until the most recent update. I have not had the chance to test it yet, but I think that Ammit Eternal will prove better in the long run...
Seasons Past is an amazing piece of recursion, I'm surprised more people don't run it. I usually get at least 4 cards back for 6 mana. I wish I could run fetches for increased value...
Bhaal666 and gdm1989: You make extremely good points; I'm glad you're here to help me answer questions on my deck haha. And if I could find a slot for Kamahl, Fist of Krosa I'd probably run him...
1 month ago
Odysseus_97 my own hapatra deck is more casual than this one but I've used most the cards you are asking about.
Corrosive Mentor has been generally very nice for me. Either my creatures get through or i get a few extra snakes, been especially nice for forcing hapatra through. A few times he has been the only black creature so he sucks then but most my creatures are black and gives those silly bugs from Nest of Scarabs more bite. Also great for when people want to attack you until they figure out you benefit more from it.
Archfiend of Ifnir would be great in a discard deck or perhaps The Scorpion God has a good use for him. Sadly to force some usefulness from him you need around 10 discard effects or more for consistency, it just ends up being a subtheme that takes a lot of space and doesn't do enough. better off with Black Sun's Zenith , Carnifex Demon, Contagion Engine, Harbinger of Night, and Midnight Banshee. That seems to be plenty of mass negative counters.
Forgotten Ancient I'm not playing anymore but is hilariously overpowered. He can keep your stuff alive or just pump hapatra and kill someone with commander damage. The multiple uses for the positive counters is really worth it. I'm just testing a more reanimate oriented idea right now.
Dusk Urchins is surprising. Since hapatra drops turn 2 you swing turn 3 and you can place a negative counter here because you want the draw in a few more turns and then turn 4 swing with him for another snake. It is hard to explain how nice he has been but just think about how nice it is to draw 2 or 3 for 3 mana then add in that he gets snakes and might do some damage.
Seshiro the Anointed I removed him because when I want my snakes to get pumped up is also when I want to win. He is useful to have out as long as possible so that you can have deadly 3/3s and consistent draw but that stops a combo I use. If you use the Hapatra, Vizier of Poisons + Blowfly Infestation combo then you need to watch how many pumps you include since they turn it off. If you are not using that then include it as long as the mana doesn't slow you down too much.
1 month ago
I am building my own hapatra deck, what are your thoughts on these cards?
Corrosive Mentor: The wither effect of the black creatures seems very nice, but sadly the snakes are green only. Considering it but what are your thoughts on this card?
Craterhoof Behemoth: Seems like a must in every token deck, you will have an army of tokens so dropping this would be really strong. But might not fit the theme of the deck, but feels wrong not running it. I run From Beyond in my deck as well so i have an extra token generator.
Archfiend of Ifnir: A card i am considering cutting. Its effect is amazing but there are not that many cycling cards that are useful in this deck, so its not often its effect will be used. The only cards you could use with cyclingWhat do you think?
Forgotten Ancient: Might be a good way to remove some -1/-1 counters from your creatures as a form of protection.
Seshiro the Anointed: Good snake lord, and will let you draw cards when a snake hits, isnt this really good in this deck?
Dusk Urchins: I'm not sure about this card, what are your thoughts?
Seasons Past How has this card performed?
Hope for some comments on these card. But what an awesome deck +1.
1 month ago
Did you mean Cobra Trap ? I thought about that, but I think Sosuke's Summons is much better. I wanted to make this more viable like yours, but was shocked by the price of Seshiro the Anointed. I already own a couple Coat of Arms so that's my buffer. It's not nearly as strong since theres no draw, but I tried to keep this under 30 bucks. Going super wide with tokens is new to me, but snakes made it relatively easy :)
1 month ago
Here are a few cards I think you should add if you want to go down the Hapatra trail mindful some a loot right now >.< Harbinger of Night, Grim Poppet,Deity of Scars, Serrated Biskelion, Deadbridge Chant, Victimize, Grave Pact, Skullclamp, Dusk Urchins, Sudden Spoiling, Creakwood Liege, Krosan Grip, Mikaeus, the Unhallowed, Channeler Initiate, Seshiro the Anointed, Skinrender, Beastmaster Ascension
I can add more later but the gist of it is using Sac and reanimate to abuse ETB. Then using overrun effects like Seshiro and Beastmasters ascension to roll over the cleared out boards. Also using lots of sac reanimate lets you use a more toolbox approach similar to Meren decks!
Load more
Latest Commander