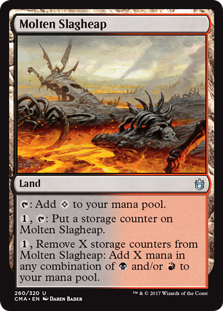 Legality
| | |
| --- | --- |
| Format | Legality |
| Pre-release | Legal |
| Noble | Legal |
| Leviathan | Legal |
| Tiny Leaders | Legal |
| Magic Duels | Legal |
| Vintage | Legal |
| Modern | Legal |
| Penny Dreadful | Legal |
| Casual | Legal |
| Vanguard | Legal |
| Legacy | Legal |
| Archenemy | Legal |
| Planechase | Legal |
| 1v1 Commander | Legal |
| Duel Commander | Legal |
| Unformat | Legal |
| Pauper | Legal |
| Commander / EDH | Legal |
Molten Slagheap
Land
Tap: Add (1) to your mana pool.
(1), Tap: Put a storage counter on Molten Slagheap.
(1), Remove X storage counters from Molten Slagheap: Add X mana in any combination of (Black) and/or (Red) to your mana pool.
Molten Slagheap Discussion
3 weeks ago
So here's a list of the cards that I got for the deck:
However, there's plenty of things I know I need, and some things I might consider (thanks to edhrec.com).
1 month ago
Lands and Mana
First off, I don't recommend going above 37. Your curve is currently under 3.0, so you could go as low as 35, but start with 37.
Second, basics are always a great alternative. using the top right pie chart, mapping 37 basics to the color distribution of your nonlands isn't terrible. If I advocate cutting something but you don't like/can't get what I recommend, I'd say basics are better.
Cut:
Bottomless Pit
Dwarven Hold
Sunscorched Desert
Sand Silos
Mountain Valley (can only fetch a mountain, so worse than a basic Mountain
Irrigated farmland (lol)
I like basics more than the above. They either slow, don't do enough, etc.
Look to add:
Artifact Mana
Get all artifacts that product colored mana that cost 2 to cast. Signets, talismans, diamonds, etc., are great way to get out of the gate faster and let you run a lower land count. 37 land and Sol Ring is good, 37 lands and 6 mana stones is far better. In your colors, you'll be able to discard them off for better things in the late game.
There's always more, but I'd start here.
2 months ago
Molten Slagheap is much better than Bottomless Vault; two colors of mana, access to colorless (if needed), and you can keep it untapped and accessible.
1 year ago
Love all the Griselvengeance-Variants out there! I think with all that Zoo and Infect around I'd go with -1 Sleight of Hand and +1 Lightning Bolt though. Also, when does Creeping Tar Pit come in handy? To me this would be +1 Molten Slagheap and +1 Steam Vents/Blood Crypt. - Cheers!
Load more