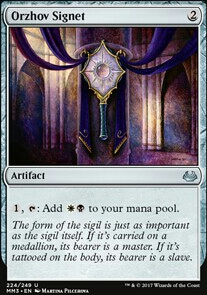 Legality
| | |
| --- | --- |
| Format | Legality |
| Modern | Legal |
| Legacy | Legal |
| Vintage | Legal |
| Commander / EDH | Legal |
| Duel Commander | Legal |
| Tiny Leaders | Legal |
| Pauper | Legal |
Orzhov Signet
Artifact
, : Add to your mana pool.
Orzhov Signet Discussion
2 weeks ago
Hey! Sorry it took me a while to look this over :(
When I look over an EDH deck, I generally consider a few factors - mana base, removal, card draw, win-cons, etc. Let's take a quick look through those:
Your lands are distributed in proportion to your spells, which is good. Your curve basically starts at 3 mana, which is something to be aware of (since it shares a slot with your commander, you will frequently have to choose between casting your commander and casting something more aggressive from your hand), but it allows you to play more tapped lands. Overall, though, I generally don't play more than 37 lands in any EDH deck, so that could clear up some space for you. Perhaps put a few cheap mana rocks like
Orzhov Signet
and
Mana Vault
in those slots...
Ancient Den and Vault of Whispers seem odd here - I try not to play them in EDH unless I'm heavily into Metalcraft or something, because it's easy for them to be destroyed by your opponents' Vandalblast or Shatterstorm. I'd cut them to be honest unless I'm missing something.
You have a large number of removal pieces - mostly hitting creatures, but at least a few of them hit non-creatures as well. Overall, you've hit most of the important ones, with a few exceptions:
I'd say the three cheap ones you're missing are Oblation, Go for the Throat, and Anguished Unmaking. I'd personally put them in over Tribute to Hunger (gives your opponents too much choice), Condemn (too conditional), and Fragmentize (also too conditional).
Your exiling enchantments are fine, though I'd try to pick up a copy of the new Amonkhet one with flash (Cast Out, I think?).
Here's where your deck seems weakest. You basically don't have any card draw here (
Read the Bones
is the only dedicated option). While your curve is high, which somewhat mitigates that (your spells have high impact-per-card), I'd try to find space for a LOT more card draw.
There are too many good card draw options for me to list them all (just google "Orzhov EDH card draw"), here are a few outstanding options: Necropotence, Mind's Eye, Mesa Enchantress, Harvester of Souls, Well of Lost Dreams...
I'm a bit uncertain what your win-cons are, to be honest. Kambal's draining effect may get them within range, but you don't have many ways to hit them for the last, say, twenty damage.
Aetherflux Reservoir is always a good win-con of course, but I feel like this deck could use something like Karlov of the Ghost Council or Archangel of Thune to finish out games. Or you could add Exquisite Blood for the famous combo...
Overall, the deck seems fun! There are a few cards I might cut, though, to make way for more card draw and win-cons:
Tainted Remedy
(very situational),
Memoricide
(depends too much on meta),
Sphere of Safety
(you don't have enough enchantments, and
Ghostly Prison
is often better),
Retreat to Hagra
(too low-impact),
Bloodbond Vampire
(too much mana for its effect),
Butcher of Malakir
(too much mana, too few creatures), and
Opaline Unicorn
(there are better ramp options).
I hope this helps! :) Feel free to tag me if you need any more help. Also, a longer description helps people make suggestions ;)
2 weeks ago
Since you have a pretty high mana curve you should add a bit more ramp. Try to find a place for all 3 Signets (Azorius Signet, Dimir Signet, Orzhov Signet).
Some things you could cut:Chalice of Life Flip it hits only one opponent and 5 damge isn't taht much if you have to deal 120 in total.Ivory Tower it just gains you maybe(!) another 3 Life a turn and nothing more.Isperia, Supreme Judge I'm not sure if it's a meta call but if you want the just the card draw try Rhystic Study and/or Mystic Remora.Crawlspace If it's a meta call fine otherwise it's just not good.Dimir Cluestone maybe witch it for a Thran Dynamo if you're on a tight budget otherwise try to include all the fast mana you can. ;)Also try to finde a home for Vizkopa Guildmage
Landbase:I really dont like the cyclelands if you dont run crusible you should cut them and just play basics also you will rarly activate Windbrisk Heights so the exiled card will 99% of the games be a dead card.
3 weeks ago
So I like the signets and talismans because they ramp so efficiently, and to add all the on color ones:
Dimir Signet
Izzet Signet
Boros Signet
Orzhov Signet
Rakdos Signet
Azorius Signet
Talisman of Dominance
Talisman of Progress
Talisman of Indulgence
I think you can add these to your 34-land count and be fine. These are great because they can be used for things like Reshape, Goblin Welder, Daretti, Scrap Savant, etc. as well as tapping for mana and ramping you.
I'm usually not sold on Trinket Mage packages unless you're fetching combo pieces, and in Breya colors, you have awesome removal. You aren't some mono color or colorless deck that's dying for Executioner's Capsule.
For other cuts I would look at Mechanized Production and maybe some spot removal. You already have Vindicate, Swords, Path, etc. so cards like Utter End and Dispatch might be overkill.
4 weeks ago
Looks like you're trying to heavily leverage Odric, Lunarch Marshal based on your description. If so, you might want to take advantage of tutor (black has some decent options) to find more ways of getting him and then also getting him back should he die.
Examples of black tutor include Diabolic Tutor and Liliana Vess. There are loads more (and certainly much costlier options) but these are reasonably common to see.
Graveyard recursion - sure your opponent may not want to take the 3 life hit for letting something go to your graveyard, but my experience is that opponents will if the creatures worth letting die. Inexpensive recursion includes things like Phyrexian Reclamation to get the cards back in hand. Other spells like Unburial Rites can be great (especially since it has flashback and puts it on to the battlefield). Sun Titan is a monster at recurring low CMC permanents and has vigilance to boot!
Then there are some value creatures you might want to consider:
Vampire Nighthawk has flying, deathtouch, AND lifelink (to meet your deck goals). He's a low CMC drop, and rarely disappoints me in any game I have him show up in.
Aerial Responder is another 3 ability creature for low CMC.
Burnished Hart provides a blocker you can use to block then sacrifice to get lands (2 on to the field tapped!) This is great value in a color that doesn't have loads of mana ramp. And, with a little recursion or an opponent not willing to lose the life you can use him many times.
Then there's draw. Every deck that can have reasonable draw ought to. Sweepers, Draw, Control, etc. aren't uncommon in commander. You need to make sure you've got a plan for keeping that hand restocked. Here's some cards I like to use for this when on a budget in black:
Building on the earlier recommendation of sweepers, one I always like to include is Merciless Eviction. In your deck choosing creatures probably isn't a great idea, but the ability to exile all artifacts, planeswalkers, or enchantments can definitely come in handy
Another great budget value card I'd recommend is Brave the Sands. In an aggressive deck, and especially one with lots of flying, vigilance is a great ability to have. If your opponent can't block your fliers than being able to swing relentlessly without worrying about your blocking situation is a pretty awesome state to be in.
Mana Rocks: I see you have Orzhov Cluestone. I'd recommend picking up an Orzhov Signet if you get a chance and adding it in too or maybe replacing the cluestone with it.
Other fun things you might want to think about:
Whip of Erebos - gives everything lifelink and its ability can be nice to bring something back for a turn at an opportune moment.
You might be a bit low on your land count without other ramp or mana rocks to account for it. Armillary Sphere and Wayfarer's Bauble are example artifacts that can help prevent this. Sword of the Animist is another personal favorite in decks that don't have better ramp arsenal. It appears you have Unknown Shores maybe for mana fixing, but if that's the case I'd almost recommend Tainted Field as a better example. There's also Rupture Spire and Transguild Promenade if you want mana fixing although they certainly can slow down your rhythm to account for the costs. Otherwise the next tier of lands I'd recommend start to include things like Temple of Silence and Isolated Chapel
Overall for a first build it's definitely a start. If you want to see a very different take on Athreos feel free to check out my build at Grim Reaper Friends . Hope you can find something helpful out of the suggestions. I love commander as a format and hope that you will too
4 weeks ago
Just so you know: Breya's tokens are blue, so if you have Grand Architect + Nim Deathmantle, you can go infinite by taping the tokens and Breya for 6 mana, use 2 to activate Breya's ability sac'ing her and a token, and 4 mana to bring her back with the mantle.
It looks like the deck is lacking on ramp spells that fixes mana. As you still have some hard work to do with the mana base (6 shocklands is a lot of money), try to get all the 6 Signets for your deck and the 3 Talismans: Orzhov Signet, Azorius Signet, Boros Signet, Izzet Signet, Dimir Signet and Rakdos Signet, Talisman of Dominance, Talisman of Indulgence and Talisman of Progress. A commander deck usually has 10 ramp spells minimum, Sol Ring included, and I think 15-17 is the best in a non-green deck. Thankfully, this mana rocks are pretty cheap and man, they are usefull.
If you plan to go with the longer game plan rather than the turn 4-5 win, I recommend you to add all (or most) of the retriever creatures: along with your Myr Retriever, Junk Diver, Scrap Trawler and Workshop Assistant. They help a lot to keep going on and to recover something you lost due to a wrath or artifact/creature removal.
One last sugestion: replace Reckless Fireweaver or Disciple of the Vault with Blood Artist. Blood Artist has the advantage of triggering with each creature that dies, so if you have an opponent trying to combo off sac'ing creatures (another Breya, or a Prossh, or Sharuum, etc.), you stop them from going infinite. Other way, Blood Artist is pretty political in game.
If you like, I have a very competitive Breya decklist (althou non-budget at all). Check it if you want for some ideas.
1 month ago
imo i'd say Fiend Hunter is superior to Avacynian Missionaries Flip in regards to its effect with the singlular equipment in the deck
not totally sure what you feel like doing with your deck so I can't make too many suggestions about the deck other than probably cutting some lands for other cards and adding in more mana ramp since you have pretty much none, mana ramp is a bit hard in a deck that doesn't use green but there are some options
you could use the Soul Sisters Soul Warden Soul's Attendant and Auriok Champion but the last one is pretty pricey, they do give lifegain on all creatures entering the battlefield not just your own
i think you could replace Sigil of the Empty Throne with Angelic Accord since your deck is to gain life, it sort of utilizes it. You could also use an Archangel of Thune to weaponize lifegain, or use the Sanguine Bond +Exquisite Blood combo it might not be friendly but it isn't that bad
you could add in tutors:Demonic Tutor, Vampiric Tutor, Diabolic Tutor, Beseech the Queen is a decent card for 3 mana mid game Sorin, Grim Nemesis is fairly good here i'd think but better if it hits a higher cost card, i dont think he'd live long enough to pump enough value out though.
Evolving Wilds and Terramorphic Expanse can fix mana but in a 2 color not overly needed
Ghost Quarter + Flagstones of Trokair = 2 Plains tutor which isnt too bad i guess abet one is tapped
Gift of Estates, Land Tax i guess is technically ramp Knight of the White Orchid can be a solid card since someone's bound to have more lands
Artifact Land tutors: Armillary Sphere, Solemn Simulacrum, Expedition Map
i mean you could add in some mana rocks to give ramp like: Charcoal Diamond, Marble Diamond not very fast but mana ramp
not really mana rocks just cost reducers, still a bit slow though: Pearl Medallion, Jet Medallion
Slower monocolor rocks: Tooth of Ramos, Thunder Totem, Skull of Ramos not as good as commander's sphere or manalith
Guild Manarocks: Orzhov Cluestone, Orzhov Keyrune, Orzhov Signet
Colorless Mana: Obligitory Sol Ring then Dreamstone Hedron, Everflowing Chalice, Hedron Archive, Mind Stone, Thran Dynamo, Thought Vessel
not very easy on the wallet but solid rock here: Mana Crypt
Any color ones: Manalith, Commander's Sphere, Darksteel Ingot, Doubling Cube(doubles all the Mana you have for 2), Cryptolith Fragment Flip(doesnt really flip though), Corrupted Grafstone, Gilded Lotus, Fellwar Stone
1 month ago
Alrighty: my first suggestion is to bump up your land count. Even though this is a relatively low-curve deck, you still want to run probably around 36 lands. If you don't, you risk having a high percentage of unkeepable opening hands because of low land count. Again, this is a super low-curve deck, so you could probably get away with 35 or perhaps even 34, but I would only recommend cutting from 36 after extensive playtesting.
Next, you're gonna want way more ramp and waaaay more card draw. I'm pretty sure the only card I saw that draws you more cards is Mentor of the Meek (which is a good option!). You are playing with graveyard shenanigans, so the graveyard will act as an extension of your hand during the average game. But there's no replacement for drawing cards off the top - graveyard shenanigans won't help you dig for a board wipe when you desperately need one, etc., etc. Good card draw in these colors include Phyrexian Arena, Painful Truths, Dreamstone Hedron.
Faithless Looting could be a good option here. While it doesn't strictly draw you any more cards, it does dig you through your deck and puts stuff in your graveyard to boot for Alesha to play with later.
Additionally, I would recommend upping your ramp count as well. Sword of the Animist is an under-utilized card, and I like it in this list. But you should definitely be playing all of the signets: Rakdos Signet, Orzhov Signet, and Boros Signet. Having Turn 2 ramp can be super valuable in a game to help propel you forward at a quicker rate than some of your opponents. Additionally, swap out Phyrexian Lens for Chromatic Lantern. It's a strict upgrade (as the Lantern gives the same effect and doesn't cost you life), and having the mana-fixing properties of the lantern is always a relief in a 3-Color deck like this. It's a little pricier, but it's a necessary card for any deck running 3-Colors and up.
I would HIGHLY recommend watching this video: Command Zone Deck Building Template
These guys are commander pros, and this video is all of their advice on how to approach building a new EDH deck. Obviously take your own artistic license into account, but for hashing out your first deck, you could do much worse than to listen to their advice.
1 month ago
I have a few suggestions:
Sanguine Bond + Exquisite Blood pretty much self explanatory as to why.
Well of Lost Dreams, Rhystic Study and Alhammarret's Archive are pretty synergistic draw engines.
You are playing one of the best color combination for boardwipes. If things go wrong a well placed Supreme Verdict, Wrath of God, Merciless Eviction, Fumigate, Terminus or Cyclonic Rift can turn the table in your favor or win you the game. Boardwipes are very strong in the EDH format.
35 lands without any mana rocks is quite slow for a deck like this. Maybe you could consider adding some ramp to ensure that your strategy starts pumping before your opponent's. I'm talking about cards like Azorius Signet, Dimir Signet, Orzhov Signet, Sol Ring, Thran Dynamo, Basalt Monolith etc etc.
I feel like Colossus of Akros, Eater of Hope, Kothophed, Soul Hoarder, Maze Sentinel and Mortus Strider are either not very synergistic or weak compared to many other possible choices.
Rhox Faithmender, Archangel of Thune (quite pricy $),Ayli, Eternal Pilgrim, Sphinx of the Steel Wind could be interesting cards.
As for your removal you heavily rely on Pacifism effects. If that's what you absolutely want, go ahead, but if you'd like a bit versatility (sometimes an enchantment or something else might prevent you from gaining life of playing at all), cards like Anguished Unmaking, Counterspell, Mortify, Return to Dust and Utter End could be pretty interesting.
Might have a few cards that comes to mind. I hope any of those cards were inspirational to you :P
Load more