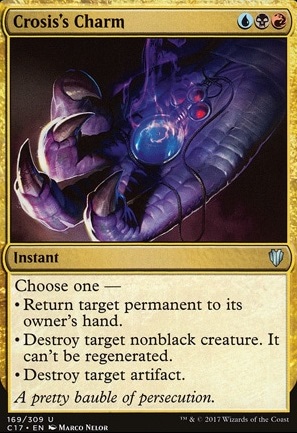 Legality
| | |
| --- | --- |
| Format | Legality |
| Pre-release | Legal |
| Noble | Legal |
| Leviathan | Legal |
| Tiny Leaders | Legal |
| Magic Duels | Legal |
| Vintage | Legal |
| Casual | Legal |
| Vanguard | Legal |
| Legacy | Legal |
| Archenemy | Legal |
| Planechase | Legal |
| 1v1 Commander | Legal |
| Duel Commander | Legal |
| Unformat | Legal |
| Pauper | Legal |
| Commander / EDH | Legal |
Crosis's Charm
Instant
Choose one Return target permanent to its owner's hand; or destroy target nonblack creature, and it can't be regenerated; or destroy target artifact.
Crosis's Charm Discussion
2 weeks ago
So here's a list of the cards that I got for the deck:
However, there's plenty of things I know I need, and some things I might consider (thanks to edhrec.com).
3 months ago
First pass at cuts.
Creatures (42):
Ankle Shanker, Baleful Strix, Bloodbraid Elf, Cromat, Daxos of Meletis, Dimir Doppelganger, Edric, Spymaster of Trest, Enigma Sphinx, Etherium-Horn Sorcerer, Giltspire Avenger, Harmonic Sliver, Jenara, Asura of War, Juniper Order Ranger, Knight of New Alara, Kresh the Bloodbraided, Lightning Angel, Madrush Cyclops, Magister Sphinx, Mantis Rider, Master Biomancer, Mystic Snake, O-Kagachi, Vengeful Kami, Oloro, Ageless Ascetic, Pharika's Mender, Progenitor Mimic, Progenitus, Qasali Pridemage, Rubinia Soulsinger, Ruhan of the Fomori, Samut, Voice of Dissent, Shadowmage Infiltrator, Sharuum the Hegemon, Solemn Simulacrum, Stoic Angel, Surrak Dragonclaw, The Mimeoplasm, Thraximundar, Transguild Courier, Vulturous Zombie, Wall of Denial, Wasitora, Nekoru Queen, Witch-Maw Nephilim
Non-Creatures: (39)
Ajani, Mentor of Heroes, Bant Charm, Behemoth Sledge, Catch / Release, Citanul Flute, Counterflux, Crackling Doom, Crime/Punishment, Crosis's Charm, Cruel Ultimatum, Darksteel Ingot, Dreadbore, Dromar's Charm, Erratic Portal, Esper Charm, Expedition Map, Fellwar Stone, Fist of Suns, Flying Crane Technique, Fractured Identity, Ghirapur Orrery, Golgari Charm, Helm of Awakening, Hindering Light, Hunting Grounds, Mortify, Obzedat's Aid, Panharmonicon, Plasm Capture, Prophetic Bolt, Psychic Strike, Rakdos Charm, Render Silent, Signal the Clans, Spinal Embrace, Terminate, Unscythe, Killer of Kings, Utter End, Voidslime
This leaves you with 114 cards. Though I didn't really consider curve when I made these cuts so I don't know what will happen to that. Regardless, this would be my first pass at cuts.
4 months ago
Anyways, if you are playing in a casual group id recommend mode spells for versatility
All of these in graveyard allow you to adapt to all sorts of situations
4 months ago
The way you have built this deck I think it would be better to use Kess rather Inalla as your Grixis Wizard Commander. The majority of your Wizards are legendary. Legendary wizards are not the best with Inalla and eminence. Kess is the more powerful of the two Commanders if you aren't playing Wizard tribal. When looking at the cards you have added a large portion of them are sorceries rather than more Wizards.
Several of the cards you have added or kept from Arcane Wizardry have more synergy with Kess than Inalla. The wheels: Wheel of Fate, Windfall, Reforge the Soul, Dark Deal. Past in Flames, Curious Homunculus, Galvanoth, Jace's Sanctum, Goblin Electromancer, Spelltwine and Izzet Chemister. These cards are all better with Kess especially wheels, than Inalla.
There's a few cards in Wizardry that you can add that are good with Kess. The charms and command: Rakdos Charm, Crosis's Charm and Silumgar's Command. Charms and commands are great with Kess because they give you options; being able to use one for one option and then flash it back with Kess to use another option. Removal spells: Terminate, Chaos Warp, Go for the Throat and Into the Roil. Cheap mana removal is also good with Kess because it's possible to play one of these spells and then flash it back with Kess in the same turn.
If you like the idea of using Kess instead of Inalla then I can give you some more budget help in what cards to add that aren't in Wizardry. If you would like to continue to use Inalla than in my opinion you need to make some big changes and add a lot of Wizards that aren't in Wizardry. If you're willing to do that than I can help with that also.
Load more