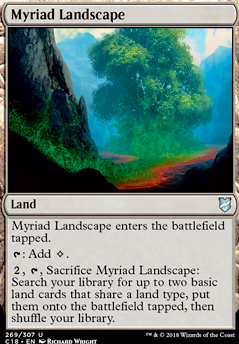 Legality
| | |
| --- | --- |
| Format | Legality |
| Tiny Leaders | Legal |
| 1v1 Commander | Legal |
| Magic Duels | Legal |
| Canadian Highlander | Legal |
| Vintage | Legal |
| Penny Dreadful | Legal |
| Leviathan | Legal |
| Legacy | Legal |
| Duel Commander | Legal |
| Oathbreaker | Legal |
| Casual | Legal |
| Commander / EDH | Legal |
Related Questions
Myriad Landscape
Land
Myriad Landscape enters the battlefield tapped.
: Gain .
, , Sacrifice Myriad Landscape: Search your library for up to two basic land cards that share a land type, put them onto the battlefield tapped, then shuffle your library.
---
C18
A25
C17
C18
A25
CM1
Have (4)

L

o

r

d

B

l

a

c

k

b

l

a

d

e

, Deoxon ,

m

e

t

a

l

m

a

g

i

c

,

p

s

k

i

n

n

0

1

Want (16)
Aragon_Neotrix ,

r

a

e

f

g

a

l

l

,

T

o

m

a

g

o

t

c

h

i

, gigimaci , Durkle , Kagu11 , ConnorBlegen , CorrosiveKnifer , doubleone44 , epicureanbibliophile , Gilzon , Daddy1ong1egs13 , brosef34 , Teeck , Luarviq , Mortiferus_Rosa
Myriad Landscape Discussion
1 week ago
Bazzul I love the deck btw - though it won't likely compete with Godo, that's ok.
I've crunched the numbers and currently your mana cost for the entire build is 72 - the minimum mana cost for using naus is like 52(?) I believe. So the likelihood of you having enough mana's worth in hand to reliably cast naus as a simpler method is just not going to work.
Skeletal scrying for 30-odd would find you a decent chunk of what you're looking for, even giving you the chance to pitch Phantasmagorian without unmask.
Increasing your consistency I'd recommend some basic stax: The Tabernacle at Pendrell Vale , Wasteland , Strip Mine ; some further lands you could consider: Myriad Landscape , Blighted Fen (for Bone Picker ), Bazaar of Baghdad , the new Blast Zone , Forbidden Orchard is a card that works collectively with opponents to block tymnas (you give them enough spirits that they can double-block to remove it / whatever you feel is necessary), Deserted Temple will make ritual lands faster, Scrying Sheets with snow-covered swamps will help you to dig for removal (albeit a bad mana sink).
Some good ideas would be to run Mutavault , Zoetic Cavern , any other manland you can think of Mishra's Factory as they'll make your combo more condensed and provides redundancy for Bone Picker
For real though, love the brew; I tried to work something out with Belzenlok when he got spoiled, so seeing this puts me to shame. Nice one.
2 weeks ago
My deck:
---

Commander / EDH Boxer4714
SCORE: 4 | 115 VIEWS | IN 3 FOLDERS
---
Here is my omnath deck. The more expensive cards aren't fully necessary in it but help it. Burgeoning is incredibly good though and so is Scapeshift , they are worth the price. I think you have too many creatures in your deck and not enough land and ramp. The idea here is to just spew out land...all the land. Lands that get other lands are great so you can get multiple landfalls per turn. The panoramas, Myriad Landscape , Rocky Tar Pit , Grasslands , Mountain Valley these are all necessary and super cheap. Ghost Town is an absolute must, it guarantees land drop every turn. You also don't need those life gain lands, they're too slow. Ramunap Excavator is great for playing your lands that fetch other lands, this allows you multiple land falls per turn. More ramp means more landfall also. You need all the ramp you can, so that you can get omnath out as early and often as possible. Plus once he's out the ramp triggers more tokens.
Load more
Myriad Landscape occurrence in decks from the last year
Commander / EDH:
All decks: 0.18%
Blue: 0.65%
White: 0.77%
Black: 0.59%
Red: 0.54%
Green: 0.43%
Golgari: 0.18%
RG (Gruul): 1.38%
Rakdos: 0.24%
G/U (Simic): 0.47%