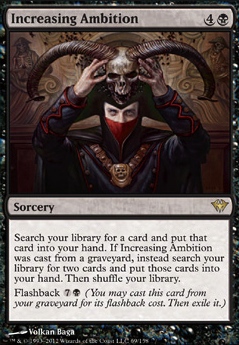 Increasing Ambition
Sorcery
Search your library for a card and put that card into your hand. If Increasing Ambition was cast from a graveyard, instead search your library for two cards and put those cards into your hand. Then shuffle your library.
Flashback 7B (You may cast this spell from your graveyard for its flashback cost. Then exile it.)
Have (20)
Raistlin911822 ,

q

u

e

s

o

b

u

e

n

o

1

2

3

,

m

i

r

a

c

l

e

H

a

t

,

S

p

i

n

a

l

r

i

p

p

e

r

,

i

t

h

e

o

r

y

z

,

m

a

i

d

e

n

7

7

,

p

s

k

i

n

n

0

1

, goodair ,

s

h

a

d

o

w

h

o

u

n

d

1

4

, MrSage , Hellsing , g0dcomplex ,

g

r

e

y

n

i

n

j

a

, BlackLusterLotus ,

S

e

v

y

n

n

t

h

D

i

m

e

n

s

i

o

n

, fr49200 ,

g

u

e

r

i

l

l

a

r

a

g

e

, Replayced , theHopp ,

a

b

d

u

l

b

a

q

r

Want (3)
Kryzis ,

c

o

m

5

7

2

, Luthor
Increasing Ambition Discussion
2 weeks ago
I didnt have the time yesterday to say all i wanted so here we go(i see this deck as a spirit tribal deck)
6 . Finally it will boost your mana pool but raise the over all mana cost we can switch Carnival of Souls for a Caged Sun.
Hope this can help and for the price i didnt chek it if i put my modification thing ill do tomorrow same hours.
P.S. maybe a Door of Destinies and a Bonehoard.
2 weeks ago
Increasing Ambition just costs too much (not to mention it is a sorcery) for a tutor. I like that it has flashback but at this point, I am trying to finish games as early as I can. My playgroup always has at least 2 guys applying pressure on me so Increasing Ambition is just too slow.
I found out that the fastest way for me to win is via recursion. I tend to make the most out of Reanimate and Shallow Grave. This involves sending creatures to the graveyard, hence the inclusion of cards like Insidious Dreams and Monastery Siege. More often than not, I try and go for the win by turn 5 which means mana will be quite limited (for me and my opponents). If that doesn't work, I either rely on the deck's resiliency or just Yawgmoth's Will my way to victory.
2 weeks ago
I would look into Increasing Ambition tbh. comes in for 5 (but only need

) and has flashback. The benefit is that if you have half of your infintie mana combo, you can tutor for the other half and then flashback to get your win con. Then I would look at Insidious Dreams and only then maybe would I consider running Recall. Remeber, if your deck has redundancy/recursion effect, then overall the ability to tutor for new stuff is usually greater than the ability to recur only what you've already played. Because at worst, yo ucan get stuff like Archaeomancer to recur the stuff.
3 weeks ago
Have you considered Diabolic Revelation instead of Increasing Ambition? For the same cost as the flashback you get the same amount of cards, saving you 5 mana, plus you can go higher if you wanted, and it uses the same amount of black as doing both.
1 month ago
Okay.... So I took a look at this deck last night when I got home.

Misc cards:
Leyline of Anticipation self-explanatory
Leyline of the Void is good to prevent graveyard-based decks which benefit from you.
Geth's Grimoire is interesting at least.
Tezzeret the Seeker Ramps and tutors. Just enough loyalty hit Teferi's Puzzle Box on his first turn out.
Mikokoro, Center of the Sea you have a lot of colored mana symbols so this might be a bad idea.
Clever Impersonator This will probably copy punish effects the most often but it can do other things too, perfect.
Uba Mask Eliminates some of the downside of giving opponents massive card draw
Yawgmoth's Will This card costs serious money but let's you recast dead punisher cards and wheel effects. Pretty cool
Boseiju, Who Shelters All
Oppression I really just want to make jokes about you oppressing me
Words of Waste Sometimes you don't need to draw cards, also combos with Geth's Grimoire. Probably a bad idea since you'd rather cast another wheel effect instead
Glacial Chasm It seems like I've suggested this card for a lot of decks but it is more relevant for you since you can hurt yourself a lot when you cast a wheel
Skirge Familiar For when you want to chain wheel effects together
Phyresis Infect seems like it is too gimmicky, these cards don't do anything on their own so I wouldn't include themGrafted Exoskeleton see above
Dack Fayden Steal artifacts and miniature wheel effects, seems good

You have most of the good punishers:
Niv-Mizzet, the Firemind If you throw him in you should consider throwing in Curiosity as well.
Helm of the Ghastlord to enchant Nekusar or Niv-Mizzet, probably too gimmicky
Sakashima the Impostor Haven't you always wanted two Nekusars?

Massive Card Draw/Wheel effects:
Dark Deal I thought this was in the deck already, surprised it wasn't, you realize Winds of Change has no "discard" effect right?
Jace's Archivist
Prosperity
Skyscribing
Time Spiral
Time Reversal Probably doesn't make sense since you didn't want reforge the soul
Reforge the Soul I know you considered this but realized you didn't usually get to use the miracle cost.
Control deck cards:
Evacuation Instant speed mass bounce is really good if you do it right before a wheel effect
Meekstone Prison
Dream Tides Effects
Smoke Are
Storage Matrix Fun
Nicol Bolas, Planeswalker. Coincidentally I have this card in Chinese, but if you are trying to make the deck more control-based its worth considering.
Tamiyo, the Moon Sage A bit weaker in EDH but both abilities are relevant.
Painful Quandary Probably makes you a target but I think it would be funny in your deck.
Dissipation Field
No Mercy Better version of dissipation field but more expensive. Doesn't work on indestructible though.
Blasphemous Act You don't care about your creature as much so...
Extinguish All Hope Its funny because Fate Unraveler and Master of the Feast live.[Mind Over Matter] Combos well with Niv-Mizzet, the Firemind and Otherworld Atlas. Otherwise it can kind of protect you. (not really)Damnation You know about this card already but it'd feel weird not to mention it since you clearly need it really badly.
Misdirection Free counterspell and you probably have it from your conspiracy box
Curse of the Swine This feels like a card that should be in most blue edh decks... One card can solve so many problems...

Tutors:
Lim-Dul's Vault Personally I think this is one of the best budget tutors in commander.
Diabolic Tutor
Increasing Ambition
Insidious Dreams You usually have a full hand right?
Merchant Scroll Looks for Wheel and Deal or a counterspell
Tainted Pact It's pretty funny in edh
Dimir Machinations, Drift of Phantasms, and/or Perplex These can find Windfall, Wheel of Fortune, Underworld Dreams, Phyrexian Tyranny, Molten Psyche, Megrim, and several counterspells.

Copy Spells: Super vulnerable to countermagic but it can let you win very suddenly. Some of them have the nice side benefit of being counterspells against other counterspells.
Twincast
Fork
Reverberate
Increasing Vengeance
Reiterate

1 month ago
If you really want to go with a tutor, without the money for the better ones, Diabolic Tutor is average of $.25 and can search for any card, regardless of mana cost. Similarly, the Enlightened Tutor can search for any artifact or enchantment, and it's still relatively cheap (around $10). That is what I would suggest to fit the niche you want filled, though if you don't mind spending the money for them, Vampiric Tutor and Demonic Tutor will probably find their way into every deck you build that even splashes black, they're just that good.
For more utility at less cost, consider that Demonic Collusion has a buyback ability, which is nice. Increasing Ambition is ok for longer games, with the ability to search out 3 cards total. Rhystic Tutor is good early game, but after turn 4 or 5 it becomes unreliable. Liliana Vess is multifunctional, and if you can ult her, it's pretty much a guaranteed victory.
Let's be real though, if you don't want to be a scrub, you should play Johnny, Combo Player and Urza's Hot Tub. lol
There are a lot of cards with the tutor ability. Here's a list of them: http://www.metamox.com/guide-tutors.php
1 month ago
I think Enlightened Tutor is a pretty good card, but I haven't seemed to need it because I have Fabricate, Increasing Ambition, Diabolic Tutor, and Sphinx Summoner. Between those, and my draws (including my extra draws from several cards), I haven't had a game where I didn't get Magister Sphinx. In my opinion, tutors are only necessary if you aren't getting your win condition (especially if it's a $14 tutor!) But I could see it being helpful to speed up my game by having just one more tutor with a low CMC. I've also considered Corpse Connoisseur since Sharuum could just reanimate it, giving me two sphinx's for the price of one!
| | |
| --- | --- |
| Color(s) | Black |
| Cost | 4B |
| Converted cost | 5 |
| Avg. draft pick | 1.51 |
| Avg. cube pick | 11.4 |
Legality
| | |
| --- | --- |
| Format | Legality |
| Legacy | Legal |
| Vintage | Legal |
| Commander / EDH | Legal |
| Modern | Legal |
| Duel Commander | Legal |