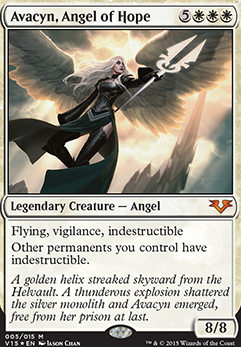 Avacyn, Angel of Hope
Legendary Creature — Angel
Flying, vigilance, indestructible
Other permanents you control have indestructible.
Have (8)
Master161295 ,

K

i

B

M

a

g

i

c

, vaxizoq ,

j

w

e

9

4

, Crow_Of_The_Void ,

W

o

s

1

3

3

7

, Jonnee ,

m

a

i

d

e

n

7

7

Want (9)

S

p

i

n

a

l

r

i

p

p

e

r

, TheRealPeaches , Arashisenko ,

d

e

a

t

n

1

3

4

2

, DreamDarkly ,

o

z

z

a

r

,

p

s

k

i

n

n

0

1

,

g

r

e

y

n

i

n

j

a

, llfr
Avacyn, Angel of Hope Discussion
2 days ago
I think I've reach the end point for this deck. The only thing I know for certain that I need is Karn Liberated. As such, I will be moving into defensive and logically defending my card choices. Maybe I'll make this a primer (should I make this a primer?) to explain how it works and what I want from it.
Sadly for you TheGreatLiar, You will bare the brunt of defensiveness, please don't take this as a personal attack on you.
4 days ago
Sunblast Angel, Angel of Despair Sheoldred, Whispering One, Utvara Hellkite, Reya Dawnbringer, Avacyn, Angel of Hope, Rune-Scarred Demon, Demon of Death's Gate, Blightsteel Colossus, Platinum Emperion to name a few out of my old reanimator.
1 week ago
I like Athreos, God of Passage as a commander for this kind of strategy but be prepared for things to get very political as you will have to decide who chooses whether your creatures hit the bin or not. I play a Shadowborn Apostle version but I think these cards could go in either version as they just plain work well With Athreos.
She isn't in my deck but if you were playing board wipes then Avacyn, Angel of Hope would do well.
1 week ago
I had him in originally but took him out after putting in so much mass removal. The only way they would stay in play was with Avacyn, Angel of Hope and the chance of me getting her in every game wasn't high. I still like that card and might try it anyway. Good suggestion. Any others?
I played with my local group tonight and i realized that i need alot more card day. (More than just a 1 card draw.)
1 week ago
Have you thought about adding Talrand, Sky Summoner It is a great way to combo with casting all of the instants and sorceries being cast. It combos really well with Avacyn, Angel of Hope making everything indestructible, and all of those drakes being made make very good chump blockers.
1 week ago
All right.
I see you've got Rootborn Defenses, so that's a good start. You've got 2 Azami, Lady of Scrolls listed, so cut one.
You won't save your tokens, but Twilight Shepherd will assist you in retaining your non-token board presence, which is still quite important.
Avacyn, Angel of Hope will prevent most board sweepers from affecting you. However, sweepers that do not use destroy affects, such as Black Sun's Zenith or Hallowed Burial, will still mess you up.
Wrap in Vigor is also great anti-board wipe tech, since you've got green. And if you can afford one, Sword of Body and Mind is very strong when attached to Derevi, Empyrial Tactician. You can mill your opponent out while making Wolf tokens!
This is where countermagic comes in. You can't go wrong with the classic Counterspell. It'll handle any card for
. I think it's reasonable to include up to six or even seven counterspells in here to deal with control players' attempts to affect your board state. There are a few other strong candidates -- Dissolve, Dissipate (exiling a card usually ensures that your opponent won't be able to use that spell again), Negate, and even Voidslime. Stifle and Squelch and perhaps Trickbind are reasonable optionsc while Silence and/or Render Silent are pretty solid too. You might also look at ways to recur your spells, like Snapcaster Mage, Elixir of Immortality, or green spells like Regrowth.
A good control card that works well with your strategy is Martial Coup. Try it out. Secure the Wastes is also a good token card when you have lots of mana in a post-board wipe situation. Prophet of Kruphix is awesome for your control efforts because he allows you to untap your board on every player's upkeep.
I could go on, too, but this should be enough to get you a start. Use Gatherer, Wizard's card search database, to assist you in locating additional cards which may interest you. Or, ask me for additional assistance and I'll always be happy to oblige.
I hope this was helpful to you in some small measure.