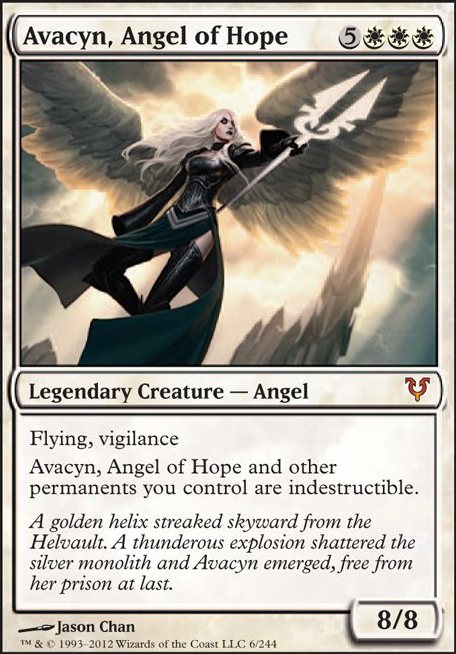 Avacyn, Angel of Hope
Legendary Creature — Angel
Flying, vigilance, indestructible
Other permanents you control have indestructible.
Have (8)

j

w

e

9

4

,

m

a

i

d

e

n

7

7

, Crow_Of_The_Void ,

W

o

s

1

3

3

7

,

H

a

l

c

y

o

n

M

T

G

, Liuv , Adameus2012 , anubis1ra1
Want (11)
alphaword1283 , TheRealPeaches ,

r

a

k

d

o

s

2

4

,

S

p

i

n

a

l

r

i

p

p

e

r

, wizardpch ,

p

s

k

i

n

n

0

1

,

g

r

e

y

n

i

n

j

a

, samk125 , LittleBlueHero , dcarlson369 ,

Z

o

m

b

i

e

C

a

t
Avacyn, Angel of Hope Discussion
2 hours ago
Somebody else pointed it out, I can't remember who put it out there on somebody elses deck, but Craterhoof Behemoth + Tooth and Nail with Blightsteel Colossus can easily take out somebody with Avacyn, Angel of Hope and thousands of life points.
I love Nissa as a commander. If she dies T3 you only need one land in hand instead of two to recast her T4. Very easy to recast and flips easily in EDH.
5 hours ago
-Logician - wow! I never expected such a detailed and helpful description and review; you really outdid yourself and for that I have to say thanks a lot and kudos to you. I don't have much time to play or collect anymore so I am obviously still working on the deck, but what you said was very helpful and I will do my best to edit soon with your tips in mind. I agree quite a few cards are in dire need of an upgrade or just downright need to be replaced.
I actually do own a few cards you suggested as well, like Merciless Eviction, Clever Impersonator, Skyshroud Claim, Eternal Witness, Avacyn, Angel of Hope, Gilded Lotus, Expedition Map, etc, albeit mostly in other decks (which I've been considering dismantling anyway). Quite a few - the tutors and mana ramp cards especially Demonic Tutor, Mystical Tutor, Mirari's Wake - I have been trying to get for a long time, and may break down and just order them from somewhere rather than try to trade as I prefer to do. As for the extra turns, I'm not opposed but I know my typical playgroup would despise my existence were I to use cards that enabled them, me already being the "annoying blue player" most of the time.
Anyway, thanks again for all your tips and analyses - I'm really impressed - and I can't wait to edit and improve the deck!
6 hours ago
@deaddrift Thank you very much for commenting and +1. While Commander isn't really my thing, iw ill try to find a moment and look at your deck!
@TheLivingCME Thank you! It makes me very happy to see people liking this deck that much. Your suggestions all look to be a thing to think about. Most of all the Windbrisk Heights (for Iona, Shield of Emeria and Avacyn, Angel of Hope) looks very promising. I would also like to add the Linvala, Keeper of Silence, but she is so goddamn expensive. I am ok with single 20 Euro cards like Avacyn, Angel of Hope, but 40 Euro + kinda breaks it for me...
@BoCaliv Yeah, what is everyone thinking with giving free lands away by using Path to Exile?! xDThank you for coming again and taking a second look, that makes me very happy! I will try and sneak a look at your Sunbears, too! ;)
>P.S.: Well, hate is hate - everyone just really hate it... ;P
1 day ago
@ explodingwaffle91 Thank you for those suggestions I will be putting Windbrisk Heights for sure. I do have Oversoul of Dusk in there which i Believe is a nice addition. As for Avenger and Vorinclex, I am trying to keep my Avg. CMC on the lower side and they are out of budget at the moment. But Thank you for the suggestions.
@ rgrzela I will add in Giant Growth and Titanic Growth along with a Become Immense as well for super pump and Fog is one I overlooked. Thanx a ton!!!
@zero51423 I see what you mean about becoming a target , and I do want to stay under the radar so that I can punce and try to make nice plays with pump spells. I took out 3 basic lands for now like you suggested due to the fact that I do have a good amount of mana accelerators in the deck. Wow! Mirror Entity seems insane! And Dragonlord Dromoka she will be joining the group for sure. And Avacyn, Angel of Hope super amazing card just out of budget so that one sadly will have to wait :(
3 days ago
Not a bad setup. I've got a few suggestions.
Here's a list of your targeted 1-for-1 removal, and they're overall quality.
While I think your choices of targeted removal are good, I think you'll find that cutting a few and going down to about 3 or 4 really damn good targeted removal spells instead of 8 to give yourself some room for more mass removal will be a huge improvement to your deck's ability to stabilize under more obscure scenarios.
Here's your current board wipes. Instead of 8 spot removal and 6 sweepers, it should be more like 8 sweepers and 3 or 4 spot removal.
What board wipes are you missing?
What other spot removal is pretty good that you may have missed?
One of the best ways to answer an opponent's commander is to literally just take control of it.
Other suggestions.
Other cards not previously mentioned in your deck that I feel are lacking.
You have a lot more creatures than I would personally run in a 5-color deck. When I think of a 5-color deck, I imagine a creature base of just exactly what is necessary. Some ramp, some utility, and only the absolute highest-performance beatsticks. Narset, Enlightened Master is an example of a great one, but not for you because 27% of your deck is creatures. Eternal Witness is a fantastic card; my favorite card in fact. If I were to list the best creatures in your deck in order, here's probably the top 6.
Here's what I think the bottom 5 probably look like.
You're well on your way to a nice EDH deck here. I hope I've helped inch you a little closer, and good luck! :)