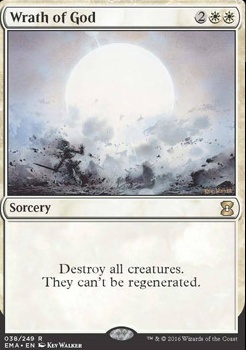 Legality
| | |
| --- | --- |
| Format | Legality |
| Tiny Leaders | Legal |
| Noble | Legal |
| Leviathan | Legal |
| Magic Duels | Legal |
| Canadian Highlander | Legal |
| Vintage | Legal |
| Modern | Legal |
| Casual | Legal |
| Pauper EDH | Legal |
| Vanguard | Legal |
| Legacy | Legal |
| Arena [BETA] | Legal |
| Archenemy | Legal |
| Planechase | Legal |
| 1v1 Commander | Legal |
| Duel Commander | Legal |
| Unformat | Legal |
| Pauper | Legal |
| Commander / EDH | Legal |
Wrath of God
Sorcery
Destroy all creatures. They can't be regenerated.
Have (64)
ibraJG84 , ironax , Justinaut , burnedbread ,

D

r

u

n

e

G

r

e

y

, Riku580 , zachi , jrschnoebelen , RazortoothMtg , DrLitebur , jamesesdad ,

V

a

s

b

e

a

r

1

,

D

r

e

d

g

a

r

, killstars , rikertchu , Fairseas ,

b

r

o

k

e

n

d

w

a

r

f

,

D

u

c

t

-

T

a

p

e

-

G

u

a

r

d

i

a

n

, scare983 , mziter501 ,

S

p

a

r

k

y

4

1

, Silent1236 , seajay02 , hippienproud , beatdown36 ,

m

y

m

a

n

p

o

t

s

a

n

d

p

a

n

s

, bpiser95 ,

s

a

j

0

2

1

9

,

M

y

l

l

y

e

s

3

1

4

,

i

t

h

e

o

r

y

z

, bfarber91 ,

A

z

d

r

a

n

a

x

,

a

w

a

l

l

o

f

t

e

x

t

, Swamy , gildan_bladeborn , EliGjerdingen , Zomgasa ,

R

o

a

d

h

o

g

,

P

o

p

t

a

r

t

z

9

5

,

C

h

a

r

-

Y

o

u

,

N

e

m

e

s

i

s

, L4DMalus , TehDelta , frederiklw ,

T

h

e

D

u

g

g

e

r

n

a

u

g

h

t

, Mousemke ,

D

i

m

a

r

x

, Supremespeed ,

S

k

u

l

l

d

r

e

y

, kpral ,

p

s

k

i

n

n

0

1

, techneil , TheBl0b , electrolynx , Pelli ,

C

a

m

p

b

e

l

l

S

t

e

v

, fireborne1986 ,

o

r

z

h

o

v

_

i

s

_

r

e

l

a

t

i

v

e

l

y

_

o

k

a

y

8

1

9

,

F

o

r

k

b

e

a

r

d

, Bluboltar , sneferie , MagnaAura , bustinchops , silvereh
Want (108)
Blue_Otaku_No.1 , TheDriveBy , ryaniskool ,

C

e

t

r

i

e

l

, CoastWizard , ConsulDerpius , doppelrogue , The_Besticle , Azn155 ,

C

o

o

p

e

n

h

a

g

e

n

, Mousemke , Schwiggity , Raeyic , Garrukspride10 , Daniel277 , N3M0 , jeremy3036 , TheNeverThere , psoliver , Georgez96 , sleepy104 , phoere , EdenGardenz , VampSlayer , Markwiz , Ryz , vakuso , buildingadeck , afeuling , vaerth , vynnr , wlbreda , jkdhfgui , Typpaostur , ryuzaki32667 , CarlyRaeJepsenMTG ,

C

r

y

A

l

l

,

D

a

r

k

S

t

a

r

S

t

o

r

m

, Xathrid_ , kvfd1719 , nate_wizardadept , swarlelion , epic-jargon ,

c

l

a

y

p

e

r

c

e

,

d

a

r

l

e

e

n

, No1HanSolo , NobleSlay3r , Dismortis , hlnrog001 , boobley , MasterRoach117 , Jashunaku , Raize613 , SirSharkington , RoninH3RO ,

f

i

r

e

m

i

n

d

1

2

, jp262 , darkdisciple , AgentCrazyDiamond , WexAndywn , Gravitas95 , orzhov_moskalski , ray3003 , Killingfool ,

F

r

a

n

k

S

t

a

r

, BHunter96 , jpc852 , telepathyoverdrive , Sethifide , neotox , bonkpoppin , Bouncytube , iisfunnyman , klokwurk , Jblade , akki007 , CrotchRocket ,

S

h

a

d

y

P

e

a

r

, DarthMeatloaf ,

T

s

t

a

i

n

b

r

o

o

k

, kungfurabbi , arthurxisde , Moonling , bbtancakes , Jose_Arrogantio , Gryffix ,

J

i

m

m

y

_

C

h

i

n

c

h

i

l

a

, loganbowers , Demonblade52402 ,

T

h

e

D

u

g

g

e

r

n

a

u

g

h

t

, Unjust_DiabIo ,

Q

o

l

o

r

f

u

l

, westerhack ,

a

c

b

o

o

s

t

e

r

, hensonk , bmorri9 , THAC0 , mumblethief ,

S

a

n

i

T

h

e

C

a

t

,

F

a

c

e

l

e

s

s

_

B

e

i

n

g

, VosslerX , SlickWizard , zswag6 , kovellen , TrackerD , jaimegomez27 , dhanson ,

S

p

i

n

a

l

r

i

p

p

e

r
Wrath of God Discussion
14 hours ago
Sterling Grove is a powerful card, but not just for Sylvan Library, if that is your best option, don't run it.
I understand Spike Feeder and Archangel of Thune combo perfectky well, simply in a competitive environment, either one will be countered, or they will be removed with something like Chain of Vaporing the Archangel, in response to the first activation of Spike Feeder. That is a blowout like a Time Walk since you can't activate it again without killing the Spike Weaver. Felidar Sovereign with Chord of Calling is your best actual wincon, but I mean... 9 mana/creatures? What turn are you on? If this deck consistently puts out creatures and mana like that by turn 3, since you need to win by turn 4 at the latest for this to be a combo/aggro cEDH deck, then run it, I just don't think that is plausible.
2/2 Cats aren't a real strategy on their own. They don't make mana, and so don't combo out and win, simply put, I could get into Commander theory and the 'Aggro Problem', but I will just copy and paste the work I already did for something else:
So, in EDH, there is a common dilemma called
The Aggro Problem
, in which is, what many believe to be the reason for the idea that EDH is so slow. Unlike Modern, Legacy, Standard, Pauper, or Vintage, EDH has each player's original life totals set to 40, or 50 for the
Oloro, Ageless Ascetic
player. This would be a bit difficult for normal aggro to exist, but because it is a four-player format, from the point of veiw of an aggro player, they need to dole out 120 life, which isn't something they can do nearly at all. Even if your opponents start killing each other, an aggro player would averagely have to deal 60 damage if they attack each other and not you, or averagely 80 damage under a normal circumstance of each player dealing out damage to each other.
---
This is too much for them. Generally there are a few way aggro compensates, one of which abuses the already built-in system of 'Commander Damage.' Building up a ton of auras and equipment on a commander to make it huge and swing in for 21 damage works in a lot of cases, and is called "Voltron." The main issue with this is a cheap and fast commander like Rafiq of the Many is too easily prone to removal like Swords to Plowshares, and more controlling commander like Sigarda, Host of Herons or Uril, the Miststalker are generally a bit too , slow to get around board wipes like Toxic Deluge, Wrath of God, Damnation, Day of Judgment and Supreme Verdict.
---
But there are other tricks aggro has up its sleeves, think infect. Really, infect is just as powerful in Modern or Legacy than in EDH, right? Well, not exactly, yes infect still only needs to deal 10 poison counters to kill a player, but you still have to deal at least 30 damage given your opponents can't kill faster than you, or if they are also playing infect. It's tracked differently, so if someone is at one life, they can take up to 9 poison counters and still live. Running Atraxa, Praetors' Voice can give some inevitability to your infect win, and stuff like Saskia the Unyielding can also be run to make you only have to deal 20 damage to win with infect.
The biggest issue with infect is that players generally frown upon it, and will target you, or player cards like Solemnity as a counter to it. Some playgroups set the poison counters needed to kill to 15 or 20, and some outright ban it. Also, since there are no commanders other than Skithiryx, the Blight Dragon directly support it, there is little consistency to infect decks, despite there explosive turns and wins.
---
Well, that is the aggro problem, it is what leads so many decks to be control, midrange, combo, or hybrid builds, and why the format is generally considered slow. This isn't to say decks can't win turn 1 or anything, tons of combo decks can, however, this is what leads to the final point. Combo is generally the best win condition, not to say a deck like Edric, Spymaster of Trest shouldn't beat face to win, but for most decks, combo with differing levels of disruption is the best strategy.
Many playgroups don't use combos, whether they are more casual, frown upon combo, outright ban it, or simply run more beatdown strategies and don't care for combo particularly. This is perfectly fine, and reasonable, but it is the work-around for the aggro problem, while not relying solely on control.
Okay, so now you see the problem with aggro, and why 2/2 cats in essence aren't a wincon, Archangel of Thune can be removed in response to the first Spike Weaver activation, and so aren't as instant win as you thought, and even so, unless you have enough creatures to kill each other player, it isn't going to win the game, as they will simply win on their turn, in a cEDH meta. Since Felidar Guardian combo is too slow generally, and you only run 4 tutors for the Thune-Weaver Combo, it isn't a fast combo deck.
That isn't to say it isn't competitive, you could make it stax, run the fast elf-ramp, and Armageddon until you win, but that still requires a different gameplan.
---
Again, all of this is meaningless if you don't want to make it stax or fast combo, but without blue, your card draw isn't their for permission control, and that means you aren't able to consistently make this cEDH competitive, but I won't claim it is bad or anything, it is simply a high-powered mid-level EDH deck, and I think that is fine.
You were very right on one of your points on that many other commanders would be better, I would suggest Selvala, Explorer Returned and do something like Explorey-Os! Selvala Combo/Stax.
---
On ramp, most of the options you mentioned were sub-par, Tithe, Cultivate, Kodama's Reach, Growing Rites of Itlimoc Flip, Mirari's Wake all are either too expensive or not impactful enough, 1 mana ramp is where you want to be, the fast rocks, Ancient Tomb/Gaea's Cradle/Gemstone Caverns, elves, etc.
---
Good luck!
1 day ago
So after tweeking the mana base and looking at your choices, is there any reason your not running Toxic Deluge over Wrath of God as another answer to an indestructable board or is it just the budget restriction? I also oped to replace Mistmeadow Witch with Archaeomancer and have seen a much higher close rate in my group. I found with how much we dig 1 copy of Deja Vu on a stick is usually enough. Also you can pick it with AEthermage's Touch, choose the touch with the ETB and not blink the mancer to just get both back to your hand.
5 days ago
Okay, take two with the new commander.
Shalai wants to go wide with a lot of tokens, then to pump them up with her ability, as you get a whole load of hexproof tokens that get +1/+1, so I will recycle the rhetoric I used with Trotstani about tokens. You should probably think about abusing a go-wide strategy.
I playtested this deck 5 times, you have a serious problem with a lack of card draw. I playtest until turn 8, and you were consistently running out of cards. If you wish to assemble your Avacyn, Angel of Hope + Platinum Angel + Shalai, Voice of Plenty + Tajuru Preserver combo, you need draw and tutors. For reference, my wizard deck combos off pretty reliably by turn 8, most combo heavy decks will combo off by turn 4 at the earliest, turn 10 at the latest.
Okay now to the cards:
I repeat myself with Soul Warden You'll want her two sisters, I named them in my last comment.
Elvish Mystic et al. is nice, you are in green, so you may want more ramp past a few dorks.
Shapers' Sanctuary erm... your commander gives everything bar herself hexproof. You won't be using this effect often at all.
Naturalize does too little. If you want enchantment/artifact hate, go for reusable rather than spot removal.
Elemental Bond and Triumph of Ferocity the draw is nice, but the card is better suited in a big stuff deck or in a deck with etb abuse, your deck isn't quite a bigstuff deck, but if you added more powerful creatures then it'd be better.
Krosan Grip same comment about naturalize, if you're going to keep one, keep this one due to split second.
Mirri, Weatherlight Duelist wants you to play in a go wide token strat too.
Aura Shards I'd be careful with playing with this, it is a very strong card.
Harmonize is fine, I do suggest you add more drawpower to your deck though.
Rhox Faithmender while great in a trotstani deck, does not do much for you in this deck, as you do not have all that much lifegain. Including the faithmender, you have 4 creatures which give you some form of lifegain.
Wrath of God interesting include, considering that you are very reliant on your own board state.
Genesis is sort of meh, you don't have much 'yard shenanigans so it's not really worth it. May as well just use Eternal Witness
Asceticism Your commander already does this. This is not useful in the deck. If you want Shalai to have hexproof, give her Lightning Greaves or Swiftfoot Boots
Terminus is fine, but again, you're very reliant on your own board state, so I'm not sure you want to include boardwipes...
Nissa, Genesis Mage is expensive and pretty bad compared to other nissa walkers. There are far, far better nissa walkers.
Elesh Norn, Grand Cenobite is a fantastic card, especially for tokens.
Reya Dawnbringer is very expensive for what she does. THere are cheaper ways to recur in white/green... if you even want to do that.
In the end, I feel like you've chosen two commanders now which really want to push you into a token strategy, and you've included some cards which are fantastic for token decks, and yet you have not built a token deck.
You really, really need more drawpower and ramp if you want to stay on your semi-combo big angels strategy.
If you want to go for angels, why not go angel tribal?
1 week ago
Motherhood has been laying claim to the majority of my time these last few months, so my dear cats & rats have been on the back burner until recently. Today I present to you a much improved version 3.0.
In this tight new version I have ditched the weaker links Adaptive Automaton and Mimic Vat. I toyed around with the idea of adding +1 Lightning Greaves and +1 Canopy Cover because my precious kitties have been getting a lot of hate, but in a meta game with a lot of Wrath of God and a deck where most creatures have CMC<4, it dawned on me that Unearth would make a much better fit.
These improvements have really moved the deck up the ranks, and I'm now convinced it will find a cozy spot in my permanent collection.
1 week ago
First, I'd like to point out that colorshifting from Planar Chaos was changing the colors of cards (and renaming and re-typing them accordingly) but keeping the text the same, while keeping those cards still correctly in the color pie. (Ex Wrath of God -> Damnation)
Second, a fun fact about Transguild Courier: If one plays with silver-bordered rules (as Commander was for a brief period half a year ago), then it actually counts as eight colors (white, blue, black, red, green, purple, brown, and gold). I play a copy in my Ramos deck, so I had some fun with that.
Flip-flopping colors for characters like this sounds fun, though, so I'll give it a shot!
---
Emeria, Font of Time
Legendary Creature - Avatar
Flying, vigilance, protection from colored spells
Whenever ~ blocks a creature, take an extra turn after this one.
Whenever ~ is put into a graveyard from anywhere, shuffle your graveyard into your library.
11/15
---
This may or may not have been designed exclusively for Ramos, Dragon Engine to play with.
Speaking of Ramos, lets flip him into a five-color legend that cares about things having as few colors as possible, or just make him a five-color artifacts commander.
1 week ago
I think that you might be in need of some more removal, Swords to Plowshares, Path to Exile, Beast Within, Anguished Unmaking would be a good start. I only see 2 board wipes also, 4 if you really want to count what's immediately offered by some of your walkers. I would add like 2 of these: Supreme Verdict, Toxic Deluge, Wrath of God, Damnation, Urza's Ruinous Blast, Merciless Eviction, or Austere Command.
Load more