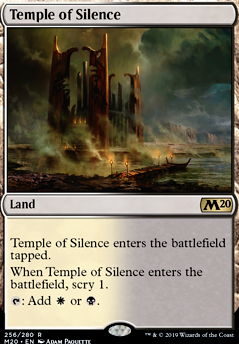 Legality
| | |
| --- | --- |
| Format | Legality |
| Pre-release | Legal |
| Tiny Leaders | Legal |
| Vintage | Legal |
| Penny Dreadful | Legal |
| Pioneer | Legal |
| Commander / EDH | Legal |
| Noble | Legal |
| Hero | Legal |
| Magic Duels | Legal |
| Brawl | Legal |
| Standard | Legal |
| Arena | Legal |
| 1v1 Commander | Legal |
| Canadian Highlander | Legal |
| MTGO | Legal |
| Vanguard | Legal |
| Leviathan | Legal |
| Planechase | Legal |
| Duel Commander | Legal |
| Unformat | Legal |
| Modern | Legal |
| Legacy | Legal |
| Archenemy | Legal |
| Casual | Legal |
| Oathbreaker | Legal |
Temple of Silence
Land
Temple of Silence enters the battlefield tapped
When Temple of Silence enters the battlefield, scry 1. (Look at the top card of your library. You may put that card on the bottom of your library.)
: Gain or .
Temple of Silence Discussion
6 days ago
@Whirlwind_2100 — So I realized after asking you about Sorin that he wasn't even in the deck! (Sorin, Lord of Innistrad is currently in the deck, but Solemn Visitor was in the Maybeboard.) That said, I agree with your assessment of him and removed him from the Maybeboard. I also took out Vampire Nighthawk and several other cards, and upgraded some existing cards with better options.
---
@multimedia — Thank you for the long and thought-out comment! The funny thing is that a couple of your suggestions are things I had already realized, but hadn't had the time to deal with yet. For instance, I already planned for Heartless Summoning to go — like you said, it's a "non-bo" with my token generators. Same with Obzedat, Ghost Council — it amounts to very slow life drain. And I knew I needed more ramp and improved board wipes.
I had somehow completely forgotten about Command Tower ; thank you for the reminder! Definitely replacing Temple of Silence with that.
I do have a few follow-up questions for you, since you said that you are willing to offer more advice:
You're suggesting taking out almost all of the equipment for buffing Teysa, because "equipping to Teysa is unrealistic". Could you explain what you mean? If it's simply a matter of surviving enough turns to generate enough mana to both cast and equip her, then that isn't an issue. It's not a high power meta, with games generally lasting well beyond Turn 10. In a previous comment, I posted a couple of the other decks that Teysa has to regularly face, and they are hardly fully-optimized themselves. Or were you thinking something else besides mana cost?

If I remove the equipment buffs for Teysa, then what would you say are the deck's current finisher(s) / win-con(s)? Although I agree with you that this deck shouldn't be a fully Voltron deck, it's so easy to get commander damage through with her that, thus far, Teysa herself has been my main finisher, so I like to say that the deck has a Voltron sub-theme. If she's not the finisher, then what is?

Currently, it's usually just my wife and I playing, as we haven't found a playgroup in our new town yet. Since it's 1v1, is it more advisable to keep the hand disruption like Despise in the deck? Or would you still recommend removing it for some of the other spells you suggested? (I do agree on cutting Brain Maggot , though, as it's always been too easy for the opponent to get their card back.)

Finally, RE: Hushbringer , you cite my lack of creatures with ETB/LTB effects as the reason to run it. (Indeed, only Sun Titan has a meaningful ETB effect.) However, I was considering building this deck closer to Judgmental Eyes (Teysa) [[Primer]], which features a lot more creatures, sac outlets, and things that want creatures to die, hence being more of an Aristocrats build. Do you think that's a good direction? Or is a creature-less / -lite version of the deck better?
2 weeks ago
I'm seeing a lot of budget and Standard choices, so I would suggest Temple of Silence in place of the Guildgate. After that, Knights are a common tribe, so keeping in mind cheapness - Arvad the Cursed , Benalish Honor Guard , Benalish Knight , Benalish Marshal , Blood-Cursed Knight , Danitha Capashen, Paragon , Dauntless Bodyguard , Knights of the Black Rose (maybe) and Valiant Knight .
1 month ago
SideBae I agree with you regarding the signets. With land, everything is quite simple:
2 months ago
I'd say the best low-budget land option is probably Caves of Koilos , and given how dedicated your deck is to life-gain, the life lost shouldn't be terrible. The next best option in my opinion, is Temple of Silence - if you're going to use tap-lands, I think Scry is as good as it gets for a trade-off. The problem with Bounce Lands is that they're practically anti-ramp they're so slow. If you want to ramp in BW, something like Springleaf Drum or Paradise Mantle would work. Or some Myr dorks like Gold Myr . There aren't great options really, so it's important in Modern, which is very fast, that you really focus on keeping your CMCs as low as possible. If you're not already aware, All the lands in a sorted list is pretty much the best resource for finding lands for any deck. You can just use CTRL+F or APPLEKEY+F to search the page for color combos or since some color combos (like GR) is in lots of words, if you know of one land, just search for that and you'll find all the lands of similar color or effect.
In terms of what to drop to make room for removal spells, I'd suggest trimming back on Legendary spels. Since Cliffhaven Vampire is so important to the deck, and because it costs 4, all the other Legendaries that cost more are essentially less good redundancies. And since you've got 2 of some of them, there's a decent chance you'll have dead cards. So -1x Kambal, Consul of Allocation, Obzedat, Ghost Council, and Sorin, Vengeful Bloodlord each, if not cutting them all together. God-Eternal Oketra falls into the same category. Aside from those creatures, Sovereign's Bite also seems like a good candidate for a cut. It's not that any of these are bad spells, just that you're going to get more mileage out of disrupting opponents than you are hammering away at them. In my experience, whenever I try to play a creature heavy deck light on utility/disruption, I end up with few or no creatures and no way to fight back.
2 months ago
Hey, nice version of Teysa. I don't know if it's great or that competitive, but fine for casual.
Budget is obviously a concern therefore my card suggestions will be within the budget. With only two tutors (Intent, Diabolic) to get Darkest Hour and only two sources of repeatable draw (Mentor, Skullclamp) going to have a difficult time out valuing your opponents or even keeping up with them. My advice is expand on Skullclamp since it's your best source of card advantage with sac outlets and tokens. Include more ways to get Skullclamp and recur Skullclamp?
Repeatable draw to consider adding:
Other cards within the budget to consider adding:
---
Cards to consider cutting:
Forsaken Sanctuary
Orzhov Guildgate
Scoured Barrens
2x Plains
Beckon Apparition
Intangible Virtue
Teysa, Envoy of Ghosts
Archetype of Finality
Drana's Emissary
Anointer Priest
Spark Harvest
Commander's Sphere
Load more
Temple of Silence occurrence in decks from the last year
Commander / EDH:
All decks: 0.07%
WB (Orzhov): 1.28%
WUB (Esper): 0.59%
RBW (Mardu): 0.6%