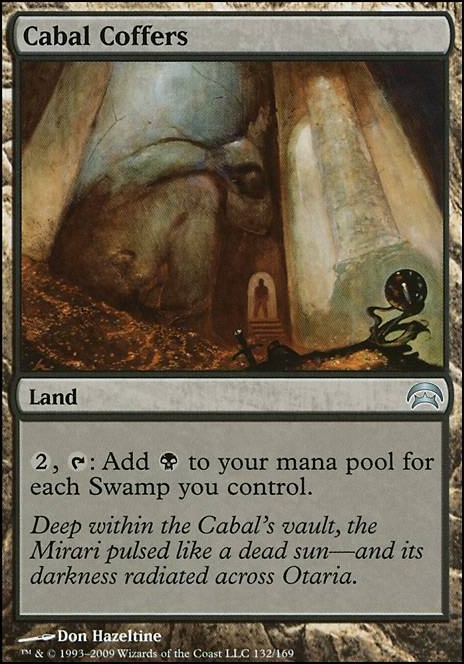 Cabal Coffers
Land
, : Add to your mana pool for each Swamp you control.
Browse Alters
View at Gatherer
Trade
Have (1)

A

z

d

r

a

n

a

x

Want (16)
hrestes , jedidad68 , learntooplay , YegorZh , keltuzade ,

j

e

s

h

w

a

, Taufyr , shadowtam , spacemonkey0042 , map_charlie , Chuggiexxx , Izaya90 , Nacho_Friend_of_Melons , Magik0722 , MarkTaylorTSax ,

m

e

t

a

l

m

a

g

i

c
Legality
| | |
| --- | --- |
| Format | Legality |
| Tiny Leaders | Legal |
| Noble | Legal |
| Leviathan | Legal |
| Magic Duels | Legal |
| Canadian Highlander | Legal |
| Vintage | Legal |
| Vanguard | Legal |
| Legacy | Legal |
| Archenemy | Legal |
| Planechase | Legal |
| 1v1 Commander | Legal |
| Duel Commander | Legal |
| Oathbreaker | Legal |
| Unformat | Legal |
| Casual | Legal |
| Commander / EDH | Legal |
Cabal Coffers occurrence in decks from the last year
Commander / EDH:
All decks: 0.1%
Black: 1.22%
Golgari: 0.29%
WB (Orzhov): 0.69%
Rakdos: 0.45%
Cabal Coffers Discussion
1 week ago
For myself and others, how to optimally pilot the deck
Philosophy behind the deck, ideally should be played with 2+ other players.
You are a hard to kill end game boss, blue is boring busted and broken and is also expensive. Try to go for cards that will keep your hand healthy since we are not running blue so think how much you can squeeze out of one card for maximum value.
1 week ago
Love the build. Have you thought about adding Cabal Coffers. It combos great with urborg
1 week ago
Any Glissa, the Traitor deck rude enough to play Mindslaver should be running Forbidden Orchard. These three cards form a perma-lock on a single player so long as you are not disrupted. Also, consider looking into some self mill. With Glissa, your graveyard becomes a toolbox/hand-extension that you really want to see filled. Dakmor Salvage, Stinkweed Imp and Golgari Thug are all cheap dredgers that can turn one card draw into 2-5 in the graveyard. Hell, even Golgari Grave-Troll is cheap now that it's banned in modern. If you want to break the bank a bit, Life from the Loam and good utility lands like Strip Mine, Urborg, Tomb of Yawgmoth or Cabal Coffers are all very happy to live in this deck. If you're looking for cards to drop, I know they can be fun and are a little safer to use with Glissa's ability, but cards like Nemesis Mask and Viridian Longbow are so, so much better off as instant speed removal spells like Putrefy or Windgrace's Judgment. Golgari removal spells hit a wider range of targets and many run at instant speed, making them far more versatile than the cheeky equipment shenanigans Glissa can do. Remember, all she cares about is seeing a creature die, she doesn't need to be the one to do it! Hope something here helps you out. I have a 75% Glissa deck that runs several of the cards I mentioned here and I have to say she is easily my favorite commander. Best of luck!
1 week ago
Alright, in hypothetical Larryland where I am now in charge of making decisions, here is what I would do
First, establish criteria for the format
Shouldn't be too complicated, as there has already been lots of time spent discussing the format
Bans should serve to stop certain combos or deckbuilding approaches from swallowing the meta.
Bans should be justified off of power level for winning, not how fun or unfun the combo or style of deck is to play or play against
General rules changes about the format should serve to open deckbuilding and allow for more interesting approaches to the meta and winning.
Rules Changes
I think a couple rules changes should take place to open deckbuilding and allow more options, and allow cards to work as intended with the commander specific ruleset
Commanders should hit the graveyard before returning to the command zone. This allows commanders like Child of Alara or other death triggers to actually function as intended while maintaining the command zone. Commanders should have the option of returning to the CZ at will from exile, the graveyard, the library, or a player's hand as an ability that doesn't use the stack, similar to mana abilities.
Hybrid mana symbols should be perfectly legal as long as the hybrid symbols fulfill a color identity of your commander. For example, Boros Recruit should be legal in a mono-red deck. If a hybrid mana card has a mana symbol in the text box that it outside the color identity, it should still be excluded. For example, if Boros Recruit had a firebreathing ability for in the text box, it would no longer be legal in a mono-white deck.
Restriction of the command zone to a single card. Partner commanders are still legal, but not legal to run them as partners in the command zone. Having a mix and match color identity and having guaranteed access to two cards at all times over one card is too strong. Bigger color identity means wider pool of cards to pull from, and the partner players are effectively starting with a 9 card hand as opposed to non-partner commanders starting with an 8 card hand.
Bans and Unbans
First, I would unban cards that the RC has banned because they are "unfun" or don't fit the spirit of the format
Bans
My biggest reasoning for bans is that some combos are so strong and so hard to interact with that they become the go-to builds for certain color identities. When the optimal way to build 30 different commanders in the same color pairing is Flash Hulk, you have run into a problem.
Flash - Arguably the worse part of Flash Hulk. Potential for abuse in a post-Hulk world with Academy Rector. This card has the potential for abuse with every single new creature printed. I don't think this card makes the meta more interesting, and I think it pigeonholes deckbuilding into "well why don't you run Flash Hulk, or Flash _". Flash combos are also difficult for other decks to interact with outside of Counterspell, which means when you're building for playing in a competitive meta, you are almost expected to play Blue due to how strong and warping this card is.
Protean Hulk - Even with a flash banning I still wand this turd of a card gone. Finding hulk, reanimating hulk, and sacrificing hulk isn't interesting. There isn't very much skill there. The decks aren't interesting. There is a combo in practically every color combination for winning immediately after you get a Hulk trigger. It can be viewed as a 6-card into-play tutor, or a 5-card into-play tutor, etc. etc. I don't think the meta is more interesting or better for having this card be legal.
Demonic Consultation and Tainted Pact - More boring and tired combo archetypes. Once again, tutoring for 2 cards and ripping the Consultation + Oracle combo doesn't really require much pilot skill, and it doesn't make decks more interesting to build. These cards are simply too efficient at what they do, and they are hard for non-blue decks to interact with meaningfully. The presence of this combo and Flash Hulk has basically relegated all stax decks to being tier 2 builds, as they have such an impossible time locking down these combos. The banning of these two cards and Flash Hulk would bust the competitive meta wide open. Also, between these cards or the Laboratory Maniac + variants in the combo, these are the cards that are way way way more degenerate than the other part of the combo.
Rhystic Study and Mystic Remora - These are annoying and burdensome mono-blue staples that slow gameplay, and are auto-includes in practically any deck that includes blue. They function much better than intended due to the multiplayer nature of the format, and deckbuilding is less interesting and diverse because these cards are legal. They can singlehandedly run away with games when you have a single player in the pod who ignores them, and having your combo shut down because someone draw a Force of Will after getting 6 free draws is frustrating and extremely obnoxious. They also prop up extremely mediocre mono blue decks like Urza, Lord High Artificer and Baral, Chief of Compliance. Once again, I don't really think there is any skill in playing or building around this card, and the power level of "auto-include for any deck with blue" stifles deck building. Blue really doesn't need any help being good in EDH, let alone cEDH.
Nature's Will and Druids' Repository - Targeted bans for Najeela, the other obnoxious tier 0 commander deck in the current meta. I'm not a huge fan of 1 card combos with commanders, because you always have one of the cards available at all stages of the game, and tutoring + playing a single card once again doesn't really speak to high skill or interesting deck building. The banning of these cards will peripherally splash and hit other decks, such as Edric, Spymaster of Trest, but I'm fine with that. Najeela and Edric will still have other options for executing these combos, such as Sword of Feast and Famine or Bear Umbra, but these are more mana intensive or more fragile combos with lower utility outside the combo.
Tymna the Weaver - I have already advocated for removing partners from the command zone, but this card is so dummy strong as to be included in the 99 of other decks with some frequency. You can get the draws even if Tymna didn't attack (i.e. it just came in). You can get 3 draws a turn for the same mana cost as Phyrexian Arena, except that if done correctly you'll get the draws before you would get the Arena draws. This card is meta warping, this and Najeela are a big part of the reason the meta is so creature heavy right now. Decks either run this card, or they run ways to handle this card because a Tymna sitting on the board for 1-3 rotations gives such a fat advantage the pilot runs away with the game.
Timetwister - A card that sees play because you save slot efficiency by spamming TT to create a loop of infinitely recasting spells, plus its a wheel effect for 3 mana that shits on decks assembling combos through the GY with cards. I'm totally hunky dory with high efficiency combos, but losing to a timetwister loop is boring, cumbersome, and takes the pilot 30 years to demonstrate and explain the loop to those who haven't seen it. Combined with the ridiculous price of the card, and the ridiculous powerlevel even outside the combo, this card should go. This is also another card that makes fast mana extremely degenerate, as someone going first and sticking Mana Crypt into Sol Ring into Chrome Mox into Timetwister feels extremely bad, and opponents don't even have the benefit of recurring their starting hand from the GY later on.
Sylvan Library - The green Rhystic Study. Doesn't make decks more interesting. Doesn't make games more interesting. Its just cheap ways to get cards that becomes more ridiculous in the context of a format where you have double the starting life of the format this was printed for. The auto-include nature of this card means decks open up more when this card is removed.
Lion's Eye Diamond - No, Razakats is not an interesting combo. No, bomberman is not an interesting combo. These are both degenerate and more shoe-horn "oh I need a combo to win" style combos. Bomberman is extremely degenerate as LED can be recovered in the face of targeted GY removal by simply stacking the Salvager trigger on top of the removal if you have extra floating mana, and pretty much the only way to really stop it is a replacement effect like Rest in Peace. Seeing someone play a bomberman combo then dump mana into their outlet from the CZ (whether it be Thrasios, Triton Hero or Breya, Etherium Shaper) isn't interesting, although I will admit it is fast. This card is much lower on my list of requested bans, but it is still there for how annoying Bomberman and razakats are, plus how easy this makes Doomsday piles.
Hermit Druid - I want this gone for the same reason Consultation and Pact should go. Boring deckbuilding that becomes "UGx deck can run Hermit and Oracle to win", and thus you end up with twenty different UGx decks that look the same. Once you have seen this combo once, there isn't much merit to seeing it again. This card isn't as bad as Consult or Pact in my opinion, and once again it is a much lower priority for banning than those cards, as it requires a haste enabler to make it truly degenerate, or a way to flash it in at EOT before your untap step.
Cards I would avoid banning
As the title reads, things I think aren't a problem but usually draw comments for bans.
Cheap tutors like Vampiric Tutor and Imperial Seal - Every single 1 CMC tutor goes to top of deck (besides Gamble and Steelshaper's Gift), which means you're -1 card advantage for casting them. Having the ability to assemble combos or seek a problem solving card doesn't blow the format out of proportion. Having players be able to assemble threats in a timely manner makes the format faster and more interactive. If you see an opponent tutoring, you know to hold up interaction or try to race them. I'm more interested in removing hyper degenerate combos that are hard to interact with or are resilient enough to win through interaction.
Fast mana like Mana Crypt or Mox Diamond - If fast mana is banned, all decks will require Green for speed purposes from the high amount of turn 1 dorks (read: accelerators) available. Stax would become 100% dead as an archetype with these bans outside of Hatebear builds that include Green.
Free counterspells like FoW or Pact of Negation - Keeps combo decks in check. Similar to how Force of Will keeps Legacy from being overrun by super speed combos, these cards also keep Commander in check.
2 weeks ago
I got the idea to build a Syr Konrad, the Grim Mill deck from a Commander's Quarters video, and decided to build a non-budgeted version..
I've since built it from the ground-up, but now I need to cut a few cards to make it an even 100..
---

---
(P.S - I'll slot in a Cabal Coffers/Cabal Stronghold later)
Load more