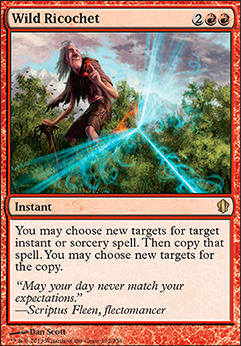 Wild Ricochet
Instant
You may choose new targets for target instant or sorcery spell. Then copy that spell. You may choose new targets for the copy.
Have (26)
Jelatinator ,

H

a

v

o

k

X

,

a

d

d

a

f

f

, TGAAM ,

d

u

c

t

t

a

p

e

d

e

c

k

b

o

x

,

p

s

k

i

n

n

0

1

, Surferdunks , TallGreg ,

n

h

a

l

l

e

n

3

7

, MadEngie ,

T

h

e

H

o

r

s

e

,

P

T

s

m

i

t

t

y

, sunsleader ,

R

e

g

u

l

u

s

1

0

1

0

, SilentArbiter ,

r

a

k

d

o

s

2

4

,

c

o

s

m

o

k

a

i

2

0

0

0

, DrLitebur , Schmawl , Hellhawk ,

R

i

n

g

l

e

a

d

e

r

, Attima , NostalgicAce , alittlex , much-doge ,

A

s

h

y

Want (0)
Wild Ricochet Discussion
4 days ago
Hey there dude!
Suggestions:
You're running Light of Sanction but i only saw one card that damages your own goodies. I'd either cut that or make it relevant by add stuff like Blasphemous Act, Molten Disaster, Starstorm, etc.
Reverberate normally is replaced with Wild Ricochet or Reiterate in my decks, but it is cheaper (mana-wise) so its up to you.
Not sure why my boy Brion Stoutarm isn't in here! He is solid with anything, and downright nasty with Serra Avatar.
Also white is better at spot removal than red. Thunderous Wrath and Lightning Bolt aren't nearly as good as Path to Exile, Swords to Plowshares. But they can hit players, so you have to decide which is more important to you (especially with double damage). I also prefer Comet Storm to Red Sun's Zenith, again, i just prefer what one does, i don't think either is strictly better.
You're currently 6 cards over the limit. I would cut:
Into the Maw of Hell (too expensive and slow)
Moonsilver Spear (too expensive)
Losing some lands probably wouldn't hurt either.
Dawn Charm and Rebuff the Wicked are also cards I wouldn't run, although I haven't ever played them. I tend to stay away from counters that are so narrow. Rebuff the wicked does save your creature. However, Gods Willing would be better at that, and has the additional utility of making a creature unblockable or making an enchantment fall off of your creature. (and scry)
However, even with this wall of text of suggestions, it already is a very powerful list that would certainly run fine without any changes. Gisela is a very strong and aggressive commander and the deck matches that!
4 weeks ago
Tar pit is now sitting at $17. I have both versions of Eye of Ugin. The zen one goes for $10 and mm2 is $4.40.
If you want the mm2 one then I don't really need the Tectonic Edge, but my side is still short $1.50 (with Wild Ricochet).
4 weeks ago
Wild Ricochet is another but its a bit more mana-costly. Needing to have 7 mana to win seems a bit high.
1 month ago
Wild Ricochet and a few more of the charm spells (like Chaos Charm where you can target creatures using different effects from the same spell) might be fun here.
If you have a particular favorite instant you might try to put it in a Isochron Scepter
1 month ago
I have another offer with what you've picked out minus 1x Counterflux
My: 5.13Vapor Snag, 2x Counterflux, Epic Experiment, 3x Redirect, 2x Ludevic's Test Subject Flip, Wild Ricochet
Your: 4.76Clone Legion, Order of Succession, Mystic Barrier, Well of Lost Dreams, Traumatize, Thada Adel, Acquisitor, Akroan Horse
1 month ago
sergiodelrio: The ability to choose new targets for each spell, kinda broken. Wild Ricochet costs 4 to copy/retarget 1 spell.
"oh, the stack is full of burn spells, lucky me"
2 months ago
Mardu's main advantage is his ability to be indestructible when attacking. While you could add enchantments to let him remain indestructible, in these colors, I think you have some better options.
Following with what Aurelia, the Warleader gives you, I'd focus on cards like Aggravated Assault, Fury of the Horde, Relentless Assault, Seize the Day, Waves of Aggression, Savage Beating and World at War to allow you to just keep swinging with him. Cards like Fork, Wild Ricochet, etc. can let you copy these effects for added value.
Aggression, Akroma's Memorial, Archetype of Aggression and the like help you force your damage through on all the extra combat.
| | |
| --- | --- |
| Color(s) | Red |
| Cost | 2RR |
| Converted cost | 4 |
| Avg. draft pick | 2.04 |
| Avg. cube pick | 13.59 |
Legality
| | |
| --- | --- |
| Format | Legality |
| Heirloom | Legal |
| Legacy | Legal |
| Vintage | Legal |
| Commander / EDH | Legal |
| Modern | Legal |
| Duel Commander | Legal |