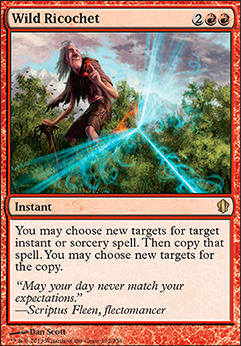 Wild Ricochet
Instant
You may choose new targets for target instant or sorcery spell. Then copy that spell. You may choose new targets for the copy.
Have (28)

A

s

h

y

,

R

e

g

u

l

u

s

1

0

1

0

, much-doge ,

r

a

k

d

o

s

2

4

,

H

a

v

o

k

X

,

T

h

e

H

o

r

s

e

, Xathrid845 ,

d

u

c

t

t

a

p

e

d

e

c

k

b

o

x

,

a

d

d

a

f

f

,

p

s

k

i

n

n

0

1

, Surferdunks ,

l

o

r

d

o

f

t

h

e

s

h

a

d

o

w

s

,

V

i

r

l

y

m

, ironax , NostalgicAce ,

n

h

a

l

l

e

n

3

7

, Tomahawk-Bang , Jelatinator ,

C

a

m

p

b

e

l

l

S

t

e

v

, ztheart , Rathen , Represser , Nadill ,

n

e

m

e

s

i

s

1

0

1

,

f

a

i

l

u

r

e

c

h

i

l

d

8

8

, GriffinRider , LittleBlueHero , OverloadBeta
Want (1)
dspot4lyf
Wild Ricochet Discussion
18 hours ago
Really like the idea behind this of reflecting damage from your creatures to your opponents! Seems like it will be a ton of fun to play and provide a tricky puzzle to play against.
Since it looks like you need some trimming I'll give you some suggestions, these are what I would do.
Greater Realm of Preservation is too situation in my mind unless every deck you play against has either black or red
Scythe of the Wretched works well because it's any damage instead of combat, but I have a feeling you're just going to use it on Zurgo instead of other guys and in that case there are probably better and cheaper equipment for him.
Lifelink providers don't seem to be integral to your plan, gaining life is great but I'm guessing many times you'd rather see a massive damage dealer than a second source of lifelink. I'd cut these down.
Damage doublers again are great and speed you up but I don't think you need so many of them. I'd keep Wound Reflection for sure since it only hits your opponents but maybe only one or two others.
Redirection spells (Fork, Wild Ricochet, etc.) are a lot of fun and can be crazy powerful or useful such as copying a ramp spell or a kicked rite of replication, but I can't tell you how many times I've left mana up for one of these to have no one cast a good spell to copy. Again I'd cut back on these, and change one to a Dualcaster Mage since that leaves you with a body.
Exquisite Blood and Sanguine Bond win the game. If you don't want to be hated for combos I'd take these two out, they're just not interactive.
I'd throw in more card draw (Phyrexian Arena is a staple for a reason) and some more recursion probably to get back your reckoner/spitemare creatures since black is so good at that. Plus if I had a Zurgo deck I'd be hard pressed not to put an Assault Suit in :).
Really like this though, excited to see how it turns out!
2 days ago
Sweet deck! I just designed a Mardu build based around redirection effects, I've been going through Tappedout trying to find other builds running that theme. I like that your version is able to feel like control, but with a deep creature base.
As far as redirect spells, Radiate can be hilarious against all kinds of cards, as well as Wild Ricochet. Repercussion is great here too -- it can be risky, but it can also end games, and you'll be better prepared to deal with it than your opponents given that you can redirect the damage it deals you.
You can check out the build I'm working on here: Playing With Fire!
3 days ago
You started with Bant and moved to five-color! Excellent choice. I love five color. I have noticed that your deck largely lacks direction, and mainly aims to just play fun cards that seem like they're fun to play. To help you out in the future, I'll give you a rating on each card to let you know how good/bad it might be, which will help you gauge what might be the next cut.
Overall, you're well on your way to a good list. There's really not much more I can say. Hope I was able to bring some things to light that you may not have thought about. Good luck in the future.
6 days ago
You may consider Insurrection, Wheel of Fortune, Reforge the Soul, Split Decision, Plea for Power, Form of the Dragon, Zealous Conscripts, Jace's Sanctum, Vandalblast, Blasphemous Act, Dictate of the Twin Gods, Chaos Warp, Price of Glory, Faithless Looting, Diluvian Primordial, Molten Primordial, Bribery, Capsize, Valakut, the Molten Pinnacle, Reiterate, Fork, Wild Ricochet, Word of Seizing, Grab the Reins, Consecrated Sphinx, Fact or Fiction, Steam Augury, Sphinx of Uthuun, Echo Mage, Fatespinner, Gather Specimens, Acquire, Sensei's Divining Top, Trinket Mage, Leyline of Anticipation, Lighthouse Chronologist, Mindshrieker, Thada adel, aquisitor, Well of Ideas, Chandra's Ignition, Bident of Thassa and Rayne, Academy Chancellor.
Lightning Greaves and/or Swiftfoot Boots are also always good to have.
2 weeks ago
Wild Ricochet for defense.
I think there are some good giant spells in white, and Standard has added a couple of cool green giants too
3 weeks ago
An esper mage across from the table had setup a rather neat combo right before the end of someone elses turn (it was one of those 5 minute explanation-combos) and ended up Blue Sun's Zenithing himself for 20.
No one ever expects the mono red player to have any tricks up his sleeve, so when I went ahead and Wild Ricochet myself and land a reliquary tower the following turn, it was one of the most satisfying things ever. The best part was that he used about 4 cards to do the trick, emptying his hand.
| | |
| --- | --- |
| Color(s) | Red |
| Cost | 2RR |
| Converted cost | 4 |
Legality
| | |
| --- | --- |
| Format | Legality |
| Heirloom | Legal |
| Legacy | Legal |
| Vintage | Legal |
| Commander / EDH | Legal |
| Modern | Legal |
| Duel Commander | Legal |