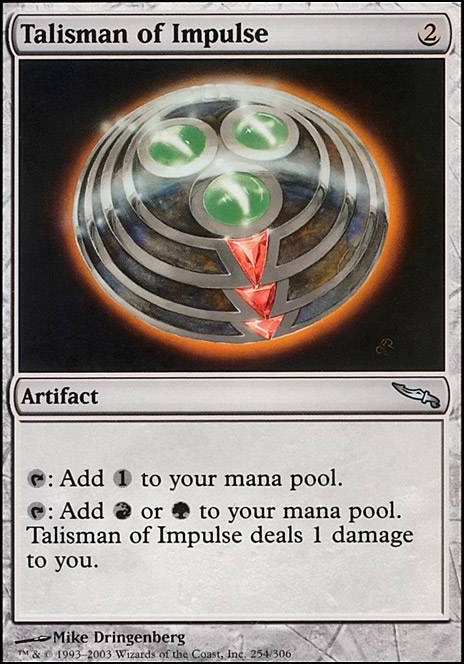 Talisman of Impulse
Artifact
: Add to your mana pool.
Tap: Add or to your mana pool. Talisman of Impulse deals 1 damage to you.
Browse Alters
View at Gatherer
Trade
Legality
| | |
| --- | --- |
| Format | Legality |
| Tiny Leaders | Legal |
| Noble | Legal |
| Leviathan | Legal |
| Magic Duels | Legal |
| Canadian Highlander | Legal |
| Vintage | Legal |
| Modern | Legal |
| Penny Dreadful | Legal |
| Vanguard | Legal |
| Legacy | Legal |
| Archenemy | Legal |
| Planechase | Legal |
| 1v1 Commander | Legal |
| Duel Commander | Legal |
| Oathbreaker | Legal |
| Unformat | Legal |
| Casual | Legal |
| Commander / EDH | Legal |
Talisman of Impulse occurrence in decks from the last year
Commander / EDH:
All decks: 0.01%
Talisman of Impulse Discussion
1 day ago
Dolphin_Jesus - Love the name
I play Xenagos but not with an MLD package. You have a low land count and a relatively high AVG cmc. If you're going to be wiping landbases and opponents wiping your creatures, you will not be left in an advantageous position. Why not add more artifact ramp such as Mana Crypt, Sol Ring, Talisman of Impulse, and The Great Henge? These will ramp you and will help you break parity.
Alternatively, you can run Collector Ouphe instead to shut down opposing artifacts as blue mages (as well as white, red and black players) will almost always be using artifacts to ramp and the small anti-synergy is worth it IMO should you choose to go that route. City of Solitude might be worth considering over or in addition to Price of Glory.
If you're still worried about blue, Veil of Summer acts as a cheap cantrip and anti-blue/black card. You're already running Pyroblast so specific color hate doesn't seem to be an issue for you.
You are trying to make deals but in my meta, if you play MLD, people will target you. There's nothing wrong with MLD, but most people don't like losing their lands so I'm curious how/if you have actually been able to politic your way out of a situation, unless the combo player is gonna win. '
Survival of the Fittest/Fauna Shaman might be worth considering with all your creatures. Not to mention the synergy with Anger and Eternal Witness. A Genesis might be worth considering should you go that route.
My honest opinion is that this deck lacks enough card draw, lands and meaningful ramp to be able to compete in a semi-competitive meta (no idea what your meta is like, but this wouldn't hold up in mine). You only run 6 pieces of ramp that allow you to get Xenagos out earlier.
Return of the Wildspeaker > Soul's Majesty - You don't want them to use removal in response to majesty, but rather, use wildspeaker in response to removal.
Rishkar's Expertise - Similar to above but with added benefit of not losing tempo
Greater Good - The most powerful card in a Xenagos deck. If you listen to anything I say, this is it.
Lifeblood Hydra - Even if it dies, you gain value. Pair it with another card you should add, Berserk (which goes exceedingly well with Malignus)
Life's Legacy/Momentous Fall - Yes, additional cost to cast sucks, but its very helpful to draw and it helps get around spot removal.
Beast Within - Good old instant speed permanent removal
Decimate - 4 for 1, amazing value
Voracious Hydra - Beater and removal in one
Dosan the Falling Leaf - Anti blue, anti spot removal if blue is a thorn in your side
Bolt Bend - Redirect removal, counter counterspells, redirect some draw as well as some extra turns. Very useful for 1
If you would like ideas for cuts or want to discuss strategy
2 weeks ago
I have a lot of recommendations for you. These may be pricey so I apologize if they're out of your price range but here you go:
1 month ago
Also a couple of suggestions, Talisman of Impulse is better than Gruul Signet most times because you can tap it for mana the turn you drop it.
Guttural Response while yes it is anti-blue, having a straight up counter of your own to answer counter magic is fantastic and blue players do not expect it from the Gruul player. Further you can force them to double down and burn off another counter spell to keep down the play you're going for.
I'm surprised to see no Craterhoof Behemoth or Blightsteel Colossus granted they can be wins more cards but if they go unanswered you often win on the spot.
I'd also suggest swapping in a Windswept Heath for the Temple of Abandon but that's mainly my bias against enter into play tapped lands.
Further this sort of deck begs for Selvala's Stampede which most people will always respond with "Free" so you just wait to cast it until you've got plenty of permanents in hand, which can allow you to build a massive board state.
2 months ago
Nice deck Hi_diddly_ho_neighbor. The name gave me a laugh.
Consider a few other tutors to get the persist creatures and a sac outlet into your hand or onto the battlefield?
Gamble : I think this is a must add because it can tutor for an enchantment or artifact sac outlet.
Fauna Shaman : repeatable creature tutor.
Eldritch Evolution or Birthing Pod : nice to sac a three or four drop to get a five drop since many of the persist creatures are five drops.
Consider cutting Longshot Squad , Kodama's Reach and Warstorm Surge for these tutors? Warstorm is six drop redundancy that I don't think you need. Stalking Vengeance could be cut instead of Warstorm, but it's a creature who's easier to tutor for than Warstorm.
Other cards to consider adding:
2 months ago
Hey, there's several cards that are $3 or less each that would be good here.
Could add all these for $15.
Cards to consider cutting:
4x Mountain
Manalith
Prismatic Lens
Hunt the Hunter
Orcish Oriflamme
Fairgrounds Trumpeter
Opportunistic Dragon
Battlefront Krushok
Archetype of Aggression
Archetype of Endurance
2 months ago
Hey, nice budget upgrade of the precon. Good work in progress :)
Birds and Smothering are very good choices for expensive price upgrades. Helm is fine too because you added Aurelia and Godo to give you a combo win. Omnath at $7 is kind of out of place because not playing many ways to take advantage of sacing Elementals. Rampaging does the same thing as Omnath for less than $1 and it has trample. Armada Wurm and/or End-Raze Forerunners each less than a $1 could replace Omnath and have more impact. Hornet Queen at $2 creates some nasty tokens.
Interesting choice for the other expensive price cards: Iroas, Panharmonicon and Splinter. There's nothing wrong with these cards, but I don't think they're upgrades that a budget version of the precon needs. The $20 from these three cards could be better used for land upgrades. $20 can get you the three Check lands, one Shock land as well as some other lands and these will help your deck much more.
---
In my opinion the upgrades that the precon needs the most are lands, tutors and ramp. I see that you're playing pretty much the stock manabase from the precon, but there's many good lands in the maybeboard. Are you in the process of getting the lands in the maybeboard? If so my advice is make them priority for upgrades.
Some budget cards to consider adding:
Lands
Tutors
Ramp
Other
---
Cards to consider cutting:
Rugged Highlands
Blossoming Sands
Graypelt Refuge
Kazandu Refuge
Myriad Landscape
Sungrass Prairie
Emmara Tandris
Doomed Artisan
Full Flowering
Ghired's Belligerence
Cultivate
Slice in Twain
Aura Mutation
Growing Ranks
Flameshadow Conjuring
Seance
Omnath, Locus of Rage
Splinter Twin
Panharmonicon
Iroas, God of Victory
If you like some of these suggestions I offer more advice about these potential additions and the cards I'm suggesting to cut. Good luck with your deck.
Load more