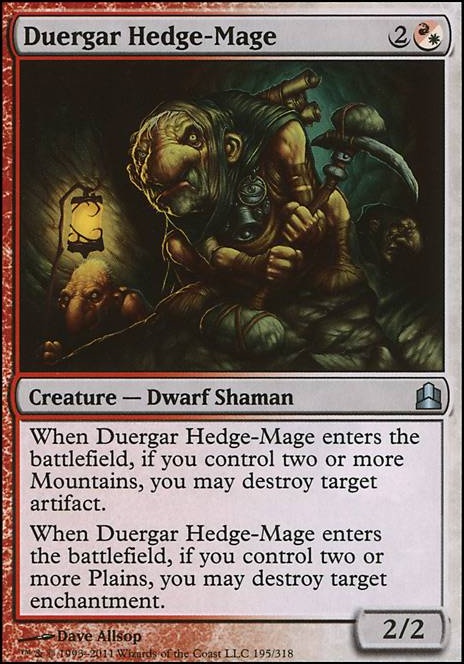 Duergar Hedge-Mage
Creature — Dwarf Shaman
When Duergar Hedge-Mage enters the battlefield, if you control two or more Mountains, you may destroy target artifact.
When Duergar Hedge-Mage enters the battlefield, if you control two or more Plains, you may destroy target enchantment.
Browse Alters
View at Gatherer
Trade
Legality
| | |
| --- | --- |
| Format | Legality |
| Tiny Leaders | Legal |
| Noble | Legal |
| Leviathan | Legal |
| Magic Duels | Legal |
| Canadian Highlander | Legal |
| Vintage | Legal |
| Modern | Legal |
| Vanguard | Legal |
| Legacy | Legal |
| Archenemy | Legal |
| Planechase | Legal |
| 1v1 Commander | Legal |
| Duel Commander | Legal |
| Oathbreaker | Legal |
| Unformat | Legal |
| Casual | Legal |
| Commander / EDH | Legal |
Duergar Hedge-Mage occurrence in decks from the last year
Commander / EDH:
All decks: 0.01%
Duergar Hedge-Mage Discussion
1 week ago
There are tons of dwarves and vehicles to go off of, but I'll list some I think are sweet to get you started.
Oh and
Start Your Engines
seems like it would be fun to run.
4 months ago
In every deck I have that contains the colors red and white, I have a copy of Orim's Thunder , but I am considering replacing it with Duergar Hedge-Mage . I cannot cast the mage as an instant, but it has a lower (and more flexible) mana cost, can destroy up to two permanents, and provides a creature that can attack and block, so I feel that it may be a better choice.
What does everyone else here say about this? Should I replace Orim's Thunder with Duergar Hedge-Mage ?
5 months ago
Hey, interesting brew combining Goblins with Aurelia. White gives you lots of good support cards for Goblins that red doesn't offer.
This deck's budget is very low. It's going to be difficult to make any real improvements without spending an extra $15, but a $15 upgrade could do a lot for your deck. Even a $10 upgrade can help quite a bit.
Good budget ($3 or less each) cards to consider adding:
This could be a about $15 upgrade. Tower and Forge are two Boros dual lands that ETB (enter the battlefield) untapped which is helpful in game play. Tower is one of the best lands to play in mulicolored Commander decks. Cut Plains for these lands.
Armory gives you more opportunity to get Skullclamp because it's is by far your best repeatable source of draw because of having many sources of 1/1 Goblins. Assemble can be another repeatable source of 1/1 tokens and if not dealt with by opponents can create a lot of value over the course of turns. Adding more mana rocks that can make white mana is helpful to be able to reduce the number of Plains in the manabase.
---
Cards to consider cutting:
40 lands is a lot of lands and when you have this many basic lands it's very likely you'll get consistently land flooded which is not fun. My advice is to reduce the number of Plains. If doing this then cut the casting cost cards because white is the secondary color, red is the primary color since you need lots more red for Goblins.
In my opinion Titan and Aurelia are the only worth keeping because they're six drops which makes it easier to have double white mana available when you want to cast them. Archetype of Courage is a good card, but having consistently for a three drop is not something you should have to worry about.
5 months ago
Find a way to pull lands away from your library like fetchlands. You need to maintain tempo. After you have 7 or more lands, each land drawn from library actually slows down your tempo.
A good useful soldier like Solemn Simulacrum , Knight of the White Orchid will ensure that.
Next, your entire deck depends strongly on Alesha.
You need to:
6 months ago
Good start to a deck. Rienne looks like an interesting build, and the built-in recursion is pretty powerful. If I might suggest a few cards that work really well with her; Dauntless Escort , Saffi Eriksdotter and Qasali Pridemage are all cards that self-sacrifice with powerful effects that Rienne, Angel of Rebirth lets you re-use. These cards will help to make your board more sticky and keep Rienne around to keep chugging out that value.
Theres a ton of other multicolored creatures that have reusable effects when they enter, like Duergar Hedge-Mage , Knight of Autumn and Tolsimir, Friend to Wolves . If token making is something you're interested in, then Conclave Cavalier and Trostani's Summoner can do a decent job. If you want some good aggressive finisher cards, theres Gahiji, Honored One and Knight of New Alara who can pump your board pretty nicely, as well as the liege cycle from Lorwyn.
Rienne also likes Sacrifice outlets, so Evolutionary Leap , Brion Stoutarm and some of the card-draw spells like Life's Legacy can generate some serious value.
Since the deck is three color, getting the right mana on time might be a bit of a problem. You could do with swapping some of the basics out for some tri-color lands, like Command Tower and Jungle Shrine , and using cheap fetches like Evolving Wilds , Terramorphic Expanse and Krosan Verge can help you get the lands you need as you need them. Replacing cards like Safewright Quest with things like Farseek , Kodama's Reach and Skyshroud Claim are also going to help, as you can never have enough mana in an EDH game, as we all know.
Your deck is also pretty light on removal, stuff like Swords to Plowshares , Sylvan Reclamation , Return to Dust , Generous Gift and Beast Within can get rid of troublesome creatures or permanents that threaten you or stop you winning with creatures. While they aren't flashy, sometimes you just need to get rid of that Rest in Peace before it does too much damage.
Thats my take on just some of the cards I figure could improve the deck, but I'm no expert. Play around with it and see what you like. If you find yourself struggling to cut cards, here's a list of what I feel are the weakest links in your deck, in no particular order; Chandra, Fire Artisan - You have access to better card draw and the burn shouldn't be super relevant most games. Dryad Militant , Vernadi Shieldmate , Skyknight Vanguard , Boros Swiftblade and Sunhome Guildmage all seem fairly low impact. Fatal Frenzy seems odd as your creatures aren't super large, and your commander isn't going to easily win by Commander Damage. War's Toll and Mana Web seem like filler slots, but maybe these help against your local meta?
Hopefully some of this helps, I look forward to seeing how the deck develops in the future.
6 months ago
alechodgin23 i removed the Duergar Hedge-Mage and added in a Sphinx's Revelation . Hopefully that will be enough, if needed ill add more later. I'd like to run Teferi's Protection but its 50$ right now and its not really necessary for the deck as once numot is out and an Armageddon resolves, the game is basically over. it would however prove to be another win condition with a mass land destruction spell due to so much resource denial, ill consider the card when its cheaper down the line. Hopefully commander 2020 gives us a reprint.
7 months ago
Yeah man, this one is tough. It looks pretty good, although I think I may take out some of the artifact hate and instead put in more targeted pump spells. You have a lot of protection spells (although maybe lacking a Gods Willing ) and double-strike spells, but you have few actual pump spells. Some of the spells I think can be upgraded, namely Boros Charm , Blessed Alliance , and maybe Balduvian Rage . These are good cards, but specifically with the indestructible spells, they are mostly used to counteract wrath effects which are not played in Tiny Leaders because of the mana cost restriction. You might look into Reckless Charge , Brute Force , Rush of Blood , Titan's Strength , and things of the like. I like the heroic package. Some of the other creatures you can probably cut without too much loss. Taking out Duergar Hedge-Mage and Electrostatic Field is where I would start. They just seem slow and kind of clunky. I could see Akroan Crusader and especially Dreadhorde Arcanist fitting nicely. This style of deck is entirely focused on what it is trying to do, so if you are interacting with the opponent it means you are detracting from the power of the deck, which is to apply pressure. Nice build though, I am not looking forward to facing it!
Load more