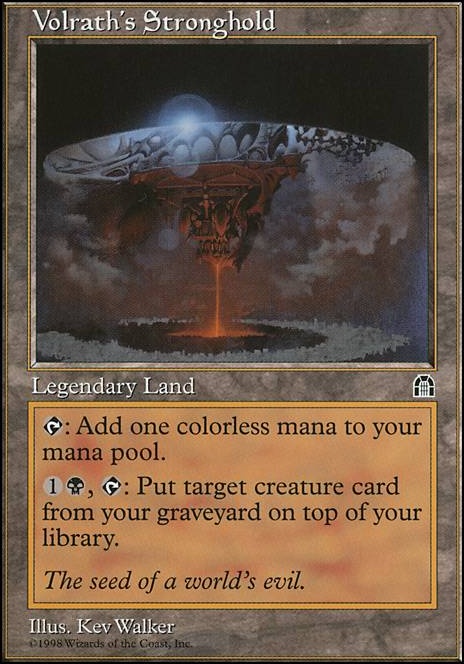 Volrath's Stronghold
Legendary Land
: Add to your mana pool.
, : Put target creature card from your graveyard on top of your library.
Browse Alters
View at Gatherer
Trade
Legality
| | |
| --- | --- |
| Format | Legality |
| Oathbreaker | Legal |
| Unformat | Legal |
| Vintage | Legal |
| Leviathan | Legal |
| Custom | Legal |
| Highlander | Legal |
| Legacy | Legal |
| 1v1 Commander | Legal |
| Duel Commander | Legal |
| 2019-10-04 | Legal |
| Tiny Leaders | Legal |
| Limited | Legal |
| Canadian Highlander | Legal |
| Casual | Legal |
| Commander / EDH | Legal |
Volrath's Stronghold occurrence in decks from the last year
Latest Decks as Commander
Volrath's Stronghold Discussion
4 days ago
Changelog (22/11/2020)
White
Blue
Black
Red
Green
Multicolored
Colorless
Mana Fixing
1 month ago
I used to run Xiahou dun, upgraded to Sidisi. Respect for sticking with the Dun.
Your land count is a little high, especially for your CMC. I run 37 lands with a 3.3ish CMC. Your cmc is much lower with slightly less ramp. You should cut 2-3 lands for more ramp IMO.
Infernal Darkness - Like contamination but it doesnt shut off coffersn or requires continuous sacrifice. Can be used as redundancy to contamination and counterbait against blue.
Replace Cabal stronghold with Volrath's Stronghold - Cabal takes too long to get online, stronghold helps you bypass commander tax or reuse a utility creature. Can even potentially save a creature from grave hate worst comes to worst.
Replace Memorial to the folly with Deserted Temple/Blast Zone - Untapping cabal coffers or having a wipe that can interact with artifacts and enchantments is key. I know you have 2 cards or so that can interact with enchantments, but a a land that doesnt take up a slot and is tutorable through expedition map is definitely worth considering.
Replace Liliana for ramp or Imp's Mischief - Lili doesn't do much on her own. Ramp will help ensure you being able to keep up with green and further your game plan. Imp's mischief counters counterspells, redirects targetted removal/draw/extra turns. Very powerful utility for 2 mana, and unexpected in black. If you like off color cards, do note Withering Boon.
Syphon Mind - Each opponent discard 1, draw 3. Pretty good and at with no lifeloss.
Deliver Unto Evil - Not an entirely serious suggestion, but is one of the few ways to get nonblack cards back from your grave.
Have you considered adding Basalt Monolith + Rings of Brighthearth + Sensei's Divining Top? Each piece is good on it's own. Monolith for ramp, rings for commander synergy (adding fetches would help, as well to be good with top) among a few others, top for general utility and digging deeper. Adding all three gives you infinite colorless mana and draws your deck.
What is your meta like - Competitive, commanders/colors played? I might recommend Boseju given all of your sorcerries and instants.
You might want to add a nev disk for good measure in case shit hits the fan. Be sure to lmk what you think of each suggestion. Mono black shenanigans are always fun. +1
1 month ago
Hello, I don't watch the Walking Dead and I honestly think the Secret Lair: Walking Dead product is a very bad decision on Wizard's part. That being said, one of the cards being released provides a silver bullet to a problem I often encounter in certain games.
Card: Negan, The Cold-Blooded
I'm not planning to make him my commander, but I want to use him in the 99, because he is practically the best removal spell ever made when dealing with creatures that have both hexproof and indestructible.
Seriously, the next best cards are Council's Judgment, Crackling Doom Soul Shatter, Mythos of Snapdax, Slaughter the Strong, etc. These cards all have conditions where they can fail to remove the creature I want gone, but Negan has none of those same problems making him the most effective piece of spot removal printed to this date, effectively costing only 4 mana given the treasure token.
I know I could just run other sure-fire answers like Descend upon the Sinful or Apocalypse instead, but those cards can massively hurt my side of the table too which makes them not worth running and they can also make the rest of the table unhappy with me for playing exile-wipes.
Another thing to note is that Negan is a creature which means I can make him uncounterable with a Cavern of Souls rather than Boseiju, Who Shelters All, a land that's much more inflexible to play with than Cavern. I can also reanimate his effect too with Volrath's Stronghold and other reanimation effects which would make him so good at keeping commanders with hexproof and indestructible repeatedly in check unlike a lot of the other one-time use instants and sorceries I have available.
The only issue is I think most play-groups will tell me that their play group will have this card banned given all the controversy surrounding it which is a shame. My question is, do you think its worth the trouble acquiring this card? If I'm going to spend a lot of money to buy a single only for most people to tell me I can't play it then I don't want to spend that kind of money, but for now I'm unsure. Would you advise for or against buying it? Thanks!
2 months ago
Solid list mate! =) But you should consider:
2 months ago
Updates
So far there have been very few changes in the deck in a while, mainly because there have been very few things that have really added to the deck since Manascape Refractor.
With the Zendikar Rising spoilers though there are a few cards that stick out that deserve a mention as being potentially useful in this archetype: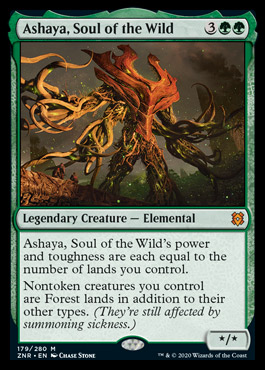 Now this is very much like Multani, Yavimaya's Avatar except 1 cheaper and with no ability to recur itself (or bounce lands for discarding). That said it does ramp. In this particular deck I would have to say that the only way to really generate creatures quickly is Avenger of Zendikar, and even then they will have summoning sickness.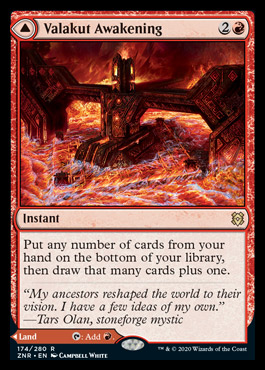 This card has a lot of utility, the land is slow but it's an effect in a pinch. The only thing I will say to its greatest detriment is that it doesn't count as a land in the graveyard and cannot be searched like one. That said it's a pretty good filter/land combo.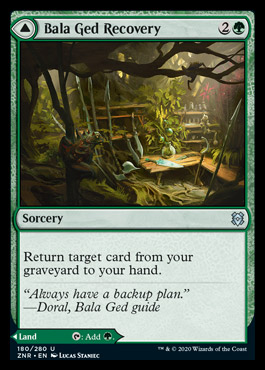 Pretty much an easier Eternal Witness on top of that the other side is a land, which can really help smooth out the mana on opening hands. Still not a land card in the library or graveyard which is a pain but it's about as easy to search up in this deck as an Eternal Witness and it's easier to cast (being one less green mana symbol). Again a candidate for smoothing out mana early game in green (which is the most key ramping colour) or making a landfall trigger on top of being a Regrowth, even if it is a bit more expensive. I honestly think it might be worth a serious thought about replacing Eternal Witness as there is pretty much no reanimation in the deck (unless you are including something like Volrath's Stronghold).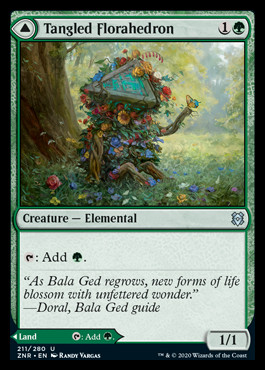 It's a mana dork that can also be a land, potential for a bit of ramp, potential for a landfall trigger, not exciting but certainly worth a mention.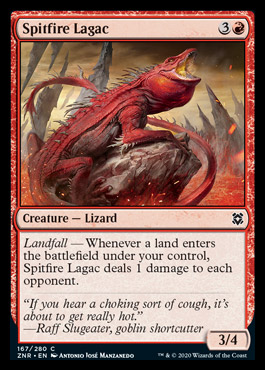 I'm torn about this card because it has all the words but unfortunately it's not really how this kind of deck plays out. There are very few infinite landfall triggers so this is more of a value card. It will annoy and aggravate the board and draw attention to you for very limited gain. You make three landfall triggers in a turn? That's three damage...great, now you have everyone's attention.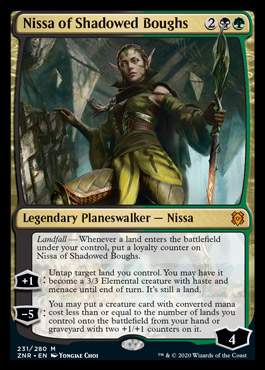 If I didn't mention it, someone would bring it up, but this card just doesn't quite work in this deck unless you are a dedicated reanimation build. Play her for 4, drop some land, reanimate something, maybe drop a surprise from the hand once, then she probably dies. I think Nissa, Vital Force is still a much better card for utility being that she can retrieve permanents (including land) and has an ultimate that just works beautifully with the deck. However this new Nissa just doesn't really cut it with the current abilities.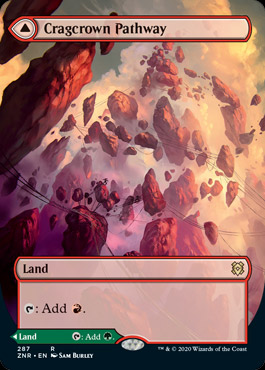 Beautiful card, it's just a shame it's not in GB, still a potentially good choice, the main thing going against it is the lack of land types and having to play it from the graveyard on it's Red facing.
Other Thoughts
I want to try adding Valakut, the Molten Pinnacle back into the deck at some point. I think there are enough ways to make everything mountains that it shouldn't be as bad as it was before.
Still want to add Castle Locthwain into the deck.
Haven't had time to test Command the Dreadhorde yet but I think it's a good potential addition.
3 months ago
Look, sacrificing an enchantment or artifact is only a cost if you make it, find a use for that value.
Look at Demonic Pact, get some insane value, and whenever you need to crack it get a free counterspell too. Hatching Plans is a little shy of Ancestral Recall+Counterspell, which is busted.
Chime of Night. In my version I love it, it's busted good.
Trying to make tokens to sacrifice to to minimize the cost isn't a bad idea, however I believe the better approach is to see it as a sacrifice outlet for a card type rarely sacrificed. Just look for the value in it as an effect and you can find amazing engines to abuse! The Omen cycle (Omen of the Dead, Omen of the Sea, Omen of the Sun) from Theros, Beyond Death all give value and a free sacrifice as well as draw, tokens to sacrifice, or recusion for sacrificed fodder. While expensive to buy, Replenish is insane in this style of deck. Creatures with good death abilities can work similarly, however there is much better anti-graveyard-creature hate in existence, like Anafenza, the Foremost or Containment Priest, while enchantments are much safer in the yard. As previously mentioned, Hall of Heliod's Generosity is great for this strategy, however I'd be remiss not to mention Volrath's Stronghold, despitr it's insane pricetag.
Just build a deck utilizing all parts of Ertai, rather than just making him a counter spell on a stick!
Load more