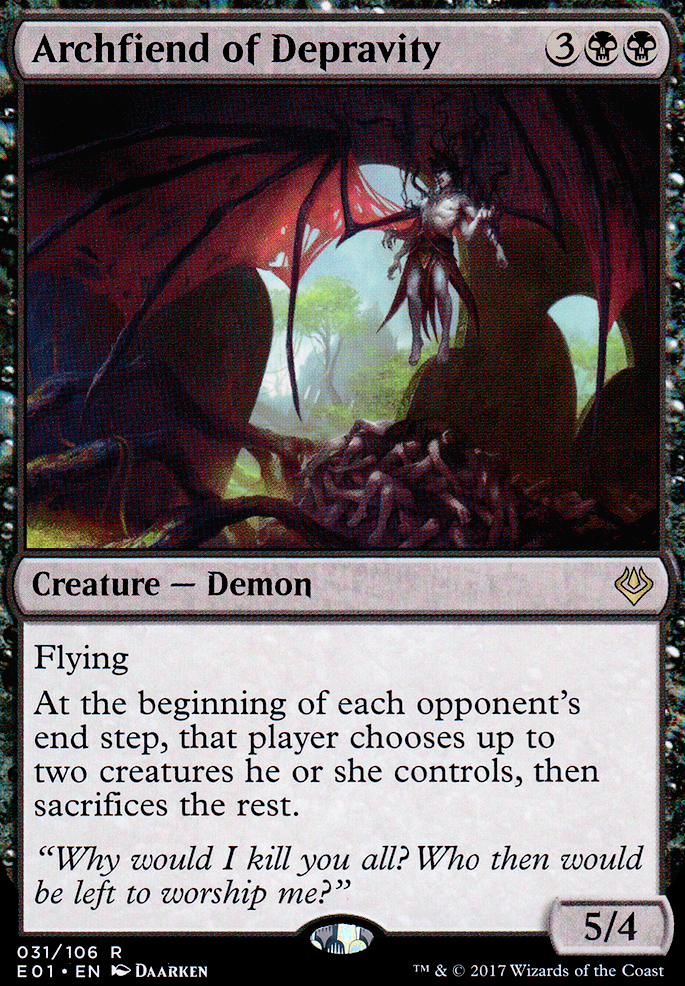 Archfiend of Depravity
Creature — Demon
Flying
At the beginning of each opponent's end step, that player chooses up to two creatures he or she controls, then sacrifices the rest.
Browse Alters
View at Gatherer
Trade
Legality
| | |
| --- | --- |
| Format | Legality |
| Tiny Leaders | Legal |
| 1v1 Commander | Legal |
| Magic Duels | Legal |
| Canadian Highlander | Legal |
| Vintage | Legal |
| Modern | Legal |
| Pioneer | Legal |
| Leviathan | Legal |
| Legacy | Legal |
| Frontier | Legal |
| Duel Commander | Legal |
| Oathbreaker | Legal |
| Unformat | Legal |
| Casual | Legal |
| Commander / EDH | Legal |
Archfiend of Depravity occurrence in decks from the last year
Commander / EDH:
All decks: 0.03%
Black: 0.36%
Golgari: 0.09%
Rakdos: 0.48%
Archfiend of Depravity Discussion
2 days ago
Tree of Perdition
's life exchanging effect causes the victim to gain or lose life to the total, and will trigger
Archfiend of Depravity
and
Wound Reflection
.
Archfiend of Depravity and Wound Reflection trigger EACH end step and do not care why an opponent lost life or if they gained life later in the turn. Ex. You have either card out. Bob plays a shockland untapped and attacks George for 5 damage with lifelink. On Bob's endstep he loses 2 life, and George loses 5 life.
Archfiend of Depravity and Wound Reflection will also count the loss of life that one causes to the amount the other causes if both are out. Ex: 5 damage, 1st trigger 5 life, 2nd trigger 10 life.
3 months ago
Alright. After looking through, I have a few ideas. 1. Instead of stealing other's artifacts for 4+ mana, perhaps running things like Abrade , Artifact Possession , Copy Artifact , or Bedevil to either create copies of other's artifacts, or destroy them with more options than what you currently have.
Mana fixing Drowned Catacomb , Dragonskull Summit , Watery Grave , Command Tower , Arcane Signet , Grixis Obelisk, and Grixis Panorama would all help in your ability to cast Bolas on curve.
Holding off the other players.
Wrath of God , Vraska's Contempt , Bontu's Last Reckoning , Cast Down , and Cavalier of Night all keep the board clear while you set up for the victory!
Creatures. Zahid, Djinn of the Lamp , Wall of Stone , Norritt , Chainwhip Cyclops , and Vraska's Finisher are all bad cards. I suggest cards like Nicol Bolas, the Ravager Flip, Sheoldred, Whispering One , Notion Thief , Archfiend of Depravity , and Massacre Girl could be more beneficial than the current ones you have.
3 months ago
You said you want to make room for Teferi, Temporal Archmage ? I'd say cut Tamiyo, Collector of Tales . She doesn't appear to have much value in your deck as it currently stands. In order for you to achieve maximum value from her, you'd need to both have her out and be able to reliably manipulate the top of your deck each turn. Then, even if you can do this, because this is EDH you will only ever at most get a single card in your hand, and put three into your graveyard. Considering your deck is not built for graveyard synergy, I'd say she's easily the weakest link here. As for her static ability, not many cards out there force opponents to sacrifice permanents they own. They do exist, but by far it is one of the less relevant options of removal. Even those who do exist, it usually then befalls upon the opponent's choice, which means they will likely sacrifice their weakest permanents first. For example, obviously a player will keep their strongest two creatures when Archfiend of Depravity goes off, or they will sacrifice a token creature if able to Mogis, God of Slaughter . Likewise, Crackling Doom gives them the option to choose if they have two or more creatures that meet the condition, and even if they don't this only removes a single threat from their board.
So I think I can pretty confidently say you can forgo Tamiyo and run just fine :)
Load more