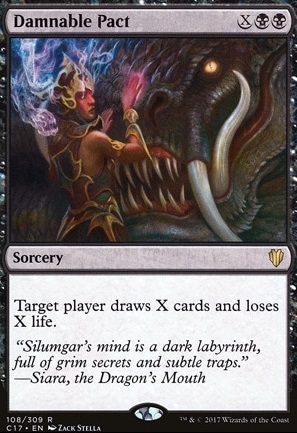 Legality
| | |
| --- | --- |
| Format | Legality |
| Pre-release | Legal |
| Tiny Leaders | Legal |
| Magic Duels | Legal |
| Vintage | Legal |
| Modern | Legal |
| Penny Dreadful | Legal |
| Casual | Legal |
| Leviathan | Legal |
| Legacy | Legal |
| Frontier | Legal |
| 1v1 Commander | Legal |
| Duel Commander | Legal |
| Unformat | Legal |
| Pauper | Legal |
| Commander / EDH | Legal |
Damnable Pact
Sorcery
Target player draws X cards and loses X life.
Have (21)
Tommuz , Caldazar , ironax , ChainerDragon65 , MonoRedBomb.Com ,

M

a

l

a

c

h

y

_

,

R

e

g

u

l

u

s

1

0

1

0

, Famicomania , Unjust_DiabIo , thetechzombie ,

p

s

k

i

n

n

0

1

, Swamy , AlucardZain , angesoir ,

P

T

s

m

i

t

t

y

,

g

o

l

g

a

r

i

g

i

r

l

, MattN7498 ,

o

r

z

h

o

v

_

i

s

_

r

e

l

a

t

i

v

e

l

y

_

o

k

a

y

8

1

9

, duff87 ,

C

a

s

t

l

e

S

i

e

g

e

,

B

l

a

d

e

M

a

s

t

a

2

2

0

Want (0)
Damnable Pact Discussion
3 weeks ago
So here's a list of the cards that I got for the deck:
However, there's plenty of things I know I need, and some things I might consider (thanks to edhrec.com).
2 months ago
Hey there! Welcome back to the world of EDH!
A few suggestions for you - biggest thing I am noting is not enough draw and ramp. I count about 3 draw engines in the deck, more if you count your tutors. As a general heuristic I aim for about 10 solid draw effects, either powerful one shots or strong engines like you have in Phyrexian Arena and Skullclamp. Underworld Connections, Read the Bones, Necropotence, Land Tax, Gift of Estates, Promise of Power, Damnable Pact, Read the Bones all reasonable options pending budget.
As for ramp I also typically aim for 10 total sources. Myriad Landscape is an easy inclusion in 2 color decks that only occupies a land slot, other possibilities would be Ashnod's Altar with your token theme, Mind Stone, criminally underplayed Wayfarer's Bauble,Commander's Sphere, and personal favorites Everflowing Chalice Worn Powerstone and Thran Dynamo.
That leads me to a couple of other suggestions - replace token makers with more powerful iterations. Conqueror's Pledge and Nomads' Assembly are decent cards, but Secure the Wastes, Decree of Justice, or even Entreat the Angels are all more scalable and mostly instant speed, a huge boon in edh.
So what to cut? I would start with a few cards that I believe are underpowered - Archdemon of Unx, Phyrexian Gargantua, Elixir of Immortality, aforementioned token producers. I would also consider finding good but expensive cards to cut to lower Your curve - i have found the ideal sweet spot in edh is 3-4 mana power plays more so than 6-7 mana bombs that die to a removal spell or board wipe.
Happy brewing!
3 months ago
As your deck list is pretty big so I thought I would give you some ideas for cards to cut.
Akroma, Angel of Fury: good, but does not have a big enough effect for commander
Anger: you're only running 2 mountains
Dragon Whelp, Serra Angel, Orzhov Guildmage, Ichor Wellspring: not large enough effect
Dread Cacodemon, Reiver Demon I'm not sure about this but I don't think Kaalia's ability qualifies as casting it
Duergar Hedge-Mage good card but again, you are only running 4 mountains and 6 plains
Fallen Angel: you don't really have a use for a sac engine.
Jayemdae Tome: Just not great
Wrecking Ball no need for land destruction and there is better creature removal
Soul Snare: better options, ie Swords to Plowshares
Ghostly Prison:fine cared but has no real reason to be in this deck
Vow of Duty: just run a removal spell
Earthquake, Evincar's Justice, Pyrohemia, Sulfurous Blast: The mardu colors are the king of board wipes, run something better. ie. Damnation, Toxic Deluge, Wrath of God, Chain Reaction, Phyrexian Rebirth, and Decree of Pain to name a few
Congregate: don't need the life gain. Unless of course you play lots of token decks
Liliana of the Dark Realms: you have 3 swamps
you have a good amount of good creature but because your commander relies on your hand here are some more card draw ideas:Ambition's Cost, Ancient Craving, Bloodgift Demon, Damnable Pact, Dragon Mage, Erebos, God of the Dead, Harvester of Souls, Necrologia, Night's Whisper, Ob Nixilis Reignited, Painful Truths, Sign in Blood, Skeletal Scrying, Underworld Connections, Wretched Confluence, and Read the Bones.
More additional combat phase spell would also greatly benefit you. World at War, Aurelia, the Warleader, Fury of the Horde, Hellkite Charger, Relentless Assault, Savage Beating, Scourge of the Throne, Seize the Day, Waves of Aggression
in case you haven't already you may want to check out https://edhrec.com/commanders/kaalia-of-the-vast for more card ideas.
Looks like a great start, hope my comments were helpful
3 months ago
Looks cool! I'd recommend Damnable Pact as a finisher and Koskun Falls as another tax effect in your colors, since you can't get Ghostly Prison.
4 months ago
Are you going to insist on combos, or can it just be draw? Simply playing Damnable Pact could be good.
Load more