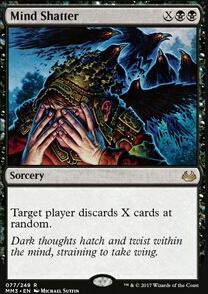 Legality
| | |
| --- | --- |
| Format | Legality |
| Pre-release | Legal |
| Noble | Legal |
| Leviathan | Legal |
| Magic Duels | Legal |
| Vintage | Legal |
| Modern | Legal |
| Penny Dreadful | Legal |
| Vanguard | Legal |
| Legacy | Legal |
| Archenemy | Legal |
| Planechase | Legal |
| Duel Commander | Legal |
| Unformat | Legal |
| Casual | Legal |
| Commander / EDH | Legal |
Mind Shatter
Sorcery
Target player discards X cards at random.
Have (15)

m

c

s

t

a

n

g

1

9

8

6

,

W

o

l

f

e

b

l

a

d

e

e

l

i

t

e

, Shiromakuro , bakeraj4 , electrolynx ,

A

s

h

y

,

P

o

p

t

a

r

t

z

9

5

,

T

h

i

s

I

s

B

u

l

l

s

h

i

t

,

s

a

j

0

2

1

9

, Melmo ,

g

o

l

g

a

r

i

g

i

r

l

, wackozacko , Big-Foot ,

f

i

r

e

m

i

n

d

1

2

,

T

h

e

R

e

a

l

P

e

a

c

h

e

s

Want (0)
Mind Shatter Discussion
2 weeks ago
Hi there, i'll share all the knowledge i've gathered after playing discard decks for more than 5 years (i've built monoblack creatureless discard, monoblack creature discard, UB discard, RB discard, Grixis discard, specter discard, etc.).
The first i see here is that you don't have anything to deal with the board, so you'll more than probably die to anything that hits the board, even a simple 3/1 two-drop. Your deck relies too much on damaging your opponent through giving him many cards and forcing him to discard not that many; the only card in your deck that punishes him this way is Liliana's Caress and that's it, it's not reliable. You also run two copies of Painful Quandary which it's ideal mechanics are to punish your opponent for having no hand, but since you are forcing him to draw so many cards, he'll always have the option to discard while playing a spell (only taking 2 damage from Liliana's Caress and only if you have the enchant on the battlefield).
You have many cards that allow you or your opponent to draw and discard cards, but you only have Alms of the Vein to exploit this mechanic, so get rid of those or stick in more madness cards.
The description says "the goal of this deck is to get your opponent as low as possible", but you can't do that quickly by relying only on 4 copies of Liliana's Caress while you'll be recieving lot's of threats and hits. Master of the Feast will for sure get destroyed by any of the thousands removal spells you'll force your opponent to draw, so it won't be dealing too much damage if any.
---
Suggestions
Let's work on the solution. First of all, you need your deck to have more consistant way to deal damage and you also need to get rid of your opponent's threats until you've reached mid-late game and you can develop your winning mechanics.
---
Which ones and how many
Pick the ones you like the most according to their mana costs and their price. Also consider the ammount of black mana symbols in their cost, because you'll be playing a two colors deck.

Try to keep it as balanced as you can in terms of cards functions. Maybe 30% draw/discard engine - 30% draw/discard punishment - 20% massive discard - 10% 1drops quality discard - 10% board whipe. You'll have to test and adjust the numbers.

I know most of those cards are black, but you can keep it UB if you want to. Best version I've made of this strategy was using Grixis (Blue Black and Red) because there's a lot of red cards that force both players to discard and draw like Burning Inquiry and Reforge the Soul for example. Grixis also enables the use of Nekusar, the Mindrazer , Blightning , Sedraxis Specter , Blazing Specter and Dack Fayden.
---
I hope it's helpful! Best wishes!
1 month ago
Your winconditions on discard aren't very good. Mostly, you'll want to get your opponent to discard as much as possible, as early as possible, and that will often end up in playing discard spells first, and then wincons... and having the wincons matter little, as your opponent will avoid your discard by playing any card drawn right away (and then there is the whole "you can't make your opponent discard their topdeck" to consider). The Rack is a better way of closing out games.
Tron - only if you have ways to find it, but then you should also make something of it. And I don't think a card like Mind Shatter is "making something" of tron, since you wouldn't be able to cast it as anything better than Mind Rot until turn 5 or so, and by then most opponents don't have enough cards in hand to actually discard anything important. Anyway, the reason I'm not really believing in aggressive discard in a tron build, is that both strategies demand you to do certain things in the early game - tear apart your opponents hand, OR search for tron pieces. If you spend turn 1 playing Thoughtseize, you don't spend turn 1 playing Expedition Map, which means that in turn 2, you don't get to spend all your mana looking for another tron piece. And if you are building towards tron, you'll lack black mana for discard spells... and if you play black mana sources, you'll be missing tron pieces, and even with tutors it'll take forever to assemble tron.
Depending on budget, you could consider Ensnaring Bridge instead of at least some of the suggested removal.
3 months ago
So here's a list of the cards that I got for the deck:
However, there's plenty of things I know I need, and some things I might consider (thanks to edhrec.com).
5 months ago
Far out Mandalorian! Thank you so much! This is a huge help, I was struggling but with this i should be able to get this deck flowing magnificently. I was kind of just expecting a sentence or two of advice and a few card recommendations but you really put in to help me get this deck running. Cheers!
Some of the cards you mentioned I already have (such as Mutilate, Grey Merchant of Asphodel, Duress, and Nightmares pouring out of my ears) but I dis-included them here just because I was using this list to decide what cards to buy.
Some others like Liliana's Caress, Hymn to Tourach, and Shrieking Affliction (I do have one of these but wanted more), I kept out either because the seller didn't have them or I left out to cut costs a bit. (Liliana's Caress is $8 ea! Why I went for Raiders' Wake instead, though it's CMC is higher)
And then there's those cards like Zombie Infestation, The Rack, Waste Not (far out that card is good) and Faith of the Devoted that I somehow never found when researching discard cards and now I feel I must hunt down these cards right away.
I also now totally see what you mean with Brain in a Jar, Tempt with Immortality, and Blood Tribute. Especially Tempt with Immortality I never even realised I was giving their discards back facepalm. Though I've already ordered those cards they'll fit fine in other decks I own so no issue being rid of them.
I was also wondering what's your opinion on adding some cards I already own such as Consume the Meek, Pestilence Demon (Mono-black can work wonders with him, tho it can also obviously be a detriment), Liliana's Reaver, Jar of Eyeballs, Wight of Precinct Six, and Crypt Incursion. Although Crypt Incursion could result in lofty amount of life, it also kind of ruins the synergy of cards like Guiltfeeder but in the other hand denies possibilities of opponent's getting their cards back and could even make Tempt with Immortality more viable.
Another thing I was worried about was that besides Creeping Dread I don't have much consistent opponent discard sources. I did originally consider Cao Cao, Lord of Wei but my seller didn't have it and I do prefer to avoid spending $5 on one card (there are exceptions of course). Other than that I just thought of adding more discard spells like more Mind Shatters, and now, adding a few Unnerves. I do own heaps of Mind Rots but they down seem very CMC efficient. Also adding some of these cards (which I plan to do) will return my issue of deck size. What do you think I could replace? What's worth keeping? What doesn't contribute enough to warrant keeping?
Sorry I feel like I almost just wrote an essay question for you to answer, but I feel as though you probably enjoy this stuff ;P
Again, thanks soo much for your assistance, this is the first deck I've made that I'm trying to make perfect so I really appreciate the help in getting it there. Cheers!!
6 months ago
You could definitely use some more efficient discard spells, look up an 8rack deck to get a few cards you could use. Also your commander choice for this deck is rather strange, she's not a good commander and seeing as how most of your creatures are not gorgon shes terrible. Seeing as how this seems to be on a tight budget Id recommend:
Commander You Should Go With In my Opinion:Greel, Mind Raker
Good Discard Spells and Synergy:
The Rack, Liliana's Caress, Dreamstealer, Gray Merchant of Asphodel, Larceny, Rackling, Cao Cao, Lord of Wei, Dark Ritual, Mind Twist, Mind Sludge, Mind Shatter, Read the Bones, Raven's Crime, Mind Slash, Scepter of Fugue, Malicious Affliction, Go for the Throat, Walk the Plank, Shrine of Limitless Power, Necrogen Mists, Black Market, Underworld Connections, Greed, and Archfiend of Ifnir
Thats a lot I know but this deck seems to be just what you had lying around (not a bad thing thats how my decks start) so I thought Id try to help a bit, good luck!
Load more