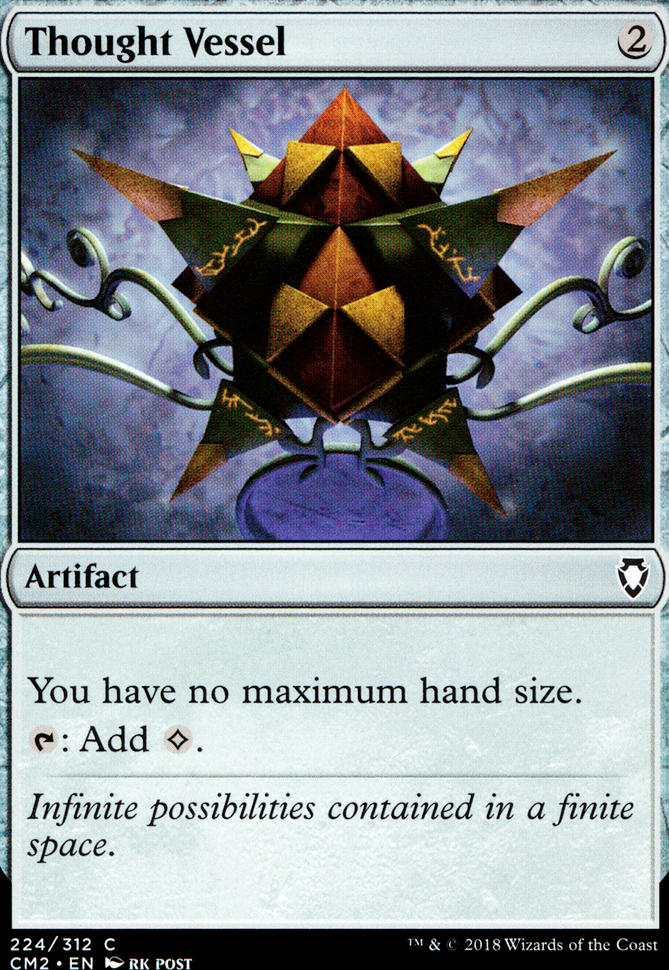 Legality
| | |
| --- | --- |
| Format | Legality |
| Tiny Leaders | Legal |
| 1v1 Commander | Legal |
| Custom | Legal |
| Magic Duels | Legal |
| Canadian Highlander | Legal |
| Vintage | Legal |
| Pauper | Legal |
| Pauper EDH | Legal |
| Leviathan | Legal |
| Legacy | Legal |
| Duel Commander | Legal |
| Oathbreaker | Legal |
| Casual | Legal |
| Commander / EDH | Legal |
Thought Vessel
Artifact
You have no maximum hand size.
: Gain .
---
Have (5)
Brutus1 ,

A

z

d

r

a

n

a

x

,

F

o

r

k

b

e

a

r

d

,

o

r

z

h

o

v

_

i

s

_

r

e

l

a

t

i

v

e

l

y

_

o

k

a

y

8

1

9

, simicstudent
Want (16)
Puff379 , Nuregami , LordZZX , RobelCL , Tvsock , paulcalypse , urahara72 , k-mac , metalmustaine , Haxu , Txport , Sarion56 ,

v

a

s

h

a

c

l

a

r

e

n

s

, gamingharry , lloydsmith28 , Maximization
Thought Vessel Discussion
2 hours ago
You asked for help, so here I am:


---
Paradox Engine
is banned.
Cut
Manalith
and
Chromatic Lantern
. They are fine cards but there are more efficient ramp options at only 2 mana:
Talisman of Indulgence
,
Talisman of Dominance
,
Talisman of Creativity
,
Fellwar Stone
,
Mind Stone
,
Thought Vessel
and
Wayfarer's Bauble
.
Some of your sorceries seem a bit clunky, like
Cruel Ultimatum
or
Life's Finale
.
Evacuation
and
Devastation Tide
are great boardwipes,
Crux of Fate
is a solid budget option and
Toxic Deluge
is amazing but a bit pricy.
Wurmcoil Engine
,
Noxious Gearhulk
,
Neheb, the Eternal
and
Massacre Wurm
are all quite highly costed and don't synergize well with the rest of the deck.
If you want to be mean, you could replace them with extra turn spells:
Time Warp
,
Part the Waterveil
and
Karn's Temporal Sundering
are reasonably priced, both in money and mana.
I personally would throw out all Guild Gates and raplace them with literally anything that does not enter tapped. A good budget replacement would be the pain lands:
Underground River
,
Shivan Reef
,
Sulfurous Springs
.
Lastly, cheap and efficient removal pieces I would consider are:
Doomblade
,
Go for the Throat
,
Reality Shift
,
Rapid Hybridization
and
Pongify
.
1 week ago
Mana rocks will be your main source. It also comes down to budget. The more you have to spend, the more you will use mana rocks. But if you're on a budget, you might rely on cards like Wayfarer's Bauble , Solemn Simulacrum (who takes advantage of any flicker effects you might have for your commander), Burnished Hart , etc. But either way, Fellwar Stone , Azorius Signet , Talisman of Progress , Mind Stone , Sol Ring , Thought Vessel , Everflowing Chalice should probably make it in.
2 weeks ago
Me to some children: "Ok kids let me teach you how to play magic. First you drop an Island , then a Mana Vault , then use the Mana from the Vault to cast Sol Ring , then put down a Thought Vessel , a Izzet Signet and a Gruul Signet using the Mana from all your artifacts. Then on your next turn, caste a Simic Signet and another land. Then use 4 Mana to untap Mana Vault . Then on your third turn, put down a third land and use all your Mana to cast Maelstrom Wanderer ."
Child: "That sounds like magical Christmas land and what if an opponent has a Hurkyl's Recall ? And you'll have no cards in hand."
Me: "Shut up Timmy this is why Lassie had to get you out of a well so many times."
2 weeks ago
Commenting here rather than on your page.
I don't mean to sound so overbearingly critical, but your deck is overall lacking in substantial board presence. Oathbreaker is a format in which you want to protect your Planeswalker at all viable costs. You have four creatures. That does not make for a very strong base. I'm going to rip into this deck, but I am also going to offer you suggestions on how to greatly improve upon it :) I hope that you don't take offense to anything I am saying, but I felt like I can do you some good here.
As for a win condition outside of Form of the Dragon , there is also Martial Coup . Since you are snuffing out all of your opponent's lands anyway, as well as their creatures, why not create a literal army of tokens that now stand unopposed?
There is also Curse of Bloodletting , which makes your Form of the Dragon deal 10 damage instead.
You may also want to consider replacing Mudhole with something more viable. Perhaps Lightning Helix ? It burns and gets you life. Acts as another win condition, makes it harder for your opponent to win in the process as your life totals grow farther and farther apart, and plays nicely with the aforementioned Dawn of Hope .
This took me like 40 minutes, so I hope it helps.
3 weeks ago
Erebos, God of the Dead is a fun general -- good luck!
Most EDH games are decided by card advantage. You're typically facing down three opponents, meaning you're facing down about three times as many cards as you yourself can produce. Thus, anything that can recoup card advantage through mass draw or multi-for-ones is a good addition to a deck. With Erebos, I had a lot of luck with Words of Waste . This is an instant-speed discard effect (through Erebos' draw ability) and mana sink for the end of your opponents turns.
In a similar vein, cards like Smallpox are good for cleaning up the board from early threats, as well as setting back your opponents. I don't see it played that much, but I've had good success playing it myself. Pox is another option, but it is harder to minimize its damage to you as well.
Depending on your card pool, you may want to consider running Snow-Covered Swamp s instead of Swamp s. This allows you to run something like Dead of Winter instead of Languish ; it's more mana-efficient and tends to have a bigger effect.
Black doesn't have a lot of options in terms of mana-ramp. I see you've included Crypt Ghast and Cabal Stronghold (both powerful), but you should also consider artifact ramp. Sol Ring is an auto-include in almost every EDH deck, and cards like Charcoal Diamond , Coldsteel Heart , Mind Stone , Thought Vessel , Mana Vault , Mana Crypt (if you proxy or want to sell a kidney) and Everflowing Chalice are great as well.
One combo I had good luck with while playing Erebos was Raven's Crime with Null Profusion . This allows you to essentially cycle any dead lands you draw by casting Raven's Crime from the yard, while also making an opponent discard. In the discard vein, you seem to have some good discard pieces in your list already. Including Geth's Grimoire makes these into card advantage for you, and Waste Not is a great value engine. Syphon Mind is both a mass-discard spell and a mass-draw spell.
In your land-package, I think you should cut Leechridden Swamp . A majority of the time, losing one life isn't going to be significant; furthermore, entering tapped is a severe drawback. Running a normal or snow-covered Swamp is better.
A few of your creature inclusions are questionable. Gifted Aetherborn , Pawn of Ulamog and Basilica Screecher are not likely to have much of an effect on the board, and Brain Maggot or Kitesail Freebooter likely should be replaced with more global and/or recurring discard effects.
Night's Whisper is, most of the time, better than Sign in Blood as it is easier to cast and cannot be Redirect ed.
I feel that a lot of your spot removal consists of one-for-ones. Consume Spirit and Corrupt are good when there is only a single threat on the board, but are simply not good enough if two or more opponents are applying pressure at a given moment. Damnation and Toxic Deluge are the best black board-wipes, though they can be very expensive; I advise Nevinyrral's Disk or Perilous Vault as budget considerations. The life-gain effects of Consume Spirit and the like are probably not necessary when you're running Whip of Erebos and Pontiff of Blight .
Tutors are amazing in EDH. Demonic Tutor is the gold-standard, though it is expensive. Diabolic Tutor , which you run, is functionally identical to Mastermind's Acquisition in EDH -- you may want to consider running the latter for redundancy.
Cutting a Swamp for Reliquary Tower should be considered. This would let you drop Spellbook and free up a slot.
Because of the draw-power stapled on Erebos, you may want to consider running cards like Mindslicer . You'll recover much faster than your opponents, and with things like Waste Not or Geth's Grimoire on the field its a real powerhouse. This would require a sac-outlet; Phyrexian Tower is a good option here.
Good luck.
Load more
Thought Vessel occurrence in decks from the last year
Commander / EDH:
All decks: 0.16%
Blue: 0.83%
Black: 0.28%
Red: 0.2%
Golgari: 0.09%
WU (Azorius): 1.35%
UR (Izzet): 1.17%
GU (Simic): 0.57%
Rakdos: 0.17%
UBR (Grixis): 0.54%
WUB (Esper): 0.5%