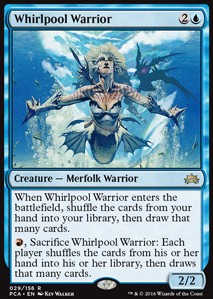 Legality
| | |
| --- | --- |
| Format | Legality |
| Tiny Leaders | Legal |
| Noble | Legal |
| Leviathan | Legal |
| Magic Duels | Legal |
| Canadian Highlander | Legal |
| Vintage | Legal |
| Vanguard | Legal |
| Legacy | Legal |
| Archenemy | Legal |
| Planechase | Legal |
| 1v1 Commander | Legal |
| Duel Commander | Legal |
| Unformat | Legal |
| Casual | Legal |
| Commander / EDH | Legal |
Whirlpool Warrior
Creature — Merfolk Warrior
When Whirlpool Warrior enters the battlefield, shuffle the cards from your hand into your library, then draw that many cards.
(Red), Sacrifice Whirlpool Warrior: Each player shuffles the cards from his or her hand into his or her library, then draws that many cards.
Whirlpool Warrior Discussion
1 month ago
Guys... I checked out NoOneOfConsequence's Shirei list. Guess what? It is trash. Sorin Markov and Mindslaver as wincons level of trash, not even a joke, that bad.
Oh, you want examples? Heap Doll is the type of stuff this deck runs. 1 mana watses of a card that only occasionally could give value with the 5 mana commander with no immediate impact on the board.
Oh, but at least the numerous 1 mana do nothings are at least only 1 mana, right? Workhorse has something to show you.
Do you want to actually know what 'control' it has? No countermagic in mono-black (Unless Dash Hopes or Withering Boon are going be your fancy) so it has to have serious removal, yep, this list runs all of the cEDH classics like Fume Spitter , the mana efficient card draw in the form of Harvester of Souls , yep, and hate pieces like Sorceress Queen .
I can't believe I looked at this garbage. It runs Damnation over Toxic Deluge .
---
Also, Tasigur, as Mighty_Darknut said does have some very efficient interactions, but I am still going to stick by my word that Divergent Control is the best permission control list in the format, a link is at BUGR Divergent Control. It uses Notion Thief and Whirlpool Warrior as its combo target, and I while am more a fan of Kiki-Exarch it it's place, it does do work.
Other powerful permission control lists are Tasigur, GAAIV, Baral, and Rashmi.
1 month ago
Hey, nice budget deck. You and your friend have good card sense. Here's a some budget upgrades to consider:
Have you heard of the Magic term wheel? A wheel is an effect that makes all players discard their hands and draw new cards. Wheels are very good with The Locust God because a single card can let you draw a lot cards which means you create a lot 1/1 Insects with one card. Skullclamp, Labman, Crawler and Tremors are win conditions with Insects and draw.
Cards to consider cutting:
Cerebral Vortex
Cunning Strike
Hypothesizzle
Runeboggle
Turn / Burn
Refuse / Cooperate
Radical Idea
Spectral Searchlight
Traveler's Amulet
Beacon Bolt
Direct Current
Divination
Stitch in Time
Gelectrode
Fog Bank
Good luck with your deck.
2 months ago
Pretty good for your first go! Here are some cards that can be considered that aren't too expensive!
Cards I would recommend cutting:
Hope that helps!
2 months ago
Here might be some more cards to consider running!
Hope that helps!
Load more
Whirlpool Warrior occurrence in decks from the last year
Commander / EDH:
All decks: 0.17%
U/R (Izzet): 0.12%
U/B/R (Grixis): 0.08%