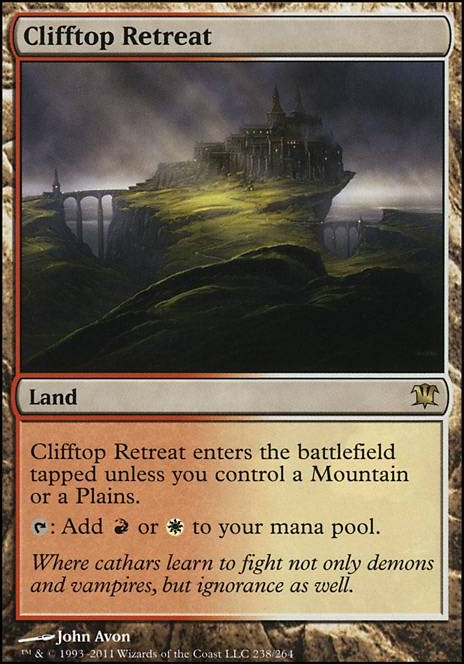 Legality
| | |
| --- | --- |
| Format | Legality |
| Noble | Legal |
| 1v1 Commander | Legal |
| Vintage | Legal |
| Modern | Legal |
| Casual | Legal |
| Vanguard | Legal |
| Legacy | Legal |
| Archenemy | Legal |
| Planechase | Legal |
| Duel Commander | Legal |
| Unformat | Legal |
| Pauper | Legal |
| Commander / EDH | Legal |
Clifftop Retreat
Land
Clifftop Retreat enters the battlefield tapped unless you control a Mountain or a Plains.
T: Add R or W to your mana pool.
Have (21)
Justinaut , dplerner ,

o

r

z

h

o

v

_

i

s

_

r

e

l

a

t

i

v

e

l

y

_

o

k

a

y

8

1

9

,

S

p

a

r

k

y

4

1

,

j

h

T

h

e

M

a

n

9

9

,

c

k

l

i

s

e

,

F

u

l

l

m

e

t

a

l

m

a

g

e

,

V

a

s

b

e

a

r

1

, Swamy , tragic_slip , westdoorblowsnow , Lindough ,

P

o

p

t

a

r

t

z

9

5

, zachi , TehDelta , Skydra2 , joshw335 , mziter501 , Vergil_Redgrail , thetechzombie , MattN7498
Want (16)
Brandbrower21 , Clawsun73 ,

K

I

n

g

W

i

g

g

i

n

s

,

h

w

a

g

n

e

r

,

t

l

h

u

n

t

e

r

0

7

,

B

e

z

t

e

r

,

b

r

o

k

e

n

d

w

a

r

f

,

V

a

s

b

e

a

r

1

, sneferie , Zomgasa , xpsychovampx ,

a

c

b

o

o

s

t

e

r

,

h

o

s

s

h

u

g

h

e

s

, Dadaman11 , Mousemke , althekoolkid
Clifftop Retreat Discussion
3 days ago
Looking nice so far!! Here are some suggestions from my experience, fellow Kaalia player :)
Hopefully these suggestions help! I've said it a lot, but play whatever you think will be the most fun for you! Good luck in the building process- I'll be following along to see how it goes! :)
5 days ago
Want: Clifftop Retreat, Quicksilver Amulet, Exquisite Blood, Smoldering Marsh, Battlefield Forge
Looking for/considering: Phenax, God of Deception, Oona, Queen of the Fae, Lazav, Dimir Mastermind, Sunken Hollow
Have: Binder, Regisaur Alpha, Necropolis Regent, Baral, Chief of Compliance
1 week ago
Hi! Saw your post on the forums, glad to see more Brion players out there.
In response to the forum post: in my personal experience Stalking Vengeance never did much for me. but with the choice between Insurrection or Aurelia, the Warleader, I'd cut the Warleader.
Now after having a look at your deck, I've got a few suggestions!
First off, you have a lot of high costed(6-8 mana) spells, but almost no ramp to speak of.
Boros Signet, Coldsteel Heart, Commander's Sphere, Fellwar Stone, Fire Diamond, Hedron Archive, Marble Diamond, and Mind Stone are all good options. Focus on the 2 mana ramps because that a) allows for a turn 3 Brion and b) doesn't slow you down as much in the late game.
Ramp is important, and so is card draw. Unfortunately, Boros sucks at both. Still, artifacts like Well of Lost Dreams and Skullclamp are great, so through in some more like Infiltration Lens and Mask of Memory. Solemn Simulacrum is great too, though price is an issue(Kor Cartographer is the budget version). The color red also provides you with wheel effects, you have a couple but Reforge the Soul would help you I think.
Now the boring stuff is out of the way. How about some big creatures?! Hamletback Goliath, Thunderblust, and Serra Avatar are some good sackable fatties, and give great value for your dollar! Sun Titan is some good recursion.
Now for some win conditions to bounce off ya: Phyrexian Processor! Here's what you need: 9 mana, at least 1 more life than your opponent, and Brion on the field. Play the processor, pay most of your life, make a X/X creature, sack it to Brion, kill your opponent and gain all the life back! Works great with damage/lifegain doublers.
Phyrexian Devourer! Here's how he works. Exile cards off your library until he hits seven and his ability triggers, then sack him with Brion in response to the trigger, then keep exileing cards in respone to that to get it's power up to more than your opponents, then all that resolves and kills someone. This can all happen turn 7 which is nice.
Other random cards I've had fun with:Rite of the Raging Storm, Fatal Frenzy, and Neheb, the Eternal!
Cut suggestions. Whenever I'm cutting stuff I look at the top of my curve first and move down. How much are these 6, 7, 8 mana spells doing for you? I'd take a long look at the two Akromas and some of the other angels, Stalking Vengeance, and Ryusei, the Falling Star. Further down the curve I see Taj-Nar Swordsmith(not using him to full potential), Magus of the Disk(just use the disk) and Vesuva(replace with Clifftop Retreat).
Hopefully some of this helps! Check out my Brion deck for a reference!
---

Commander / EDH Suns_Champion
SCORE: 86 | 130 COMMENTS | 7663 VIEWS | IN 41 FOLDERS
---
1 week ago
Nice try here, a word of advise,try and find what your deck is going to do,it seems like you want to do a little too many things at the same time,like steal your opponents creatures and playing your own,and destroy lands!
I suggest cutting on the Act of Treason effects all togetherInstead of destroying your opponents lands ,why not use ramp like Harrow or Rampant Growth and playsets (or 3 ofs) of Kinjalli's Caller , Drover of the Mighty ,Otepec Huntmastersome nice cheap dinos to consider :Ranging Raptors,Charging Monstrosaur, Kinjalli's Sunwing ,Goring Ceratops,Verdant Sun's Avatar,Wakening Sun's Avatar,Thundering Spineback
some other spells that go with the theme :Dinosaur Stampede,Commune with Dinosaurs,Savage Stomp
about the lands,the desserts don't contribute to your plan,try some cheap tap lands like Jungle Shrine,Rugged Highlands,Blossoming Sands,Wind-Scarred Crag or go the extra mile and hit some check lands like Rootbound Crag,Sunpetal Grove,Clifftop Retreat
3 weeks ago
naynay666 can chime in here as well, but this is my analysis. You have many different things going on here, you need to pick one (Burn, Devotion, or Counters, and maybe Nathan sees more)
Creatures:
Anafenza, Kin-Tree Spirit -- Not really doing too much for you here, she is helping towards your devotion to make your God a creature, but a 2/2 for 2 isn't something to be super stoked on. Plus she's legendary so you can only have one copy out at a time. If you're swinging with her you're risking losing her other ability. If you're not swinging it's not as aggro as you could be and you are stalling out the game for your opponent in hopes that your God creature will help out.
Honored Crop-Captain -- Seems to give you fairly good value, makes other attacking creatures stronger, but it a bit difficult to cast with your given manabase.
Iroas, God of Victory -- He's too slow to actually be able to reliably swing with, your only non-land permanent is an colorless artifact that does not count towards your devoition. Turn 1 Swiftspear (if you played a Mountain), Turn 2 hopefully your mana is set that you can play one of your RW 2 drop creatures. Turn 3 play another 2 drop (because you have zero 3 drops in your whole deck). Turn 4 you can play your God, but he can't swing that turn. Your devotion is now 7, you can swing next turn if your devotion stays at 7. But you're only giving your dudes menace otherwise.
Mikaeus, the Lunarch -- He's too slow, the value is not there, he doesnt do anything the turn he comes out cause he does not have haste.
Monastery Swiftspear -- Awesome creature.
Raptor Hatchling -- Could be fun, most effective an efficient? Probably not.
Sky Terror -- Flies and menace, but harder to cast due to the colors.

Land: A tip would be to look at my deck called 'Eli Modern', Eli's modern deck focuses on simply, high value creatures that are harder to cast due to their cost. The deck is white and green. There are a lot of 3/3 for 2 (WG) so on and so forth. Look at the manabase to be able to see why those lands are beneficial. You also do not have enough lands. At this rate your deck is less than 30% lands. Consider in commander this percentage is closer to 40%, as well as within standard. There are less lands required for modern and your deck has to be more fine tuned, but you also need to make sure you have the correct mana. Let's take a look at your lands:
2x Boros Garrison --Too slow, also, if somebody destroys one of your lands, it will likely be this one as for what it taps for. In order for your deck to 'get off' you need to have the least amount of tapped lands as possible.
3x Inspiring Vantage This is a good one, but I would probably only have 2 if you do stick with them.
5x Mountain -- Yep
4x Plains -- Yep
3x Rugged Prairie -- I thought this card is good also for Eli's deck, it makes it so you can tap it and a land for whatever color combination you need of 2 colors. Right? The things is, if your opening hand only has one land in it, and it's this one...you can't play Monastery Swiftspear. It can potentially benefit you, but at the cost of messing up your turn 1 play.

I would recommend highly getting some other lands that include: Clifftop Retreat, Sacred Foundry and most importantly Arid Mesa to get exactly what you want. If you are serious about a manabase for this deck and are open to suggestions it may eventually be:
4x Clifftop Retreat
4x Sacred Foundry
4x Arid Mesa
4x Mountain
3x Plains
2x Inspiring Vantage

Since my R/W deck is 'Allies' I run 4 Cavern of Souls. There is no reason in the current state of this deck to get Cavern's for this. We discussed the benefit of Cavern's in your tribal commander decks.
Sorcery/Instant: Those are all efficient cards for these colors, you may have to cut some back as 16 is a high number for all of that.
Artifact: This card makes sense if you are playing Burn specifically, outside of that I don't think it helps you too much....rather....there are better things to put in that 3 open spots that are not this card.
Sideboard: We'll update that as we figure out more closely what you want to do. Those are all totally sideboard cards though.
Load more