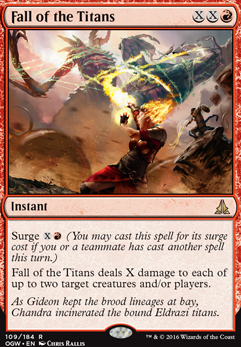 Legality
| | |
| --- | --- |
| Format | Legality |
| Noble | Legal |
| Hero | Legal |
| Magic Duels | Legal |
| Heirloom | Legal |
| Canadian Highlander | Legal |
| Vintage | Legal |
| Modern | Legal |
| Penny Dreadful | Legal |
| Block Constructed | Legal |
| Leviathan | Legal |
| Legacy | Legal |
| Frontier | Legal |
| Duel Commander | Legal |
| Unformat | Legal |
| Casual | Legal |
| Commander / EDH | Legal |
Fall of the Titans
Instant
Surge (You may cast this spell for its surge cost if you or a teammate has cast another spell this turn.)
Fall of the Titans deals X damage to each of up to two target creatures and/or players.
Have (32)
Lucretian , Supremespeed , the.beanpole , gildan_bladeborn , Mousemke , burnedbread , jstn.mrrtt , duff87 ,

J

a

u

n

t

u

,

E

p

i

d

i

l

i

u

s

, LegendDeer , MattN7498 , mziter501 ,

W

o

l

f

e

b

l

a

d

e

e

l

i

t

e

,

R

e

g

u

l

u

s

1

0

1

0

,

s

a

j

0

2

1

9

,

m

c

s

t

a

n

g

1

9

8

6

, philktoken8998 ,

C

a

m

p

b

e

l

l

S

t

e

v

,

P

T

s

m

i

t

t

y

, twistedmage , Bluboltar , bakeraj4 , Bad_Dog , Ellyreia ,

N

e

m

e

s

i

s

, ChainerDragon65 , thetechzombie , KB2187 , machiavelli2081 ,

V

a

s

b

e

a

r

1

,

m

a

z

r

i

m

t

a

i

m

Want (3)
MementoMuffin ,

C

r

y

A

l

l

, Cunningcrow
Fall of the Titans Discussion
1 month ago
Here are my personal recommendations (with help from n8dm) for cards to add and cut from the deck. Let me know if you have any questions about cuts or recommendations.
Let's start with permanents:
Metallurgic Summonings
helps with getting out chump blockers.
Now for instants and sorceries:
Now to recommend some cards to cut:
1 month ago
Fall of the Titans will at least let you kill 2 people with one big spell. Also you need more mana rocks for sure.
2 months ago
cards to consider adding: Exsanguinate, Debt to the Deathless, Death Grasp, Profane Command, Devil's Play, Fall of the Titans, Dictate of the Twin Gods, Exquisite Blood, Furnace of Rath, Curse of Bloodletting, Havoc Festival, Hissing Miasma, Price of Knowledge, Palace Siege, Repercussion, Heartless Hidetsugu, Personal Sanctuary, Land Tax
cards to consider dropping: Vampiric Touch, Blind Obedience, Athreos, God of Passage, Combustible Gearhulk, Mother of Runes, Queen Marchesa, Scab-Clan Berserker, Selfless Spirit, Vampire Nighthawk, & you probably have a few too many targeted creature removal spells
3 months ago
This looks like a fun deck and I can see why you use it in tournaments! Best of luck to you if you decide to go onto to those bigger competitions! I don't think I'd change anything, but if I had to make a suggestion I'd ask if you've considered damaging cards with (X) as part of the mana cost to perhaps get some extra power if a match goes on a little longer than usual. As long as you can cast it for the surge cost (which I imagine shouldn't be a problem with this deck's low mana curve), something like Fall of the Titans might not be a bad card. Then again, with Rift Bolt I think this deck probably doesn't need something like that.
4 months ago
One combo i use nearly every game with mizziz is Mizzix of the Izmagnus and Firemind's Foresight if mizzix has at least 3 counters, then you cast foresight, searching for Reiterate, Reality Spasm, and Fall of the Titans. You then cast reality spasm with x equaling at least 3. Before it resolves, cast reiterate with buyback targeting reality spasm, float mana from whatever the spasm copy is targeting. Reiterate returns to your hand and you repeat this an infinite number of times for infinite mana. Then you use that mana for fall of the titans, which can then be reiterated. This creates infinite mana, damage, cast triggers, and salt from your opponents.
5 months ago
With the potential for so many creatures, I'd be tempted to run Battle Hymn, then your backup plan (or response to a flipped Thing) can be any instant that can provide X damage, like - Ravaging Blaze, Fall of the Titans or Mindswipe. I'm not 100% on those X spells but I do think your deck could find a home for Battle Hymn.
5 months ago
Jori En would be an interesting tribal commander. The card advantage of this kind of a spell slinger commander could help to bring merfolk to the battlefield. It's a new idea for me because there are less red merfolk than there are green or white.
It would certainly be good with surge cards such as Fall of the Titans and Grip of the Roil and of course Pyromancer's Assault though.
Load more