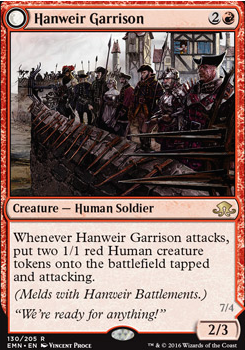 Legality
| | |
| --- | --- |
| Format | Legality |
| Tiny Leaders | Legal |
| 1v1 Commander | Legal |
| Magic Duels | Legal |
| Canadian Highlander | Legal |
| Vintage | Legal |
| Modern | Legal |
| Penny Dreadful | Legal |
| Leviathan | Legal |
| Legacy | Legal |
| Frontier | Legal |
| Duel Commander | Legal |
| Oathbreaker | Legal |
| Unformat | Legal |
| Casual | Legal |
| Commander / EDH | Legal |
Tokens
Related Questions
Hanweir Garrison
Creature — Human Soldier
Whenever Hanweir Garrison attacks, put two 1/1 red Human creature tokens onto the battlefield tapped and attacking.
(Melds with Hanweir Battlements)
Hanweir Garrison Discussion
4 weeks ago
Team buffs: Agrus Kos, Wojek Veteran , Hero of Bladehold , Angel of Jubilation , Spear of Heliod , Balefire Liege , Hero of Oxid Ridge , Nobilis of War , Ogre Battledriver , Glory of Warfare , Marshal's Anthem .
Singular buffs: Kusari-Gama , Sword of the Animist , Argentum Armor , Sword of Feast and Famine .
Haste & Double Strike: Aurelia, the Warleader , Captain Lannery Storm , Odric, Lunarch Marshal , Hero of Oxid Ridge , Ogre Battledriver , Assemble the Legion , Berserkers' Onslaught , Boros Charm True Conviction .
Double Damage & Extra Attack Phases: Gratuitous Violence , Aurelia, the Warleader , Combat Celebrant , Aggravated Assault .
---
Iroas, God of Victory 's 1st and 2nd abilities, aka Menace ability and suto Dolmen Gate will guide you to victory.
---
+1 Upvote
Like what you see, +1.
don't like what you see ? Check out my other deck Selvala, Explored and Returned with tokens
---
I missed this stuff too: Agrus Kos, Wojek Veteran , Hero of Oxid Ridge , and Hero of Bladehold they all buff my creatures when they attack so giving them extra attack phases to attack again, buffs them again. So its "battle cry x2" from the Hero's, and its +4/+0 form Agrus Kos, Wojek Veteran on the second attack. Angelic Skirmisher also triggers twice. Not only for my extra combat phases, but my opponents as well. you're all going "duhhh" right, but i knew this too. Didn't realize i have been missing these triggers all the time.
As you can see it works when I remove the changes you said you had to do scotchtapedsleeves
2 months ago
I like the changes! Looks like a solid deck. The last thing I would do to tune it is look at the bottom end of the curve. Gibbering Fiend and Pilfering Imp are cute, but now that you've removed your token producers, you'll have a tough time feeding Demonlord of Ashmouth , Eater of Hope , Xathrid Demon , Shadowborn Demon , and Infernal Offering . You've still got some cards that care about going wide, like Torrent of Souls , Hellrider , and Skirsdag High Priest .
The rate on Hordeling Outburst is good. For a reanimator deck, Skirk Ridge Exhumer , Cryptbreaker , Call the Bloodline , and Silversmith are also good. At the top end of the curve, Abhorrent Overlord could also warrant consideration. Also, in the land slot, if you feel your manabase is good, I like Kher Keep . Speaking of the manabase, Urborg Volcano and Tresserhorn Sinks are better in your deck than Evolving Wilds or Terramorphic Expanse . Rix Maadi, Dungeon Palace is a good utility land for reanimator. Also, Pyramid of the Pantheon and Molten Slagheap are real bad. Myriad Landscape is miles better.
My favorite low-curve option for pumping out bodies is Hanweir Garrison . Hanweir Battlements would be a sweet addition, as well, and I think it's better in this deck than Hammer of Purphoros . You don't really want to be taxing your lands with a deck full of 5+ drops, and I could say the same for Underworld Connections . It looks like a budget Phyrexian Arena , but it's really not. You're pretty good on card draw at this point, but if you really feel the need for another source, Night's Whisper is a clean, solid option.
3 months ago
here are some cards to consider if you'd rather go for a mix of goblin, token and others creatures
3 months ago
Darth_Savage I think game one I'm just dead to Blood Moon or the ETB suppressors but game 2 I have some answers with Natural State and Path to Exile. I didnt go with Meddling Mage for some additional aggro with Hanweir Garrison with the hope that I can kill faster than my OP can cast. I've thought about main decking a couple copies of War Priest of Thune but I think the best option is still sideboarding and trying to take games 2/3
Thank you for the feedback though...I love these conversations and tweaking the deck!!!
4 months ago
Sorry about the delayed response~~~
I do like that card, it's pretty efficient, especially with token producers and with 1-drop beaters. It's tough to say if she brings enough to the table to merit switching out Shanna or Hanweir Militia Captain. I think she plays well with Westvale cult leader, Hanweir Garrison, Gather the Townsfolk, and Champion of the parish. She'll play better with more 1-drops in your list though. She might work well with Tajic, Legion's Edge.
You might like Lightning Greaves for getting in a bite with Hanweir Garrison and then everything else a turn sooner. Further up the cost ladder for tempo providence is Collected Company and Aether Vial.
I don't know if this is up your alley but a guy who might play well with this could be Swiftblade Vindicator. But you have to buff him up or he loses what makes him special, might need the Benalish Marshals after all. Also really I know it's hard to make cuts but you definitely might want to bring up your land count, decks running cards like Benalish Marshal need at least 19 lands or you shouldn't have really anything costing more than 2 mana.
4 months ago
My thoughts at a glance on adjustments: I'd cut 2-4 Benalish Marshals, 1 Heretic Cathar, and 2 Avacyn's Pilgrim, and add 2-3 Kytheon, Hero of Akros

Flip, 1-2 Hanweir Garrison and 2-3 Razorverge Thicket and/or Inspiring Vantage. I like Gideon, Battle-Forged as a beater or to make Hanweir Garrison indestructible for attacking.
I figure, especially at just 16 lands, Benalish Marshal is gonna be somewhat unlikely to pull through for you in a 3-color deck without mana dorks. I think that at 19-20 lands you wouldn't really get flooded, and you might get a fourth land drop to put out an extra creature on turn 4, which is good tempo.
Signal Pest, Metallic Mimic or Adaptive Automaton could work well here too.
5 months ago
kingquark No problem!
Krosan Grip is great due to the split second clause as it's pretty relevant. Beast Within is generally an amazing card, but because you have access to other colors their are other cards that do it so much better such as Assassin's Trophy, Abrupt Decay, Maelstrom Pulse, and Vindicate.
Another card you can maybe run is Orim's Thunder.
Cards I would consider cutting would be: Shamanic Revelation (Too slow), Woolly Thoctar, Voltaic Brawler, Moltensteel Dragon, Herald of Torment, Bloodbraid Elf, and Accorder Paladin (All of them are a bit underwhleming in terms of value and a bit vanilla).
Some adjustment for budget I would consider are: Iroas, God of Victory, Gisela, Blade of Goldknight , Dauntless Escort, Forgotten Ancient, Shalai, Voice of Plenty, Mirror Entity, Taurean Mauler, Hydra Omnivore (Hidden tech, it also does additional damage to the player you chosen!), Tana, the Bloodsower (Also makes additional tokens due to hitting two players!), Urabrask the Hidden, Gahiji, The Honored One, Hero of Bladehold, and Hanweir Garrison.
Hope that gives an idea that could help!
6 months ago
The slate is almost ready... I just want to know which is good out of the following, & which is bad, as well as whether or not Pristine Angel + Concerted Effort + Empty-Shrine Kannushi/Pledge of Loyalty is a legitamite combo that works, & can even deal with Multicolor, & Creature Types regardless of Color.
List: *Gisela, the Broken Blade

/Bruna, the Fading Light

*Hanweir Battlements/Hanweir Garrison
Which of these do you recommend? I'm adding my last adds before shaving off whole KGs off this deck...
Load more
Hanweir Garrison occurrence in decks from the last year
Commander / EDH:
All decks: 0.02%
Red: 0.25%