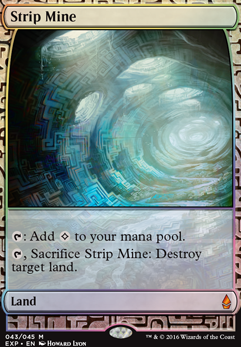 Legality
| | |
| --- | --- |
| Format | Legality |
| Vintage | Legal |
| Commander / EDH | Legal |
| Tiny Leaders | Legal |
Related Questions
Strip Mine
Land
: Add to your mana pool.
, Sacrifice Strip Mine: Destroy target land.
Have (6)
Swamy , warcry02 , kpral , DrLitebur , Mousemke ,

L

T

m

i

l

l

e

r

Want (9)

m

a

z

r

i

m

t

a

i

m

, Dadaman11 , Mousemke , buildingadeck ,

N

e

m

e

s

i

s

, golgarigirl ,

b

r

o

k

e

n

d

w

a

r

f

, Big-Foot , DudeMan1031
Strip Mine Discussion
1 day ago
Archangel Avacyn Flip has a red backside, it doesn't fit your commander's colours...
Also, Trinket Mage with only one target to tutor for is awfully weak. It's a great card but you need some sort of toolbox to make it relevant in any stages of the game. For example Pithing Needle, Engineered Explosives (nice with Academy Ruins and Crop Rotation/Sylvan Scrying to tutor for it, also makes a good pile for Intuition with Crucible of Worlds/Academy Ruins/Engineered Explosives or Regrowth), Aether Spellbomb or some mana rocks such as Mana Vault, Voltaic Key, Lotus Petal, Chrome Mox and a bit more expensive Mana Crypt, Mox Opal, Mox Diamond.
I wouldn't recommend lands like Simic Growth Chamber, because they are very much fun for the first person, who happens to have a Strip Mine, Wasteland or any other land removals in the early game and it sets you back like 3 turns. It happened so often and recently I've not seen anyone play these lands anymore because they are so risky. If you combine them with Amulet of Vigor (also a target for Trinket Mage) they are good, but alone they suck.
4 days ago
Hey guys, sorry for the delayed reply - I've had two super busy weeks at work but that's all over now (it's never over...)
Lilbrudder: Weird Harvest seems... interesting. I do like how cheap and scalable it is, however I can see the downside biting me quite badly in the form of an opponent's Hushwing Gryff or similar. The other thing is that I usually only need to tutor one creature to win (as I usually will have Saffi ready) and so I want my tutoring to be as cheap as possible if I have to do it combo turn, as deploying combos is quite expensive. That's why I've been considering cards like Fauna Shaman which tutor much more cheaply. And if I'm playing it outside of combo turn, I would much rather not feed my opponents creatures.
Caustic Caterpillar is cool and I have been considering it for a while on and off. My only reservation is that while it's cheaper to play than Qasali Pridemage, it costs more to activate. That being said, it's an awesome Yisan 1 drop. I'll add it to the maybeboard. What would you cut for it?
Aven Mindcensor is solid. I've ummed and ahhed about running it in the past but it might be a good replacement for Archon of Justice. I'll maybeboard it too.
Daedalus19876: Congregation at Dawn is interesting. I've seen in in the past and it's good however the mana cost is so saturated T_T. I don't think I would run it over Worldly Tutor but I would consider running it in addition to. Maybeboarded.
Panharmonicon is funny in more casual and more creature heavy decks, however here it feels win more.
Starved Rusalka is actually pretty solid. It's one of the best creature based sac outlets in white/green (there aren't that many to begin with and most of them are rubbish). It's not primarily in the deck as a combo piece, but more to generate value with my commander if needs be. That being said, there is a goofy infinite combo with Titania, Protector of Argoth, Nim Deathmantle, Strip Mine and Gaea's Cradle.
Mortarpod is in there as an additional sac outlet which can be tutored by Stoneforge Mystic which can be in turn tutored via the creature tutors. It also provides a win condition given infinite mana. That being said, you're right in that it's not the strongest card in the deck. It'll most likely get subbed out with cards from the maybeboard.
Cheers for the responses, it's given me a few new ideas as well as helped lock in stuff I was on the fence about.
6 days ago
SlimJim83, all the greater the travesty then that you included it not in your Dimir list.
I agree, card is unfair. Any blue deck looking to go late should have one somewhere in the 75. Resolved Aetherling wins many many games. I have lost two games in my entire life, I think, in which I had an Aetherling in play.
But this deck needs an overhaul. It has to work too hard to win too many games, and loses to its own mana too much. I would also like to decrease the percentage of games lost owing to my drawing the wrong answers at the wrong time. While living on the razor's edge has its own perks, I am sure there is a way to make its control over the boardstate/opposing value engines firmer.
I'm going to rebuild with hopefully a cleaner manabase despite the 4 Ghost Quarter, which have both won and lost me many games. Shadow of Doubt is going to find its way somewhere in there to combat Chord of Calling, Expedition Map, Primeval Titan, Scapeshift, fetches, Sakura-Tribe Elder, Farseek, Sanctum of Ugin, and turn Ghost Quarter into Strip Mine. Furthermore, some of the answers are really clunky, and don't always have the backing from other efficient cards necessary to make the upside of the clunky answer be worth it. Lastly, I would like a way to trade in dead cards for useful ones; Jund has Liliana of the Veil which is obviously awful in a draw-go strategy since you'll be discarding your own cards against a resourceless opponent, and this is hardly a Pack Rat deck. I'm not sure what I can do to mitigate the drawback of useless topdecks, since Brainstorm is not in the format, but heavens knows I will try.
Thank you for the upvote, and I'll try to get around to upgrading this soon! And no fear, Aetherling will obviously stick around in all his glory.
1 week ago
Gate to Phyrexia would help with removing artifacts. You could totally play stuff like Bitterblossom (as fodder for the gate and for blocking), Smokestack, and Crucible of Worlds over other, less powerful controlling stuff/removal. Also Pox, Smallpox are very useful mono B disruption spells.
There's nothing worse than recurring Strip Mine and/or Wasteland with crucible and you mentioned in the description that your deck can't deal well with land destruction...that would be a solution.
2 weeks ago
This is a good start and you have the foundation of a strong Krenko deck here. There's some changes we could make though.
Aside from adding a lot of fast mana (Chrome Mox, Mox Diamond, Mana Vault, Mana Crypt, Lotus Petal) I think some improvements could be made to your creature suite. Sensation Gorger is a bit of a trap. With only 20 goblins, he typically doesn't get to do anything reliably. Voracious Dragon is win-more, and Goblin King is not needed. Zealous Conscripts should be a Lightning Crafter, which also goes infinite with Kiki and one of your plentiful sac outlets and can be tutored for.
I found Thousand-Year Elixir and Illusionist's Bracers underwhelming. They can make lots of goblins, but you don't actually need very many to start going off. I cut these from my list a long time ago and have not missed them.
Hammer of Purphoros being an artifact is a bad thing; it's easier to remove. Replace with Fervor. I'd cut Impact Tremors and Boggart Shenanigans. They just don't do enough unless you're actually going off. Aggravated Assault and Breath of Fury are win-more in a Krenko list; I'd drop those as well. Throw in a Dragon Fodder. Mizzium Mortars is... well, not a good thing in a deck that's trying to go wide with tiny creatures.
From the Ashes should be either Blood Moon or Ruination.
I am personally not a fan of Goblin War Strike and similar effects. These at most kill one opponent and can be very clunky. They don't do anything until you have enough goblins to actually kill people.
I replaced Reforge the Soul with Godo, Bandit Warlord, which has been amazing.
Notable cards that are missing: Chandra, Torch of Defiance, Sensei's Divining Top, Inventors' Fair, Rummaging Goblin (draw and a goblin), Treasonous Ogre, Goblin Bushwhacker, Beetleback Chief (combo piece with Kiki!), Goblin Ringleader (makes Recruiter a million times better), Sparksmith (removal), Ancient Tomb, Cavern of Souls, Crystal Vein, Strip Mine, Wasteland, Hanweir Battlements, Mind Stone and Gamble. All of those cards are fantastic and will improve your deck. Please let me know if you're not clear on why.
2 weeks ago
Changes:
Dropped two basic lands in favor of a few more answers. I am getting close to finding the perfect land count, and since I have a lot of fetch mechanics, it is just as consistent as before.
Explorer's Scope out for Wayfarer's Bauble - This is for consistency's sake, after quite a few playtests where the Scope did nothing but cost me mana. Having to swing didn't help either.
Sensation Gorger out for Wheel of Fortune - With so few castable Goblins, opportunities to use the mini-wheel effect were few and far between.
Gemstone Array out - Got some feedback that brought up a good point. If I am making a ton of mana between turns and I have literally no other places to put it, it is more of an indication of an underlying deck problem than it is a missing mana bank.
Gravity Sphere out - Going to be sideboarded for use with my regular playgroup, which is heavy on flyers with Angels, Dragons, Slivers, etc..
Mana Vault in. Gimme dem rocks! These really help to minimize the impact of saccing Mountains.
Urabrask the Hidden out for Goblin Chieftain - This is the original setup, and I think it's the better one. I prefer the lower CMC, and the change only hurts Moggcatcher and Chancellor of the Forge. I lose a mini-Stax effect, but it would be better to add a more potent one in anyway. In most situations I want to be blocked, the way this deck is built.
Strip Mine in because Strip Mine.
Gamble in so I can tutor for a boardwipe or Crucible of Worlds. I would really like another one or two tutors if possible.
Chaos Warp in mostly for the enchantment removal, and a little for indestructible creature options.
Goblin King in to abuse Blood Moon being out. Mostly likely only used as a finisher, or when Coat of Arms is out and I don't want token damage to be downgraded to 4.
Seismic Assault out - while great when Crucible of Worlds is out, when it isn't it is just a little too risky. It is rare to have more than one basic in hand, because all my extra land mechanics go directly to battlefield.
Vandalblast in - Needed a few more answers to artifacts. Now that I'm not running Mycosynth Lattice and Nevinyrral's Disk, I need more one-sided wipes.
Still slowly adding more mana rocks, board wipes, and Stax effects to clean up the curve and make the deck more consistent. As it stands when the deck lines up it really, really goes off, but when it doesn't I tread water for quite a while.
Load more