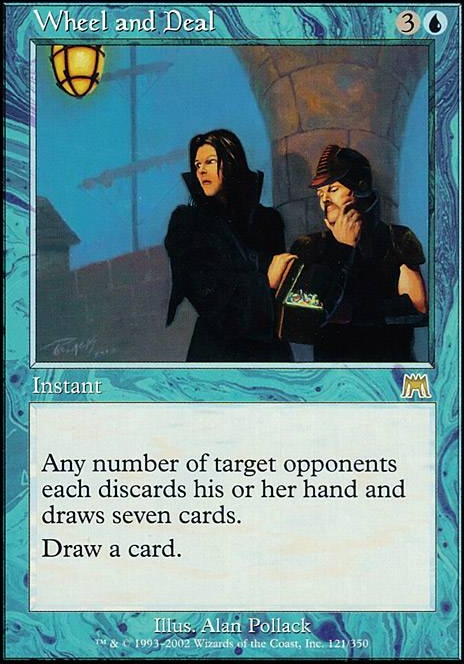 Legality
| | |
| --- | --- |
| Format | Legality |
| Pre-release | Legal |
| Noble | Legal |
| Leviathan | Legal |
| Magic Duels | Legal |
| Canadian Highlander | Legal |
| Vintage | Legal |
| Vanguard | Legal |
| Legacy | Legal |
| Archenemy | Legal |
| Planechase | Legal |
| Duel Commander | Legal |
| Unformat | Legal |
| Casual | Legal |
| Commander / EDH | Legal |
Related Questions
Wheel and Deal
Instant
Any number of target opponents each discards his or her hand and draws seven cards.
Draw a card.
Wheel and Deal Discussion
1 month ago
So here's a list of the cards that I got for the deck:
However, there's plenty of things I know I need, and some things I might consider (thanks to edhrec.com).
2 months ago
Hello there!
I've been playing Commander for sometime and of all the commanders out there Nekusar, the Mindrazer is my fav. I know I know he is tier 3 and very much hated (just because some people run infect) but I do think he may be competitive, so I just wanna try him in a competitive scenario. (I also acknowledge that there are "better" Grixis commanders like Kess, Dissident Mage and Jeleva, Nephalia's Scourge but I don't like them). I don't know if there are other posts already made regarding this subject and I'm not really into searching because I am lazy to spend some time searching in forums but so far, I got these cards:
Underworld Dreams, Liliana's Caress, Megrim, Wheel of Fortune, Windfall, Molten Psyche, Dark Deal, Wheel and Deal, Chains of Mephistopheles, Teferi's Puzzle Box, Reforge the Soul, Winds of Change, Timetwister, Day's Undoing, Fate Unraveler, Magus of the Jar, Memory Jar and Mindcrank.
I need help to build a Nekusar deck based not only on wheeling but also milling so I got this card Mind Grind for some epic group milling and Mindcrank is amazing. I'm wondering: what other cards must I include in my deck? Should I put stax cards? Pillowforts? What about the mana rocks? And cards like Cabal Ritual, Dark Ritual, Pyretic Ritual, High Tide, Drain Power? How many tutors and fetch lands I must put? - Thanks in advance.
2 months ago
You know what's a really nice way to lose friends? Equipping a Grafted Exoskeleton onto or enchanting Nekusar with Phyresis. Wound Reflection is also really nice.
More wheels are always nice. Windfall, Time Reversal, Winds of Change, Wheel and Deal, Magus of the Wheel, Teferi's Puzzle Box, etc.
More forced draw/damage you can run are Dictate of Kruphix, Seizan, Perverter of Truth, Fevered Visions, Ebony Owl Netsuke, Howling Mine, Font of Mythos, Well of Ideas, Otherworld Atlas, Underworld Dreams, Fate Unraveler, Kami of the Crescent Moon, Iron Maiden, etc.
Since you're running Price of Knowledge, you also can consider cards like Cyclonic Rift, Evacuation, and Devastation Tide for the purposes of filling up your opponents' hands for maximum damage.
I personally do not see how Notion Thief synergizes at all with Nekusar, he may just be control, or I may just be completely stupid.
2 months ago
Hello there! First of all, cool deck idea. Esper reanimator that isn't artifact centric isn't something you see everyday. I also like that you chose to go the discard route instead of the sacrifice route. That being said, since you mentioned above that you want a commander which you can use in your game plan, have you considered using the partner commanders Ravos, Soultender and Silas Renn, Seeker Adept (or Ishai, Ojutai Dragonspeaker). While they don't have the same raw power as Oloro, both have built in reanimator abilities which would allow you to utilize them for your game plan. Plus Oloro draws a ton of hate from other players in my experience.
In terms of speeding up your deck, I would second the previous suggestion about changing which mana rocks you use. I only consider mana rocks with a CMC greater than 2 if it has a specific ability that I find necessary for my deck. While the signets only tap for 2 of your 3 colors, they are considerably faster than 3 cmc rocks and I find that they are better color fixers (keep Commander's Sphere though). Also, Mind Stone is a pretty great 2 cmc mana rock that later replaces itself.
Since you are running very high CMC creatures, another way to speed up your deck is by utilizing more effects which get them directly into your graveyard early. Buried Alive is a great start, but you could also consider Entomb, dredge effects like Stinkweed Imp, Dakmor Salvage, and Golgari Thug (which coincidently are great sacrifice targets), and Dread Summons. Another route to go is to replace your group hug cards (unless group hug is your goal) with wheel effects like Windfall, Forgotten Creation, Jace's Archivist, and Wheel and Deal.
Lastly, I noticed you run Volrath the Fallen which is absolutely fantastic! I am not sure if you are familiar with the CommanderVs series on YouTube, but one of the guys over there just did a video piloting a Volrath the Fallen deck. While it is more of glass cannon deck that abuses Volrath, it might give you some ideas about the discard-reanimation theme.
Good luck deck building!
Load more