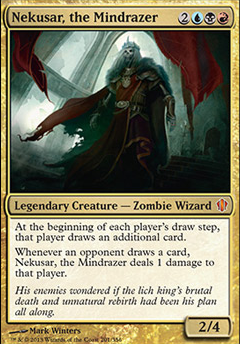 Legality
| | |
| --- | --- |
| Format | Legality |
| Pre-release | Legal |
| Tiny Leaders | Legal |
| Magic Duels | Legal |
| Canadian Highlander | Legal |
| Vintage | Legal |
| Leviathan | Legal |
| Legacy | Legal |
| 1v1 Commander | Legal |
| Duel Commander | Legal |
| Casual | Legal |
| Commander / EDH | Legal |
Nekusar, the Mindrazer
Legendary Creature — Zombie Wizard
At the beginning of each player's draw step, that player draws an additional card.
Whenever an opponent draws a card, Nekusar, the Mindrazer deals 1 damage to that player.
Have (15)
rebelteddybear , Clawsun73 , Mousemke , jstn.mrrtt ,

F

o

r

k

b

e

a

r

d

, silvereh , rikertchu ,

S

h

i

s

h

k

y

B

o

b

, spike1395 ,

r

o

c

k

l

e

e

m

y

h

e

r

o

, sepheroth119 , NOGzFTW ,

N

e

m

e

s

i

s

, MrCrazzyc , metlguy
Want (3)
snackeater , VampSlayer , Ariumlegion
Nekusar, the Mindrazer Discussion
1 week ago
Hi there, i'll share all the knowledge i've gathered after playing discard decks for more than 5 years (i've built monoblack creatureless discard, monoblack creature discard, UB discard, RB discard, Grixis discard, specter discard, etc.).
The first i see here is that you don't have anything to deal with the board, so you'll more than probably die to anything that hits the board, even a simple 3/1 two-drop. Your deck relies too much on damaging your opponent through giving him many cards and forcing him to discard not that many; the only card in your deck that punishes him this way is Liliana's Caress and that's it, it's not reliable. You also run two copies of Painful Quandary which it's ideal mechanics are to punish your opponent for having no hand, but since you are forcing him to draw so many cards, he'll always have the option to discard while playing a spell (only taking 2 damage from Liliana's Caress and only if you have the enchant on the battlefield).
You have many cards that allow you or your opponent to draw and discard cards, but you only have Alms of the Vein to exploit this mechanic, so get rid of those or stick in more madness cards.
The description says "the goal of this deck is to get your opponent as low as possible", but you can't do that quickly by relying only on 4 copies of Liliana's Caress while you'll be recieving lot's of threats and hits. Master of the Feast will for sure get destroyed by any of the thousands removal spells you'll force your opponent to draw, so it won't be dealing too much damage if any.
---
Suggestions
Let's work on the solution. First of all, you need your deck to have more consistant way to deal damage and you also need to get rid of your opponent's threats until you've reached mid-late game and you can develop your winning mechanics.
---
Which ones and how many
Pick the ones you like the most according to their mana costs and their price. Also consider the ammount of black mana symbols in their cost, because you'll be playing a two colors deck.

Try to keep it as balanced as you can in terms of cards functions. Maybe 30% draw/discard engine - 30% draw/discard punishment - 20% massive discard - 10% 1drops quality discard - 10% board whipe. You'll have to test and adjust the numbers.

I know most of those cards are black, but you can keep it UB if you want to. Best version I've made of this strategy was using Grixis (Blue Black and Red) because there's a lot of red cards that force both players to discard and draw like Burning Inquiry and Reforge the Soul for example. Grixis also enables the use of Nekusar, the Mindrazer , Blightning , Sedraxis Specter , Blazing Specter and Dack Fayden.
---
I hope it's helpful! Best wishes!
2 weeks ago
True, Bloodghast would probably benefit my deck, but I was originally running this deck with 4x Tormented Soul and it became a pain to not be able to block anything. I already have Nether Traitor so I don't think I want to drop 65 bucks on Bloodghast's.
I forgot to add them but Smallpox and Altar's Reap/Costly Plunder were in the first iteration of this deck but I moved them to the sideboard.
Devour Flesh didn't make it into the deck but it was definitely an honorable mention.
As for Voldaren Pariah Flip, I love her. She is brutal and will trigger both sides of my deck mechanic for sure, but I am going to save her for the Grixis commander deck that I am building. That deck has the recipe for some fun and brutal combos. It started as the Mindseize Commander deck but I'm making Thraximundar my Commander and Nekusar, the Mindrazer his Lieutenant. Draw, discard, madness, sacrifice, flashback/other play from graveyard effects. It should be one hell of a deck.
2 weeks ago
I agree that you want to jam in as much card draw as you can. I avoided those two because I have had some scarring Nekusar, the Mindrazer experiences so I try to avoid draw outlets I can't control. I'll definitely find a place for them if the deck really falls behind in card draw while I'm testing it.
2 weeks ago
Hello everyone, I've built my Nekusar, the Mindrazer deck a while ago and I've always loved playing with it and improving the deck as best as I can. I think the deck is finally on the last stretch for updates I just need help trying to work the deck to hold it's own against very heavey agro decks and very hard control lock down decks
4 weeks ago
I am attempting to create a Nekusar, the Mindrazer commander deck and I need help thinning my current "list" down. I have a very rough idea of what I want and I am struggling to thin it down and stream line it. Ideally I need help shaping this into a completed deck that fits the following parameters.
Criteria:This is a BUDGET deck. Meaning I cannot afford to be running a tier 1 mana base or many cards, if anything, over 10$. So please while helping keep this in mind.
The meta I play in currently is very heavily creature based... and VERY big creatures at that. So I am hoping a Sizable amount of boardwipes make it into the final deck.
I want the deck to be somewhat competitive but I am also not shooting for something that kills all the fun of playing commander either. So I am not planning on running any cards that make my commander do infect damage as my playgroup is not even close to that level of play, yet.
HERE IS THE DECK: Draw, Ping, RepeatI suppose that is it. If you have any suggstions, tips, general commentary, or anything else to say, please leave a comment. Thanks for the support :)
Load more
Latest Commander