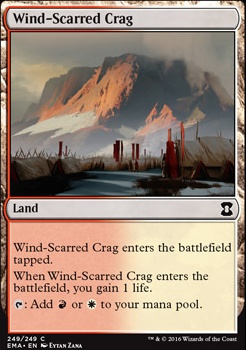 Legality
| | |
| --- | --- |
| Format | Legality |
| Tiny Leaders | Legal |
| 1v1 Commander | Legal |
| Frontier | Legal |
| Vintage | Legal |
| Modern | Legal |
| Legacy | Legal |
| Duel Commander | Legal |
| Unformat | Legal |
| Casual | Legal |
| Commander / EDH | Legal |
Wind-Scarred Crag
Land
Wind-Scarred Crag enters the battlefield tapped.
When Wind-Scarred Crag enters the battlefield, you gain 1 life.
: Add or to your mana pool.
Wind-Scarred Crag Discussion
1 month ago
Hey!
Commander is certainly my favorite format!! I would be happy to give ya a few pointers for what it's worth!
One thing that I noticed off the bat is that you have lots of tapped lands! I think you will find that very annoying to you and even that you don't need quite so many dual lands in the deck. I would take out Inspiring Vantage and in stead put in Clifftop Retreat. As well, I think Hanweir Battlements does nothing for you but slow you down since your commander already gives haste. However, if you run Hanweir Garrison (which I think you should) then it might be worth leaving in!
Myriad Landscape, Needle Spires, Rugged Highlands, Scattered Groves, Sheltered Thicket, Blossoming Sands, Sunscorched Desert, Teetering Peaks and Wind-Scarred Crag could be taken out, I would throw in some more basic lands unless you feel like dropping a lot of money on a deck and get some expensive but good dual lands which don't enter tapped... but I don't think you will need those honestly.
I feel like currently the deck is all over the place! It needs a little focusing to where you want to go with this. Commander is much more fun when you focus on getting out fun combos or cards that pair well together!
I think what i'll do is tell you about some cards you don't need in here and then some cards that you should absolutely put in here, and then some directions you might want to go towards with the deck!
Ruric Thar, the Unbowed is a good card, but you are running too many non creature cards! He will hurt ya! (i built a commander deck with this guy as the commander. If you want to use him still, you can check out that deck for inspiration). Stop Hitting Yourself!
Zendikar Incarnate , Omnath, Locus of Rage and Mina and Denn, Wildborn are better for landfall decks, and won't be as much use outside of it. By the time you have 4 mana, you typically won't have more than one land card in hand at a time anyways, and if you just want the trample ability, there are much better cards out there for ya!
You can find better cards than Sylvan Reclamation for removal, depending on what you decide to do with the deck!
Wilderness Elemental is not particularly great.
Radha, Heir to Keld is not bad, but the two red mana empties from your mana pool after your combat phase ends. if you want to go for mana ramp and something similar, might i suggest Savage Ventmaw or Skyshroud Elf? Those two are similar but in different ways. The nice thing about skyshroud is that he can tap for green, red or white (since he taps for green and the second ability would allow you to use that green mana to turn it either red or white) and you can use it to filter your mana to the color you want (besides green). the mana produced by Savage Ventmaw doesn't deplete between phases.
Oversoul of Dusk while hybrid mana, is harder to cast in your 3 color deck and the card itself isn't necessarily that great. Green and white are very common colors in commander.Now Rubblebelt Raiders on the other hand.. might be worth it, and less mana intensive!
Thelonite Hermit is not super great since you're not creating tons of saproling tokens. I don't even really run it in my Tana, the Bloodsower commander deck.
Odric, Lunarch Marshal gives all your creatures double strike and vigilance when you have your commander out.
Bastion Protector aslo pairs well with Odric.. all creatures you control get indestructible.
Odric, Master Tactician is also good for you no matter what direction you decide to go with the deck!Content goes here
I see this really going anywhere. Your commander is quite flexible!
You could find some way to play with your commander's untap ability (with things like Intrepid Hero or Heartless Hidetsugu and other cool creature tap abilities). you could use Illusionist's Bracers to copy the untap effect when you pay the mana cost. Heck, you could untap her with that free untap. Creatures with tap abilities can tap the same turn they come out as long as you control your commander!
You could build a token deck featuring things with "devour" creatures, Anointed Procession and Parallel Lives.
you could focus on large creatures that you can cast to smash into opponents the same turn they come out.
That's about all I have for now.. decide what you want to do to focus the deck and I will be looking to give you ideas wherever you decide to go with this!
2 months ago
There are plenty of budget dual lands you can go with to improve your mana base: Boros Guildgate, Stone Quarry, Wind-Scarred Crag, and Boros Garrison are all common or uncommon, and cheap enough to add to the deck without breaking a budget. City of Brass is a popular staple for multicolor decks, and isn't too costly. Inspiring Vantage, Needle Spires, Ancient Amphitheater, Battlefield Forge, and Temple of Triumph all come in at well under $5 a piece, and most under $2. All would help you improve and balance out your mana base.
2 months ago
Platinum Angel, Balefire Dragon, Utvara Hellkite, Avacyn, Angel of Hope, Akroma, Angel of Wrath, Angelic Skirmisher, Bladewing the Risen, Dragon Mage, and Archfiend of Depravity to name a few AMAZING creatures. I would remove your Sarkhan for Sorin Markov or just add him in.
Don't know if Akroma's Memorial would be counterproductive, but would still give your cards a lot of benefits. Armageddon and Wrath of God wouldn't hurt as wipes. Cavern of Souls would be good for counter decks. Blood Crypt and Godless Shrine is more useful for your fetch lands than Bloodfell Caves and Wind-Scarred Crag
2 months ago
Wurmlover Sorry, I forgot to mention that I am trying to stay with (kind of) budget cards, so those two cards are a bit too expensive. (Chandra is an exception here, because I still have her laying around)
I removed two Wind-Scarred Crag. What do you think about Boros Signet? I am not sure if I should keep it in the deck. Just thought that it could be helpful for mana fixing and to speed things up a little.
2 months ago
In term's of your manabase there are so many way's you could improve it, depending on how much money you want to spend.
Some cheap (and really good) cards would be: Nomad Outpost, Scoured Barrens, Wind-Scarred Crag and Bloodfell Caves, Rakdos Guildgate, Boros Guildgate and Orzhov Guildgate to name a few. Even though these enter tapped it doesn't affect you that much since commander is a slower format. Isolated Chapel is a tad more expensive but would complete the cycle of checklands you're already running.
Something else I'd recommend you add would be some basic manarocks, in your case these would be Sol Ring(because sol ring), Rakdos Signet, Boros Signet and Orzhov Signet.
These are just some basic tips that a relatively budget however if you're willing to spend more there are better lands you could use but I'd say these and the bare minimum for a three colour deck to ensure you run well. I'd just cut some of the basic lands and replace them with these no worries.
3 months ago
Let me start by saying that I think you have a great theme and you've done a great job of sticking to your theme elements.After going over your list, here's the recommendations that I think might help you.

Cards to take out (to get down to 100):
Golem Foundry is just a weak card. It is kinda nice getting a golem token for casting 3 artifacts, but I've never been happy playing that card. It always ends up feeling like a waste of board space.
Metalwork Colossus is really nice, but with all of the vehicles and other creatures, it seems kinda mana intensive and you're not really working on a sacrificing artifact theme.
Blinkmoth Urn is symetrical, meaning it helps you opponents as much as it helps you. Yes, you may have more artifacts than them, but do you really want to give your opponents free mana? And they get that free mana before you do.
Darksteel Juggernaut is a great card in a draft, or in another deck where you're primarily focused on attacking each turn. But the requirement of attacking each turn makes this card feel like it doesn't fit.
Sram's Expertise is cute, and I understand why it is in the deck but a few 1/1 tokens seems kinda weak for this deck.
Chief of the Foundry helps out the vehicles, but not the dwarves.

Those initial cuts gets you down to the 100 cards for Commander. Now to make the deck a bit stonger.
These changes might help make your deck more resilient againt various opponents. Obviously, you'll need to temper these recommendations with your collection, budget, and local metagame.

I'll start with lands. Nine (9) out, Nine (9) in.
Take out:
Spinerock Knoll, Better in a combo deck.
Shinka, the Bloodsoaked Keep, Not enough legends
Wind-Scarred Crag, Boros Guildgate, and Stone Quarry come into play tapped. You have too many lands that come into play tapped and it slows you down.
Drifting Meadow, Forgotten Cave, Secluded Steppe, Smoldering Crater, the cycle lands are nice in a deck with lots of graveyard recursion or when you're focused on cycling cards. But you're deck isn't set up for those things and these are just more lands that enter the battlefield tapped and slow you down.
Kabira Crossroads for it. The 2 life usually isn't enough in Commander games to make a big different.

Put in:
4 Plains
2 Mountain
Sejiri Steppe is something to consider. And the Boros Garrison makes it better.
Move the Rugged Prairie and Sacred Foundry to the mainboard from your maybe board.
Don't ignore the plain old basic lands. Even if you just use a couple of each. You never know when an opponet will play a "Every seach for a basic land" card and you're left out of the party.

I would also consider Holdout Settlement and Springleaf Drum to help take advantage of Depala, Pilot Exemplar's ability to load your hand with creatures and vehicles. Remember that you can tap a creature with summoning sickness to activate the Settlement or the Drum since you aren't activating the creature's ability.
Lightning Greaves is a tough card to consider. Yes, it is a great card. But does it really help that much? You aren't themed around equipment. I would drop in in favor of something that helps more often.

One-shot effects like Built to Last and Built to Smash are not really good in a multiplayer game.

I hope these suggestions help give you some ideas. Let me know what you think. Feel free to look over my decks and let me know what you think of the suggestions.
Load more