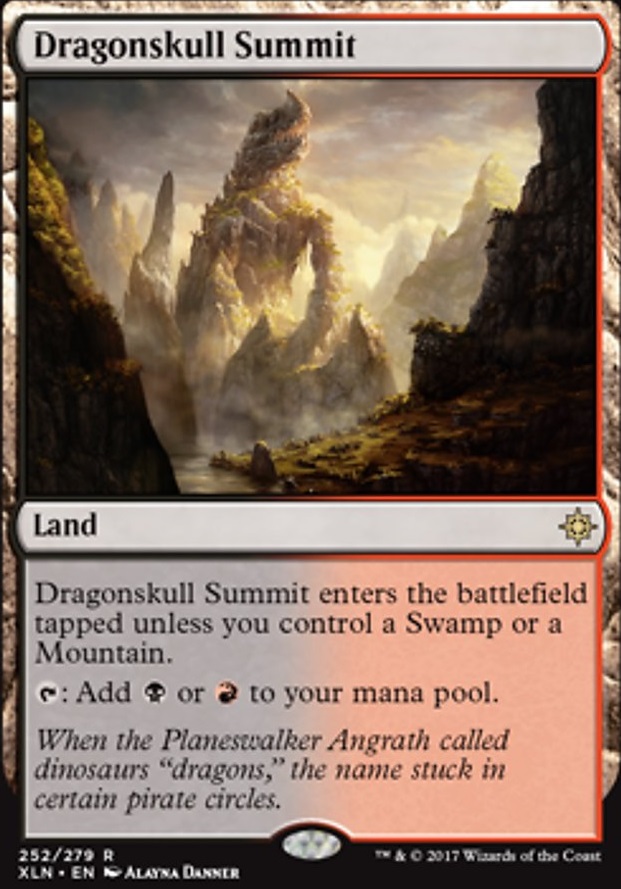 Dragonskull Summit
Land
Dragonskull Summit enters the battlefield tapped unless you control a Swamp or a Mountain.
: Gain or .
Browse Alters
View at Gatherer
Trade
Legality
| | |
| --- | --- |
| Format | Legality |
| Pioneer | Legal |
| Highlander | Legal |
| 1v1 Commander | Legal |
| Legacy | Legal |
| Block Constructed | Legal |
| Tiny Leaders | Legal |
| Casual | Legal |
| Vintage | Legal |
| Leviathan | Legal |
| 2019-10-04 | Legal |
| Unformat | Legal |
| Modern | Legal |
| Oathbreaker | Legal |
| Duel Commander | Legal |
| Commander / EDH | Legal |
| Custom | Legal |
| Historic | Legal |
| Limited | Legal |
| Canadian Highlander | Legal |
| Arena | Legal |
Dragonskull Summit occurrence in decks from the last year
Latest Decks as Commander
Dragonskull Summit Discussion
2 days ago
Changelog (22/11/2020)
White
Blue
Black
Red
Green
Multicolored
Colorless
Mana Fixing
1 week ago
Hey there! You mention the mana base needing some help in your description, and if you're still looking to work on that, maybe consider some of the following cards! Many may be out of budget, and you could possibly have been aware of them all already, and if that is the case I hope this can be of use to you as a reference!
Since you have the two temples, you may want to include the last one, Temple of Malice. Even though you don't run too many / cards, you still need that colored mana to cast Licia, and so you want a relatively even mana base. Same goes for the last pain land, I'd recommend including Sulfurous Springs since you have the other two. Since you're also gaining a lot of life, and because they are great in general, you may want to take a look at Blood Crypt, Godless Shrine, and Sacred Foundry, (the shock lands) which function very well, especially with the following cards: the fetch lands. Bloodstained Mire, Arid Mesa, and Marsh Flats are some of the best lands in the game! These can search for the shock lands, not just basic lands, allowing you to get any colors you need from just one of them! While that whole set is pretty expensive, it may be something to think about for the future. Now on the cheaper side, there are the wonderful fast lands, Blackcleave Cliffs, Concealed Courtyard, and Inspiring Vantage, which can help you support your early fundamental turns quite well! If you wish to include a lot of basics/shock lands, you may want to think about having the check lands, Dragonskull Summit, Isolated Chapel, and Clifftop Retreat, which tend to be great and also lay on the cheaper side. Last but not least, there are the filter lands, Graven Cairns, Fetid Heath, and Rugged Prairie! Now that said, here are some non-dual lands that could really help fix the mana base quite a lot that I would recommend: City of Brass, Mana Confluence, Ancient Tomb, Prismatic Vista, Fabled Passage, Reflecting Pool, Exotic Orchard, Strip Mine, Wasteland, etc.
Now enough about lands! Here are some ramp spells you might like. Land Tax, Arcane Signet, Commander's Sphere, Talisman of Conviction, Talisman of Hierarchy, Talisman of Indulgence, Jet Medallion, Pearl Medallion, Ruby Medallion, Sol Ring, Gift of Estates, Weathered Wayfarer, Chromatic Lantern, etc!
I also have a mardu deck, (A Deal With the Devil EDH ⫸PRIMER⫷), so if you want to check out most of the cards I mentioned on a list, feel free to pop in there! Anyways though, I hope this helps, good luck on your deck, and have a wonderful day! Happy tapping!
3 weeks ago
Hey, well done building a budget version of Overload, but unless your willing to spend more to upgrade the manabase a lot then getting above power level 5 will not be possible. There's no Command Tower or Exotic Orchard which are budget staples of Commander especially with five color decks. You honestly shouldn't be worrying about power level at all with a tribal deck that's less than $200.
On a budget there's limited options for playable lands for a five color manabase. Your best options for lands in five colors are Rainbow lands (Command Tower), etc. Unfortunately most Rainbow lands are expensive price cards, but there's some exceptions:
The goal of any manabase in Commander is to have the least amount of lands that will always ETB tapped because then game play is not hindered by the lands you play since you can tap the land for mana the same turn you play it. On a budget for five colors it will difficult, almost impossible, to not play some lands that always ETB tapped, but the lands that do this better give you good color fixing to make up for it and you don't need to play a ton of them.
Tri lands (Jungle Shrine) will always ETB tapped, but when they untap they can make one color of three different color choices which makes them on a budget worth playing:
Tri lands along with Path of Ancestry should be the only lands in the manabase that always ETB tapped.
I've built a lot of budget five color manabases for $200 decks and they use basic lands with dual lands that have good interaction with basic lands. Battle lands (Cinder Glade) and Check lands (Rootbound Crag) are dual lands that have interaction with basic lands to make them ETB untapped:
Battle lands also have interaction with Check lands because they're two different land types which is what Check lands look for. Many Check lands are expensive price, but there's a few that are less than $4. All Check lands are more expensive than Battle lands therefore add more Battle and less Check. Battle lands are nice with Farseek since it can search for one of them and being able to ramp with a dual land gives you much better color fixing then just a basic land.
Example of a budget five color manabase shell to build from:
8-10 Rainbow lands
20 basic lands
5-8 Battle lands/Check lands
5-8 Tri lands
---
You have the right idea with playing green land ramp spells which are good with 20x basic lands for ramp and color fixing, but you can expand on this with cards that let you search for any land meaning it can get a land that's not a basic land. Crop Rotation is a powerful budget card in Commander since you can sac a basic land to search for any land and put it onto the battlefield. Sac a basic land to get a Rainbow land. Crop is an instant meaning you could cast it during an opponents end step to get a Tri land then untap on your turn and be able to tap the Tri land for mana. Sylvan Scrying is another land tutor to get any land.
Arcane Signet and Commander's Sphere are staple budget Rainbow mana rocks that can help ramp as well as color fixing.
I offer more advice about Slivers on a budget. Good luck with your deck.
1 month ago
Hey, nice start on a budget.
Consider expanding on instants/sorceries trimming creatures? The power of Kess comes from being able to cast an instant/sorcery from your graveyard on your turn therefore you want to take more advantage of this especially draw and dig. Could start by cutting half the creatures from the creature base and adding mana efficient spells that Kess can cast from your graveyard:
A powerful repeatable effect on a budget with Kess because she has flying is Whispering Madness. Cipher Whispering to Kess and then when she does combat damage to an opponent everyone wheels their hands for no mana cost to you. A repeatable wheel fills your graveyard up with spells to then cast with Kess. Can even cast Whispering from your graveyard with Kess and then Cipher it to her or another creature you control. The act of discarding a card to Whispering means that if the card has a madness cost you can pay that cost. This is a way to discard a lot of cards with madness while at the same time able to pay the madness bonus cost.
A wheel makes all players discard their hands and draw cards, but you can prevent your opponents from drawing with Narset, Parter of Veils and Notion Thief. Notion is $0.50 not $2. With one of these cards in your control then your opponents don't draw cards after they discard their hands.
---
For the manabase you would be better off playing more basic lands then lands that always ETB tapped such as the three Vivids, Transguild Promenade, Cinder Barrens, etc. Exotic Orchard could replace Promenade. My advice for the manabase on a budget is build it around more basic lands and include dual lands that have interaction with basic lands or are good budget dual lands:
I offer more advice. Good luck with your deck.
1 month ago
Assuming you still would like help, here are my thoughts just going off what you already have (so your mainboard and sideboard).
First of all your land situation needs to be sorted out. You have an insanely high average cmc (4.74) so you're going to be looking at about 40 lands without the very pricy ramp cards. 30 lands is in the range that decks with an average of about 2cmc or lower run. Here's a quickly made list of your lands that I'd use:
You almost always want to prioritise lands that can come in untapped over ones that always enter tapped. This is because auto-tapped lands basically set you back a turn, so it's often better to just run a basic over something like Sheltered Thicket. The exception here goes to the Triomes because they offer three colours and more importantly can be picked up by your fetchlands.
As for the rest of your cards, here's what I recommend cutting:
And add in their places, assuming you're running 40 lands:
Hopefully that helps, and let me know if you have any questions! These are just suggestions after a brief runthrough of course, so feel free to take them or leave them!
2 months ago
Hey there! Lands are a truly important aspect of commander, and I recommend some of the following!
2 months ago
Hey, nice start on budget. Kyle_Winter gave you some good advice to help the party. My advice is to help the manabase, ramp and draw.
First, you don't need 42 lands, that's overkill for your deck. 36 lands should be fine. Consider cutting some lands for more ramp sources? Budget lands and ramp to consider adding:
Consider cutting some basic lands for these lands?
---
Ramp can be a problem with Rakdos because these colors lack lots of options, but one way to help to not miss land drops is to play low mana cost draw. Cards like these can replace ramp because for a low mana cost they can help to draw into lands or party members who then act like ramp to cast Zagras.
Repeatable draw sources are best in Commander because they can potentially give you value throughout the entire game. With Zagras cards that give you value who are party creatures or when you attack/do combat damage are options:
Oddsmaker and Mask are nice with Zagras because he has flying.
---
Some advice about game play. I would keep the mana curve very low because you want to assemble a party for Zagras as that's what makes Zagras a mana efficient and potentially good Commander. The lower the mana curve the easier it will be to have two or more party members on the battlefield to help to cast Zagras. In fact, for your deck I would end the curve at Dagger Caster and Drana, the Last Bloodchief as these are abilities and effects at the top that go well with Zagras. I would limit the four drops to very few.
Roving Keep is an example of a creature you don't need because it's high CMC and doesn't help the party or have interaction with Zagras. Zof Consumption is an example of a spell that you don't need even though if you want can play it as a tapped land. Consumption for six mana is not worth what it does.
I offer more advice about what cards to cut. Would you like more advice?
Good luck with your deck.
Load more