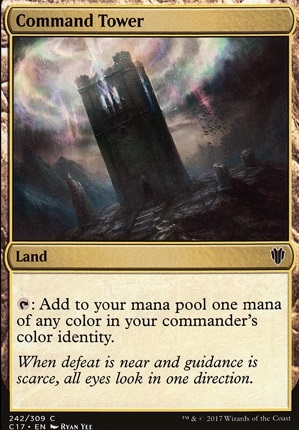 Legality
| | |
| --- | --- |
| Format | Legality |
| Tiny Leaders | Legal |
| 1v1 Commander | Legal |
| Magic Duels | Legal |
| Canadian Highlander | Legal |
| Vintage | Legal |
| Pauper | Legal |
| Pauper EDH | Legal |
| Leviathan | Legal |
| Legacy | Legal |
| Duel Commander | Legal |
| Casual | Legal |
| Commander / EDH | Legal |
Command Tower
Land
: Add to your mana pool one mana of any colour in your commander's colour identity.
Have (66)
LeroyJones ,

T

h

e

R

e

a

l

P

e

a

c

h

e

s

, Joblaska , Riku580 , oryandaw , greanbeaner ,

V

a

m

p

i

r

e

A

r

m

y

, tragic_slip , ZombieFood , NOGzFTW , xXThormentXx , Kvothe1115 , voidruby , KipIsKosher , plof , Unjust_DiabIo , almeidafabio , frederiklw , Vergil_Redgrail , jaustinhowald , angesoir ,

s

o

n

n

e

t

6

6

6

, Shiromakuro ,

J

a

u

n

t

u

, AllDayTayTay , meowCat1234 , rebelteddybear , ibraJG84 , Lucretian , Mousemke ,

K

a

m

o

t

z

, Oskani ,

B

o

z

a

, silvereh ,

N

a

p

o

l

e

o

n

B

o

n

a

p

a

r

t

e

, MagnaAura ,

L

T

m

i

l

l

e

r

, bustinchops , bakunet , sombrevivo , Supremespeed , NobleSlay3r ,

S

t

e

v

e

n

D

F

1

6

, Zhorus_The_Bauqret , PembrokeWelshCorgi ,

J

p

e

g

w

u

n

, killstars , burnedbread , Reliva , DarkMagician ,

D

E

E

R

, brentkc49 , rikertchu ,

P

r

o

_

N

o

o

b

, Royal_Windsor ,

E

p

i

d

i

l

i

u

s

, mziter501 ,

S

p

a

r

k

y

4

1

, DFDGamer , Swamy , Slowbro23 ,

i

t

h

e

o

r

y

z

, Daddy1ong1egs13 ,

m

a

z

r

i

m

t

a

i

m

, mycheze , elowry57
Want (164)
kovellen , Blue_Otaku_No.1 ,

G

r

a

n

d

e

K

h

a

n

, SlickWizard ,

T

i

r

e

d

T

o

f

u

, englishmuffin9 , reaconranger09 , plazma7 , GS10 , FF42 , bloodysmurf11 ,

A

S

C

L

E

P

I

U

S

, 1337_Nerd , MADMatt7777 , ramenpowered , imarlov ,

C

o

o

l

B

e

a

n

s

B

r

a

t

t

a

h

,

B

o

u

, cwidje , sleepy104 ,

C

o

o

p

e

n

h

a

g

e

n

, vaerth , kobyjoe , jtaddeo , B0effe , klokwurk , jokerx , buildingadeck , Sethifide ,

o

u

t

o

f

n

o

t

h

i

n

g

0

, CaptianClueless , Turtlelover73 , eastly , UncleJoe421 , Betamind , SmallSailor , Ariumlegion , foxboy93 , kilroy6677 , notsaying , Awuztein , morethanmediocrity , Funi1234 , jarjar102 , twospires , Radish , thorrs , absciss ,

L

y

t

h

i

a

, Metra , Jose_Arrogantio , correcthorsebatterystaple , Portwood , ryaniskool , 2gherkins , Snydog17 , jcbcrn517 , ElCamino , Demonblade52402 ,

X

V

i

c

a

r

i

o

u

s

, MrSage , VaultTechy , rco , Xadoo , Elementalism , coadster ,

G

o

l

d

G

h

o

s

t

0

1

2

,

N

i

r

o

h

, grayarchon , GhostRunner , trolley ,

k

o

d

i

e

5

3

,

C

e

r

r

a

d

u

r

a

, Nerukad , lithz , Bish0p ,

A

n

f

a

l

a

s

, Ryz , joshw335 ,

B

r

i

n

g

e

r

O

f

S

t

o

r

m

s

, TyroMaven , Syram ,

S

a

n

i

T

h

e

C

a

t

, sneferie , link2213 , RiskyBiznu , MagnaAura ,

L

o

r

d

B

l

a

c

k

b

l

a

d

e

, ukwilkie , kungfurabbi , mango_channel , mookman288 ,

m

e

t

a

l

e

v

o

l

e

n

c

e

, tahavin , Draoken , gamerhat , TrackerD , Pulseman , SpottedGee ,

C

r

y

A

l

l

, NezumiNinja , Elphane , DonRosenberger , chaus12 , vakuso ,

F

u

l

l

m

e

t

a

l

m

a

g

e

, RedSinR , bjorn98 , Vestrinex , cdgalucard , Killingfool , Xue-Kaihua , bpm4 , fancysaurus , snoopywashere , Talonisnthavingit , ztanos , Wrexican , boneSANITY , Gooberrygumdrops , wlbreda , skaspels , Typpaostur , Jonnybidon , HehaGardenHoe , DeifiedExile , Maliande , stupidguy , phantomblack , bigblue32123 , owenk2 , Mahtimatonen , CarlyRaeJepsenMTG , zenroc ,

V

a

m

p

i

r

i

c

J

a

c

e

,

g

o

l

g

a

r

i

i

z

z

e

t

, sgtpumbah , xander025 , Hayliiel ,

s

c

a

r

m

a

s

k

, Drakeslade12 , titaniumturtlex ,

v

a

s

h

a

c

l

a

r

e

n

s

, NobleSlay3r ,

m

r

f

a

b

1

3

, No1HanSolo , corys ,

n

o

c

i

p

h

e

r

, Cunningcrow ,

S

i

r

F

o

w

l

e

r

, Uncommon_Courtesy , aramlet , dmage105 , Vox_ ,

S

u

n

s

_

C

h

a

m

p

i

o

n

, mlouden03 ,

M

y

l

l

y

e

s

3

1

4

, Ace_Kavu , CK500 , marcus638 , deees ,

h

a

r

d

h

i

t

t

a

7

1

1

9

4

,

T

h

e

F

a

n

a

t

i

c

, harbinger1221
Command Tower Discussion
15 hours ago
Biggest issue I see here is a lack of focus and not enough creatures for a creatures only matter deck.
Animar, Soul of Elements wants two main things: Cast creatures and get +1/+1 counters to cast larger creatures. Everything in the deck should be focused on those two goals.
Setting up the deck to achieve this purpose will make it efficient and powerful. All cards should therefore do one of the following:
Ramp up to Animar.
Protect Animar.
Place counters on Animar.
Cast game ending creatures for cheap or free.
Draw cards to allow us to do 1 through 4.
Priority should be given to cards that does something now > does something before your next turn > does something on your next turn > does something eventually.
Because Animar offers a discount based on creatures played, the deck shouldn't be filled with only high cmc game enders, but creatures from low to high cmc, preferably with as little colored mana symbols as possible, to give the deck a natural progression to casting free or cheap high cmc game ending creatures.
Let's split the deck into 3 parts. Pre-Animar setup, Post-Animar setup, Finale.
Note that $: (0 to 0.99), $$: (1.00 to 4.99), $$$: (5.00 to 9.99), $$$$: (10.00 to 19.99), !$!: (20.00+)
Unnecessary on a computer, very helpful on a phone.
This section will be all ramp, and protection to get Animar out quickly and make sure he is secure.
- The land base should be arranged to where there is more emphasis on , then , then since can color fix and can offer protection.
- Exotic Orchard is pretty good and cheap and can usually offer every color in multiplayer, especially if an opponent has a Command Tower out or even a Vivid Grove without even needing charge counters. - Kazoo lands such as Simic Growth Chamber, Izzet Boilerworks, and Gruul Turf are good in casual EDH where there is lack of land destruction and they artifically increase your deck ammount by posing as two lands in one. Though overall you do not want too many tap lands as you'll constantly be a entire turn behind.
This section will be about setting up our board state to win. All cards from this point onwards will be casted after Animar has been casted.
This section will be about ending the game with giant behemoths.
17 hours ago
This is my first commander deck I got a few months back and have built it up slowly but am in dire need of help finishing it. I know it is slow and probably bad but I like it and it suits me just fine. I like how it can focus on the graveyard but the only strategies I have for it is the Duskmantle Guildmage and Mindcrank set and the Sphinx's Tutelage. Any help is appreciated.
Commander: Inalla, Archmage Ritualist
Creatures:
Artifacts:
Enchantments:
Instants:
Sorcery:
Planeswalker:
Land:
Mountain x4
Island x10
Swamp x6
4 days ago
Hey! Welcome to the community! So I see that you're on a budget constraint, with only using cards that you have and whatnot. Since you're missing a few staples, Command Tower Skullclamp etc., I would recommend buying a Commander Pre-constructed deck at your local game store (or Walmart, a lot of places carry MTG products). These precons will help you learn the basics of the format, as well as give you the staples that you need to keep building quality decks!
I'd recommend waiting for Commander 2018 to be released before buying, then you'll have all the newest cards! I'd also recommend keeping this deck, and if you don't have a playgroup to practice against, maybe you can practice against yourself?
The precons only sell for about 30$ at most places, so once you have the money I'd strongly recommend you get one!
4 days ago
Well, welcome to the community. I hope you like it as much as i do. Let me start by asking some questions. Are you on a budget? Are you just using cards you have? Cause not counting your lands, I would keep about 25% of this deck and mostly start over.
Anointed Procession and Coat of Arms would both be awesome with this commander and theme, but they run about $8-10 each. Command Tower should be in every EDH deck (the price isn't too bad).
Some cheaper options: Benalish Marshal is a good knight lord. Radiant Destiny could act as another knight lord and give all your knights vigilance with the city's blessing. Spear of Heliod is another nice and cheap one that also gives you a to destroy things. Swiftfoot Boots would be amazing on your Knight Exemplar.
So these are just some ideas. I have more if you can give me a little bit more to work with. Also look at some board wipes. Black and white have plenty of those and even some where it doesn't target you.
5 days ago
Let's get you some wincons, and fix that landbase.
First: Landbase. Basic stuff, manarocks, and better land cards, and a touch of fetchlands to get us rocking and rolling. Then, guess what, you're playing green. Congrats, you get the luxury of a vast array of tasty morsels called ramp spells, so we'll take advantage of that.
-3x Island, +Simic Growth Chamber, +Yavimaya Coast, +Bant Panorama
-2 Forest, +Myriad Landscape, +Command Tower
-Beneath the Sands + Traverse the Outlands (great way to filter land out of the deck if you get a big hand size power/toughness creature)
-Zndrsplt's Judgment +Thran Dynamo
-Blink of an Eye + Gilded Lotus
-Mystic Confluence, + Kodama's Reach
-Time of Ice, + Nissa's Pilgrimage
-Entrancing Melody + Explosive Vegetation
Next, let's look at capitalizing on your commander's strengths: Card draw. We'll add in card draw, and some hand size manipulation to help manage it, along with some ways to make use of all that mana you gain and cards you draw.
-Watertrap Weaver, + Minds Aglow
-Oviya Pashiri, Sage Lifecrafter + Mind Spring
-Academy Journeymage + Braingeyser
-Academy Elite + Pull from Tomorrow
-True-Name Nemesis + Venser's Journal
-Genesis Hydra + Thought Vessel
- Storm Sculptor + Tishana, Voice of Thunder
Now for some wincons:
-Devastation Tide +Goblin Cannon (with your upcoming infinite mana/card draw combos, draw into this, then ping everyone for infinite damage and win, the ability stacks as many times as you pay the mana for it, before sacrificing itself).
-Saheeli's Artistry +Empyrial Plate (slap that on your commander, give it flying with caller of gales, free commander damage kill)
-Grunn, the Lonely King, + Laboratory Maniac
-Broken Bond, + Beacon of Tomorrows
-Spelltwine. - River's Rebuke
+Isochron Scepter, +Dramatic Reversal (infinite mana combo with some mana rocks)
-Fumble +Illusionist's Bracers
-Ghostly Flicker +Aphetto Alchemist (equip bracers to alphetto, tap to untap it and target manarock or kydele for aother infinite mana combo, once you have infinite combos going, you can take multiple turns, draw out your whole deck with psychosis or lab maniac or tishana, or empyrial plate, etc)
Other infinite combos you can look for are Sword of the Paruns or Umbral Mantle equipped to kydele if she's drawn enough cards. The possibilities are vast, just a matter of finding yourself a bit of room for those cards, which shouldn't be too hard. However I'm also aware of budgets, I know I've suggested a LOT of changes, many that you might need to purchase, and while the individual cards aren't too pricey, collectively it's a lot once you look at all the changes. But if you're personally looking to take your deck to the next level, I'll add some more blingy suggestions at the end of this comment.
Last couple of swaps to make:
-Overwhelming Denial +Counterspell (cheaper, better counterspell)
The bling: Staff of Domination (more kydele comboing)
Minamo, School at Water's Edge
other cards to consider would be a touch more cantrips and counterspells? Depends on local meta, how often you need to stop people from preventing your comboing off: Pact of Negation Muddle the Mixtures Brainstorm Mystical Tutor
1 week ago
I was about to comment that you look short on lands then I realized you're actually just short on cards in general. In case you're new to Commander/EDH (if that's the case welcome, I hope you enjoy your stay in the best format in MTG) usually for lands in an EDH deck you want somewhere between 35-39, depending on the deck. I usually start with 37 or 38 and take some out or add some in as I feel like I need them.
Quick disclaimer: I haven't ever played with an Experiment Kraj deck so I'm not likely to be super helpful but I'll do what I can. I would recommend going around this website some more and/or EDHrec to find some ideas. EDHrec in particular has been invaluable for me in the past, I would really recommend checking it out.
Incremental Growth could be great here as a way to spread counters around and get Kraj access to some more abilities.
Morphling and AEtherling could also be amazing, as they both could get Kraj some protection once he gets their abilities and they have a wide range of other abilities which could prove useful.
Asceticism, while it may be a bit expensive, is very nice as a way to protect Kraj and all of the creatures that have counters on them.
Oran-Rief, the Vastwood is another way you could get counters on things.
Hadana's Climb Flip is yet another way you can spread counters around, and while it's flip side may not always be super useful here its front side definitely would be.
Pretty much all green decks in EDH should have Cultivate and Kodama's Reach, as well as Rampant Growth or whatever other ramp spell tickles your fancy.
You may want Commander's Sphere as a replacement for Simic Cluestone (or you could just put it in too if you want) since it is effectively a direct upgrade.
A land all non-mono color EDH decks should have is Command Tower. It's an always untapped dual land that doesn't cost thousands of dollars and should be in pretty much all decks that have more than one color.
Murkfiend Liege (and Seedborn Muse if you're willing to spend a little more, although it's definitely worth it for untapping lands) could be pretty nice as well, as untapping Kraj on everyone else's turn could be devastating.
I hope some of these ideas helped you. Even if they didn't I would still recommend checking out EDHrec, it is incredibly helpful and a great resource. Good luck with your deck!
1 week ago
You are going to want more ramp. Sol Ring, Izzet Signet, Boros Signet, Azorius Signet, and other artifact-based ramp will help you considerably, particularly given the high cost of your commander and the continued investment he demands.
I would recommend 37-39 lands--the exact number depends on your needs and other ramp cards, and requires significant playtesting to perfect. You should think about updating your mana base significantly--you're going to be in a bit of a bind with so many basic lands. No multi-coloured commander deck should be without a Command Tower, for example. In addition to more duel lands, consider some rainbow lands - City of Brass, Tarnished Citadel, Breeding Pool, and Mana Confluence are all decent options.
Aggravated Assault will provide you additional combat steps.
Sword of Feast and Famine (budget permitting) will ensure you have untapped lands to feed Numot's ability. When combined with Aggravated Assault, you can unleash infinite combat damage steps.
It is helpful if you link your suggestions using double brackets, and try to confine all such suggestions to a single post. We all understand the feeling of "oh, that might be a good idea too" after hitting reply, but thirteen posts in a row is a bit excessive. Wait until you've finished giving the deck a look over before firing off suggestions!
Load more
Latest Commander