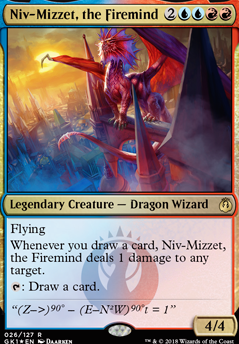 Legality
| | |
| --- | --- |
| Format | Legality |
| Pre-release | Legal |
| Tiny Leaders | Legal |
| Vintage | Legal |
| Penny Dreadful | Legal |
| Custom | Legal |
| Commander / EDH | Legal |
| Noble | Legal |
| Magic Duels | Legal |
| Brawl | Legal |
| Standard | Legal |
| Arena | Legal |
| 1v1 Commander | Legal |
| Canadian Highlander | Legal |
| Vanguard | Legal |
| Leviathan | Legal |
| Planechase | Legal |
| Duel Commander | Legal |
| Unformat | Legal |
| Modern | Legal |
| Legacy | Legal |
| Archenemy | Legal |
| Casual | Legal |
| Oathbreaker | Legal |
Niv-Mizzet, the Firemind
Legendary Creature — Dragon Wizard
Flying
Whenever you draw a card, Niv-Mizzet, the Firemind deals 1 damage to target creature, player or planeswalker.
: Draw a card.
Niv-Mizzet, the Firemind Discussion
2 days ago
Wincons
Self Mil
Too Much Healing
Ping Them to Death
5 days ago
Good suggestions Pikobyte! Siren Stormtamer was in the first draft of the deck, and will likely make it back in once I pick up Glen Elendra Archmage .

Mesmeric Orb is a good suggestion, though the rate at which I'm already dumping cards in my graveyard does make it seem a little redundant. Perhaps in lieu of Codex Shredder ?

The only one I don't really think I'd consider would be Jace. I don't really think it's that much better than Laboratory Maniac , and it doesn't really provide enough versatility to consider cutting another Planeswalker for it. On top of being more difficult to cast as well, I simply think this card doesn't fit this deck (though I do use it in my Niv-Mizzet, the Firemind EDH deck).
2 weeks ago
All of these cards work well when you are running basically just mountains, running blue splits their power, and using non basics reduces their effectiveness even further. Downhill Charge , Granite Grip , and Seismic Strike .
These cards are ok, but don't really work with your primary concept. Titan's Strength I like this for the scry, and if it drew a card it'd be fine, but as a combat trick it's pretty meh. Kavu Scout is at most a 2/2 for two in this deck. Kraken's Eye is pretty passive life gain, but it's not going to win the game for you, and it is pretty unlikely to save you too (it does improve with some of the buy back spells I list later). The problem with Akroan Crusader is that if we cut the combat tricks this card becomes way weaker, and even with the tricks, it's not got a high likelihood of having both at the same time. Why would we run that when we can run cards like Crackling Drake ?
Strider Harness is good, but it is over costed for what it does.
These cards are neat, but there are better options that are better suited to what you are trying to do. Lava Axe , and Warbringer .
Whisk Away I'm not loving this card, it is alright. It's just low bang for the buck.
As for some cards that might help things, the issue I see is that your plan has a lot of draw, and some control, but not a lot of ways to win. As it is your commander is basically the only way you have of making use of the draw, out side of trying to win with Jace. Winning with Jace is gonna be tough cause you have to draw him, and then mill through your deck, it is possible just hard. So most of the suggestions are cards that work well with casting a lot of draw spells, or removal. This makes your plan of drawing a lot of cards do something other than drawing a lot of cards. Just like your commander they are all going to do something when you draw, or cast a spell. Talrand, Sky Summoner , Saheeli, Sublime Artificer , Murmuring Mystic , Niv-Mizzet, the Firemind , Guttersnipe , and Psychosis Crawler are all great for your deck.
You've got a bunch of good draw, but you missed a few older cards that are incredible like Arcanis the Omnipotent , Brainstorm , Opt , Treasure Cruise , and Faithless Looting .
Swarm Intelligence is great for casting a lot of spells.
A thing that might happen is running out of gas. So cards that give repeated use like flashback and buy back are huge. They mean you'll always have something to do, and offer more value because of your cards that trigger on spell cast, or card draw. Some good examples include Mystic Retrieval , Fanning the Flames , Whispers of the Muse , Shattering Pulse , and though it is a little bit more expensive Capsize which is incredibly powerful and super annoying for other people to deal with if they can't outright counter it.
AEtherize is just a super good card for the deck.
Your deck should basically just draw a whole lot of cards, and having the mana to play them is super important. I'd likely look at increasing the number of mana rocks (artifacts that make mana) in there, and making sure that you're never hurting for your second color. Some solid suggestions for that are Izzet Signet , Izzet Cluestone , Commander's Sphere , Izzet Boilerworks , Terramorphic Expanse , Desolate Lighthouse , and Memorial to Genius is just great for your draw plan.
1 month ago
So another player running Surrak Dragonclaw
Creatures that need to be removed because they are hard to kill AND are combo-enablers:
Creatures that are combo-enablers:
Creatures that are too high value to leave:
Creatures that are too hard to kill after:
1 month ago
Sorry it took me that long to answer you guys!!!
drcatherwood - You were right, Notion Thief is awesome! It's almost a instawin when you cast a "wheel".
ThaneGarrus - I'd rather to stick with the Firemind. I's easy to cast with the and it is a "combo" with Mind Over Matter .
derpytrollerZ - Curiosity triggers with any damage, not only combat. I can draw my whole deck when using it on Niv-Mizzet, the Firemind or just draw a bunch of cards with Nekusar and a "wheel". Helm of Obedience is a dead card if you don't have a Leyline of the Void on the field, but I really like this combo. And the Leyline is a must in my meta. hkhssweiss already explained the importance of the Library of Leng , it prevent the deck itself from decking out and selectively allows me to keep which cards I want in a wheel effect. It also gives me unlimited hand size.
hkhssweiss - I no longer run Kess, it was a nice suggestion, thank you! I'm thinking about swaping No Mercy for the new Bolas's Citadel .
Rambolicious_0 - I used to run them in the past, they're really not worth it.
Load more
Niv-Mizzet, the Firemind occurrence in decks from the last year
Commander / EDH:
All decks: 0.03%
UR (Izzet): 0.9%