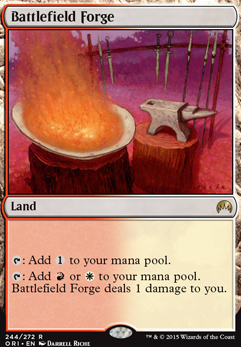 Legality
| | |
| --- | --- |
| Format | Legality |
| Noble | Legal |
| Frontier | Legal |
| Vintage | Legal |
| Modern | Legal |
| Casual | Legal |
| Vanguard | Legal |
| Legacy | Legal |
| Archenemy | Legal |
| Planechase | Legal |
| 1v1 Commander | Legal |
| Duel Commander | Legal |
| Unformat | Legal |
| Pauper | Legal |
| Commander / EDH | Legal |
Related Questions
Battlefield Forge
Land
: Add to your mana pool.
: Add or to your mana pool. Battlefield Forge deals 1 damage to you.
Have (38)
RedLion , Caldazar , voidruby , Mousemke , thetechzombie , DudeMan1031 ,

s

a

j

0

2

1

9

,

a

b

b

y

3

1

5

,

p

s

k

i

n

n

0

1

, Swamy ,

D

E

E

R

,

V

a

s

b

e

a

r

1

,

p

e

r

r

i

n

5

1

5

, ajc3527 , Bovine073 ,

S

t

e

v

e

n

D

F

1

6

, geazykagar , Ellyreia ,

D

r

_

J

a

y

, KipIsKosher , pokemate0 ,

P

h

y

r

e

x

i

a

n

S

c

i

e

n

c

e

,

N

e

m

e

s

i

s

,

m

e

n

t

o

r

6

,

D

a

w

n

s

l

y

, TehDelta , Famicomania , frederiklw , mziter501 ,

V

e

n

s

e

r

_

t

h

e

_

S

o

j

o

n

e

r

, Unlife , MattN7498 ,

G

o

l

d

G

h

o

s

t

0

1

2

, Lucretian ,

T

h

e

R

e

a

l

P

e

a

c

h

e

s

,

j

h

T

h

e

M

a

n

9

9

, Hootiequack , Justinaut
Want (4)
Clawsun73 ,

h

w

a

g

n

e

r

, bradyofportdetroit ,

o

r

z

h

o

v

_

i

s

_

r

e

l

a

t

i

v

e

l

y

_

o

k

a

y

8

1

9
Battlefield Forge Discussion
1 day ago
Looking nice so far!! Here are some suggestions from my experience, fellow Kaalia player :)
Hopefully these suggestions help! I've said it a lot, but play whatever you think will be the most fun for you! Good luck in the building process- I'll be following along to see how it goes! :)
3 days ago
Want: Clifftop Retreat, Quicksilver Amulet, Exquisite Blood, Smoldering Marsh, Battlefield Forge
Looking for/considering: Phenax, God of Deception, Oona, Queen of the Fae, Lazav, Dimir Mastermind, Sunken Hollow
Have: Binder, Regisaur Alpha, Necropolis Regent, Baral, Chief of Compliance
4 days ago
Glad to help!I had the same problem with my deck: For Akros!. My solution was replacing the expensive dual lands with Battlefield Forge. It does deal damage to you but in Red/White, assuming this deck wins pretty fast, it shouldn't be a problem.
5 days ago
Saw your decklist on the EDH discord, figured I'd drop in with some suggestions.
The first one is regarding your commander. I think Iroas may be better off as part of the 99 as support for Aurelia, the Warleader. Giving your creatures menace and protecting them from battle damage is nice, but it's somewhat tricky to have a focused win condition built around that. Aurelia, on the other hand, gives you access being able to untap your creatures an extra time each turn, which can lead to many neat interactions. Repeating cards like Sun Titan, Tajic, Blade of the Legion, and Hanweir Garrison nets you massive value, not to mention the fun times with Combat Celebrant! Iroas is important support in that deck, as your opponents will heavily struggle with two bouts of menacing creatures thrown over their way.
With that in mind, I'll take time to cover some card choices that I don't think are pulling their weight in your deck. These comments will be guided by working around Aurelia, whom I strongly feel is a better fit for what your deck is trying to accomplish.
Basandra, Battle Seraph: I absolutely adore the artwork on this card, but the effect is underwhelming. On hand, it's nice to lock down your opponents' spells during combat, but that means you can't play your own either! It's a double-edged sword you have to be careful of. If you're interested in the force to attack function she offers, consider goad cards like Grenzo, Havoc Raiser or Disrupt Decorum . They provide defense for you while forcing your opponents to go after each other, AND Grenzo's abilities work wonderfully with Aurelia.
Boros Elite as a 1-drop is rather overwhelming. In limited, a 1-drop 3/3 is pretty nice, but given how vanilla it is otherwise, I can't say it warrants a spot over something with more versatility.
Bruse Tarl, Boorish Herder: I believe there are better ways of enabling Double Strike. You already have one of them in your deck, Duelist's Heritage, but instead I'd run True Conviction. Higher CMC, but it applies to all of your creatures instead of just one at a time!
Firemane Angel's massive CMC gives me cause for concern. The lifegain is minimal, and for 6 mana we can be doing a lot more (see True Conviction!)
Honored Crop-Captain is a tad on the weaker side when it comes to pumping. Getting more utility through cards like Spear of Heliod or Marshal's Anthem may be worth looking in to. While harder to cast, Captain of the Watch generates multiple bodies and gives your Soldiers (which you should be running quite a few!) a nice boost to boot.
Speaking of Soldiers, most of the ones you'll be running will be humans. Angel of Glory's Rise is an angel that gives you back your humans (likely to be soldiers), and can hose many black decks. Put this card on your radar if your local meta has zombies!
Iroas's Champion is another card thats a little on the weak side. Double strike is nice, but without consistent pumps it's not going to be a game-winner for you.
Jareth, Leonine Titan is a bit too defensive for my liking, especially when this deck very much wants to be on the offensive. Given the step casting cost, we may be better with either something cheaper, or a card more powerful for 6 mana, like Sun Titan.
Kalemne, Disciple of Iroas is MUCH better as a commander than as part of the 99. Given your lack of current recursion, I can't see this card surviving long enough to make use of its experience counters. That, and you currently only have 4 creatures with 5 or more power!
I do like Nobilis of War, but Balefire Liege is similar, pumps your creatures for blocking too (important!) and gives you extra value to your spellcasting.
Nyx-Fleece Ram is far too defensive for this kind of deck. If you're going to go for a defender, Wall of Omens at least nets you some card draw. In multiplayer, that kind of life gain isn't going to make a massive difference, so I believe you'd be better off trying to dig for more resources.
Razia, Boros Archangel is another card I love, but Aurelia truly leads the guild so much better than she does. Preventing damage is totally against what this deck is trying to do. If you're going for keyword soup, either Akroma would be a better fit (loss of Haste is annoying, however).
Thundersong Trumpeter has a good effect, but we can do better. You're already running Master Warcraft lets us pick and choose blockers, but we have Odric, Master Tactician that follows closely behind and would love to be in your 99.
Weapons Trainer is another weak anthem, in my opinion. You'd be better off with something giving a boost in addition to other utility, like Shefet Dunes.
Wojek Halberdiers is another card that only boosts itself... we want to share the love! Odric, Lunarch Marshal spreads around keywords like mono after high school prom. Just one instance is all you need for everyone else to get better all around!
Your mana base is mostly fine, but I'm not a huge fan of ETB tapped lands. You're getting pretty good utility out of yours, but look into getting Battlefield Forge as a cheap upgrade.
Swords to Plowshares is an immediate upgrade to Devouring Light, Reprisal, or Angelic Edict. It's seen recent reprints, so it should be too bad to get ahold of, plus it's great in any deck that runs White! For artifact/enchantment hate, a simple Disenchant or Forsake the Worldly is all you need.
If you like Deflecting Palm, you'll LOVE Comeuppance. I run it in every single White deck of mine, and it can totally steal games out of nowhere for you!
If you are looking for card draw, Reforge the Soul is nice, but there are a few more options to consider. Mentor of the Meek works well with the 1/1 soldiers you'll be creating. Skullclamp is another classic option for turning weenies into cards.
If you're running Sunforger, you're going to want a much larger package! Dawn Charm, Silence, Wear / Tear, and Wild Ricochet are some of my favorites in these colors.
Another instant to consider is Aurelia's Fury. It's great for controlling your opponents during your turn, or shutting down combos out of nowhere.
Finally, I'd like to suggest some generally good cards that can give you more solid win-conditions, or otherwise provide great synergy.
If you end up going with Aurelia as the focus, Felhide Spiritbinder gives you as many combat phases as you have mana to feed into it.
Manabarbs puts extra pressure on your opponents, while if you get Gisela, Blade of Goldnight out, you don't take anything.
Assemble the Legion is one of the most Boros cards out there, and even with your strong Angel focus, a slow and steady wall of attackers and get out of hand for your opponents. Martial Coup also gives you a bunch of soldiers, while also serving as a Board Wipe if necessary!
I know I gave a lot of suggestions, but I do hope this helped a bit. I'd love to hear your thoughts on Iroas vs. Aurelia for the commander of your deck!
1 week ago
So, let's work on making this deck a bit better. Don't get me wrong, this deck is good, but there are a couple of things that we can swap to make it better. Some of these you may not agree with. But consider the ideas behind the recommendations.

For the mana base, look at Temple of Triumph, Battlefield Forge, Ancient Amphitheater, Needle Spires, Wind-Scarred Crag, Vivid Meadow, Vivid Crag, Boros Guildgate, Opal Palace and Command Tower. I think you should get a many lands that tap for both colors into the deck as you can afford. Secluded Steppe and Reliquary Tower should probably come out to make room for better lands. Plateau and Rugged Prairie are just too expensive to really recommend.

Replace Armillary Sphere with a Burnished Hart which has a better synergy in the deck. A 2/2 attacker or blocker that can be equipped and can be recurrred with Sun Titan seems really good.

Ride Down just seems like a crappy spot removal card. If you need more removal, consider a good old Wrath of God, Blasphemous Act, the new Star of Extinction as a board wipes.

Vessel of Endless Rest should be swapped with a Boros Signet. The Boros Signet hits a turn earlier, allows you to convert colorless mana from the Ghost Quarter, Reliquary Tower, Rogue's Passage, Seraph Sanctuary, Slayers' Stronghold, and the Sunhome, Fortress of the Legion. If you want to keep the Vessel of Endless Rest, then I would still recommend adding the Boros Signet anyway.

Akroma, Angel of Fury has always been a weak version of Akroma, Angel of Wrath and I've never really felt that it was that good a card. Her 'can't be countered' is nice but the morph ability seems tacked on just to fit the Time Spiral block's mechanic themes and not to make the card better.

Mikaeus, the Lunarch is ok, but you really aren't utilizing a +1/+1 counter theme in this deck and he feels a little slow. The X casting cost makes him more situational.

Tajic, Blade of the Legion is an underwhelming 2/2 for 4 mana. Yes, the indestructible is nice, but I've never really been in a situation where I was happy to draw that card. I just feel that there are better creatures.

Combat Celebrant is stuck with the horrible Exert mechanic. Why would I ever swing out and leave myself stuck not being able to untap my lands the next turn? Too risky. Especially in a multi-player environment. Just bad, cut it. World at War, Waves of Aggression, Scourge of the Throne, and Aggravated Assault would be much better options for multiple combat phases.

I know I previously recommended the Ranger of Eos but I don't think this deck is going for quick creatures. This deck is more about dropping bombs and making people deal with your threats. So the Ranger of Eos, Mikaeus, the Lunarch may not really fit this theme as well as other cards. After looking over the deck some more and looking at some of the options below, we may have to cut the Whitemane Lion and the Flametongue Kavu to make some room.

True Conviction, is a 'wins more' card. The card is strong, but only helps in a few situations. Let look at three different situations to see how interacts with the board state.
1: You have 4 or 5 creatures in play and you are attacking each turn. You are applying a significant ammount of combat damage to your opponents. You have a good chance of winning the game in the next couple of turns, depending on blockers. Does a True Conviction help in this situation? Not really. Can you win without it? Why cast it?
2: You have 4 or 5 creatures on the field, and a True Conviction. Someone board wipes with a Final Judgement. The next turn you get a creature on the field. The True Conviction gives your dude life link and double strike. This time it will help you stay in the game a bit longer and rebuild faster.
3: You have 4 or 5 creatures on the field. Someone board wipes with a Final Judgement. This time, instead of drawing a blocker, you top deck the True Conviction. Is this what you need now? No. You need boots on the ground, a blocker.
What do you think? And, before you ask, yes, I'll be reconsidering this card in my Brion Stoutarm deck.

Alright. Now that we've looked at things to cut, lets look at some options.
Angrath's Marauders would act as an additional Gisela, Blade of Goldnight. Firebrand Archer and Harsh Mentor are good ways to ping each opponent. Archetype of Aggression, Archetype of Courage, Odric, Lunarch Marshal could be really broken and dramtically alter combat. Homura, Human Ascendant works well with Brion Stoutarm and Gideon's Avenger could be outrageous. Kumano, Master Yamabushi has never let me down. Aegis of the Gods and Magus of the Moat provide some defensive options. The Defy Death and Herald of War you already have to provide you with a lot of resiliency and flexibilty with the addition of a Angel of Glory's Rise. Vanquisher's Banner would be really go in this deck naming either 'Human' or 'Angel'.

And thanks to all of the work I've put in on making suggestions to your deck, I've got to go back and update my Brion Stoutarm deck. So check back on that deck in a week or so. As always, temper these suggestions with your budget, collection, and play style. Feel free to let me know what you think of these recommendations.
1 week ago
Also, in aggro decks, I especially recommend running 2 - 4x Valorous Stance. That card's utility is way too good to pass up. Especially in a meta with Fatal Push. It will not block Path to Exile, but most people would probably try not to use those up right away. Instead of Mardu Charm, I would run Secure the Wastes, and for the most part Crackling Doom is kind of worthless in modern, unless you're going up against a control type deck.
Kolaghan's Command is almost a must if you can afford the price (since you got the colors I would put at least 2x in my SB). I bought 8 of them when they were selling for a buck, I knew that card was going to be broken.
I would:
Maybe if you find space for it, a Mardu Strike Leader.
Lands:
Total 22 lands since your CMC is so low. You also need some wincon finishers, Sorin, Solemn Visitor is my aggro planeswalker of choice here. He also pairs nice with the painlands, basically having you recover any early self-pain. You should definitely use some disruption, probably Thoughtseize in SB otherwise you are highly vulnerable to wipes. Something on the sideboard for drawing extra cards wouldn't hurt either, e.g. Painful Truths.
So, for the SB, I would add
2x Thoughtseize2x Anguished Unmaking2x Blessed Alliance2x Kolaghan's Command
Depending on how competitive your meta is, there's a few other things you might need to add in there.
The core of most warrior decks look extremely similar because those are generally the best warriors out there.
1 week ago
apolloflame by turn 3 with warriors you could be swinging for a total of 9, 6 of which is double strike and one that comes back from the dead. And turn 4 can win you the game. Not sure if you checked out the deck I posted, but there's tons of good examples in there.
In case you're not looking at it:
Ideal Play (Possible win by turn 4):
You can even run 2x Honored Crop-Captain on top of the 4x Chief of the Edge to increase you chances of a turn 4 win.
The pain lands are probably an economical option for these types of aggro decks (those are the ones I had for my warrior deck before I got shock lands).
Are all good choices.
For turn 4, there could be better choices than Brutal Hordechief, I haven't look around much. But when I was running warriors, it was about trying hard to not miss a drop or a play, since aggro is all about quick kills, swinging for the most damage possible as early as possible always made sense to me. In modern, a turn 3 4/4 is ok, but considering I can have a 4/5 goyf out, or a 5/5 scooze, it very much depends.
On top of that, competitively, you will run into Tas and Angler, both of which can generally be cast by turn 3 or 4 and both are bigger than a 4/4.
2 weeks ago
Dearest zephyr_chang,
I'm tickled to death with your thoughtfully snide reply. I'm hard-headed, snotty, snide, and argumentative to a fault, so you can only imagine the supreme joy I feel as I write this ridiculous, lengthy response. And I mean that - I'm not being sarcastic.
Manabarbs and Stuffy Doll both have a high CMC, and, in a boros deck, there's not really space for any mana ramp. Which means the curve is going to be bad. Along with Pariah, the absolute soonest the entire combo could hit would be T6, and that wouldn't be an instant win at all. Which means, no matter how many sub 3CMC spells are in the deck, it's not going to get to a win any faster. If I throw in enough tutors to get the Doll and the 'barbs, then it's going to take up so much space, the deck will be much less "protected" early game - it would mean I'd be less likely to draw disruption and without the disruption slots, it would be even more vital to get the combo out, meaning casting tutors with nothing but land out. These are the reasons, while seeming good, both Stuffy Doll and Manabarbs aren't remotely competitive - they're too slow to cast and too slow to win. Building a deck with both is laughable. If it isn't clear, I don't take this deck seriously at all.
Pay No Heed is here because 1) it stops many infinite damage combos, and 2) it stops Manabarbs for a turn, which can be really useful when I can't draw a Stuffy Doll and a Pariah. Because it says "damage" and not "combat damage", it is very useful, much more so than angel song which has a higher CMC and does nothing against the 'barbs or burn, etc.
Phyrexian Unlife is very useful without Solemnity. Solemnity is the half that isn't particularly useful - sure it's good against Predator Ooze and the like, but otherwise, without Unlife, it does less than Pariah - essentially a dead card. Unlife, on the other hand, is basically a risky +10 life, which is really useful in a slow, grindy deck.
Curse of Exhaustion is bad, but manly because of it's high CMC. I've played it a few times in casual matches and my opponents hate it. It's very powerful. Also, it's a distraction for opponents to waste removal spells on. That said, it's surely the worst card here; I included it more as a joke than anything.
While 3CMC is far from ideal, Oblivion Ring is just so bloody useful. It works on pretty much everything. Like Liliana for example. And last time I checked, there was no enchantment removal in black. So yea. O-Ring is really good here, at least, it is on a budget and in a joke deck at that. Since I'm already including a full set of Oppressive Rays, Journey to Nowhere seems to fall in between - being both narrower than the Ring and costlier than the Ray.
Heliod's Pilgrim is decent. I'll consider it. Too bad it won't help get Manabarbs. Also, it's 3CMC, which is exactly the CMC you criticized in your first comment. I'm amused. And while it is decent, even facing removal, Mesa Enchantress at least has the chance of drawing me many, many cards, verses 1 aura. In playtesting, I actually got 2 Enchantress down with a surprising regularity. And they drew me so many cards, Reliquary Tower is actually really useful. In my other, slightly more serious (while still very casual/multiplayer) build Bed of Coals, I've ran the Enchantress as well, and so far my playgroup [shockingly] ignore it. In that same vein, my playgroup was terrified of Authority of the Consuls. Go figure. I chalk it up the meta.
Faith's Shield is really useful here because it works on everything and with Unlife, the Fateful Hour effect is much more likely to be useful, granting me hexproof, too, which really grinds opponents running burn, mill, etc. Stuffy Doll's indestructible does a decent job of giving it staying power. The Shield is more about protecting Pariah and Manabarbs, but it could be used on the Doll against exile, or, on the off chance I get a Ethereal Armor on a Doll, it can be used for a very funny swing. All that said, Pentarch Ward is strictly less useful. And, it comes at that crappy 3CMC you [again] previously said was so "horrid."
Bojuka Bog is here strictly for graveyard hate. I considered other spells like Tormod's Crypt, but those would all take up extra slots while the Bog can just fill in a land slot. Given all the spells but the 'barbs are white, there's little need for mana-fixing. While there are enchantments that would do the job, they would take up space in the sideboard that could be filled with considerably more useful spells. I am aware there are better spells than the Bog, but not spells that would take up less space. I considered Battlefield Forge - it's in my other deck I mentioned before. I'd say the main reason it's not here is because I don't take this deck seriously at all.
Boros Charm seems pretty good to me, especially against Back to Nature. Also potentially giving a Doll with Ethereal Armor on it double strike seems good, albeit extremely unlikely. at 2CMC, I'd hardly consider it "mana intensive", though I happily admit I prefer the shield (thus, the shield is mainboarded the charm is sideboarded. I swap one for the other based on what opponents are running. Karma is very narrow. Basically, it's a joke deck meant for unlikely fun and Karma fits that bill. I wouldn't mind cutting it back to 1x. It's clearly not important. I'd swap a 'barbs for it in matchups against mono-black decks.
Revoke Existence is here because someone in my playgroup runs Myr Battlesphere in a tron deck with lots of graveyard return. It's a tough deck to beat, so being able to exile an artifact is really useful. Personally, if I run any artifacts of importance, I always include at least 1x Buried Ruin, so again, something that exiles artifacts strikes me terrifically useful.
While the curve is bad, I feel like I would be remiss if I failed to point out that this is a slow, grindy deck. With spells like Ghostly Prison, Oppressive Rays, and Phyrexian Unlife, there's likely more time to build up a mana-base capable of hard-casting the spells at the top of the curve. This deck is clearly not intended on getting a win T3, or even T5 for that matter. It's meant as a joke only to be played for laughs in a casual multiplayer context.
I like to build decks here by adding just 1x of any relevant cards, checking "Prototype," saving, and then using the +1/-1 click option. It allows to me to fill the deck out in a more visual way and to consider how many of each card I want. As I continue to make changes and updates, sometimes my decks will drop below 60. But thank you for pointing out I have 1x slot to fill. I'm sure I'll
I did very much hope you'd have some 1-2 CMC budget enchantment suggestions that would thwart opponents developments like Ghostly Prison. I occurs to me that many pillow-fort/prison decks tend to focus on creatures, and are weak against decks with non-creature based wincons. After having researched the archetype of pillow-fort and also searching through every white and red enchantment under 3CMC, I failed to find anything that was broad and relevant beyond what I've already included.
Thank you again, from the bottom of my heart, for your response. The time, thought, and energy you've put in are appreciated.
Load more